Adam Peaty, A Record Third Title In Pantheon, And James Wilby Punch Great Britain 1-2 At World Championships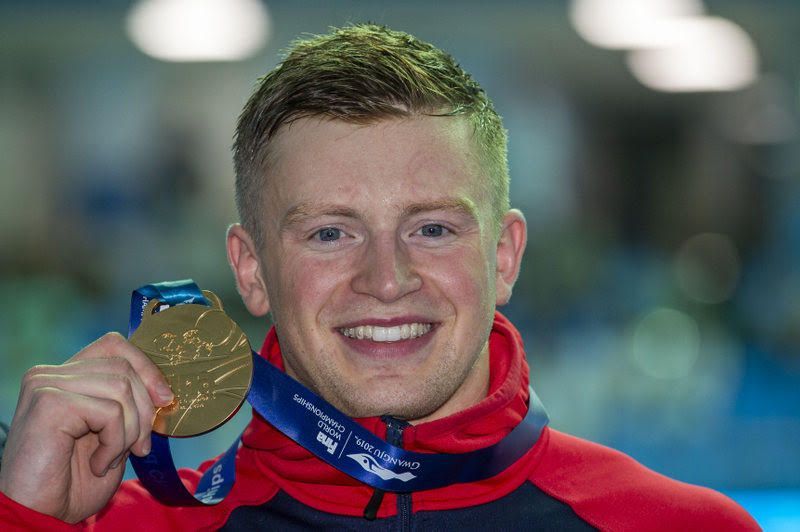 ---
by CRAIG LORD
22 July 2019, 04:49am
World Swimming Championships (Adam Peaty)
Gwangju, Day 2 Finals
Adam Peaty – Photo Courtesy: Becca Wyant
Men's 100m breaststroke
Great Britain celebrated gold and silver in the 100m breaststroke as Adam Peaty led teammate James Wilby home 57.14sec to 58.46. The battle for bronze went to China's Yan Zibei, on an Asian record of 58.63, Japan's Yasuhiro Koseki locked out in 58.93.
Triumph made Peaty the first man to win the 100m crown three times. Although the gap between him and the rest has not narrowed since 2017, the draw of the British Olympic champion is clear: Wilby is now equal third fastest ever alongside 2012 Olympic champion Cameron Van Der Burgh, while Yan moved up to fifth swiftest ever.
One 57 and three 58 efforts in a final that closed in 59.19 made the 2019 showdown the fastest ever seen in world-championship history and the first to witness four men inside 59 sec.
"Project 56" confined to Peaty's pantheon with a 56.88 sec sledgehammer of a world record in his semi-final, the test was all about the title today for the British Olympic champion, although he said he feels a low 56 is within his capabilities.
Out in 26.63 yesterday, Peaty turned inside record pace on 26.60 with an advantage of half a body and more on rivals. The race was his, all eyes on the clock. It was not until about 15m to go that tightness was tangible in the defending champion as he raced to a record third world crown, after wins in 2015 and 2017, when he drew level with Hungarian Norbert Rosza (1991, '94) and American Brendan Hansen (2005/ '07), who claimed two titles each.
Asked if he was disappointed in a time just 0.01sec shy of the global standard he set for Olympic gold in 2016, Peaty smiled broadly and said:
"Its still a 57.1, which is about a second and a half faster than the rest of them. I'm very happy: that constant expectation I put upon myself leaves me a little bit disappointed in me but I think that will fuel me for next year because I know how bad I want to go low 56, even faster now, and I know exactly how to do it. Obviously, I've run out of opportunities here but yeah, just enjoy it – enjoy the moment."
He added: "Whether I go in first, second or last, it's all about what I do in my lane, tunnel vision and enjoying the crowd. I paced it a little bit differently as Mel said to go for it in the first 50 and I ran out of steam a little bit on the back end, but I'm still learning the event and learning about myself and it's still 57.1."
Such is the expectation of pioneering speed from Peaty that he feels obliged to point out the magnitude of what he had just achieved and what that meant to him "This is still very special to me, winning a World Championship title and faster than I've ever done it before.
"It's obviously a little bit slower than last night as I made a tiny little error with speed on the first 50, but I think the most important thing going into next year is that I'm still learning about myself; it's not like I've gone 56 and I've got no more learning to do. I'm ecstatic to come away with a world title. I'm very happy, but that constant expectation I put on myself … there's a little bit of disappointment in me, but I think that'll fuel me for next year as I want to go even faster now."
James Wilby, left, Britain teammate Adam Peaty and
Yan Zibei of China – Photo Courtesy: Patrick B. Kraemer
Peaty was delighted for Wilby, too: "It's not just a British 1-2 but a Loughborough 1-2! We're training partners, well he trains in a different group but we train in the same centre, and I'm stoked for him. It's looking like Britain is a stronghold for breaststroke and it has been for a long time now."
Now as fast as Van Der Burgh at London 2012, Wilby said: "I'm really happy. After the Commonwealths and Europeans last year this was always the next major international and the one last stepping stone towards Tokyo, so I'm really happy to get that silver medal and a Britain one-two means an awful lot to us as well. I'm buzzing for the 200 as well, because I focus on them both and that 100 makes me excited to see what I can do in the 200 now.
"After the World Championships in 2017, which was a bit of a shock for me as I wasn't quite full prepared for it mentally, I sat myself down and thought 'right, I'm not going to be in this game forever so it's time to go'. I just really got myself motivated and have been keeping it going ever since and constantly learning."
The Trail To Tokyo
In 2016, still breathless from Olympic gold in Rio, Peaty climbed out of the pool and declared his next target straight away: Project 56.
It was a reference to his ambition to become the first man to go under 57 seconds for the 100m breaststroke, the event in which he is more dominant than any swimmer in any other event in history.
Adam Peaty – Photo Courtesy: Becca Wyant
Yesterday, with a year to go to the defence of his Olympic title in Tokyo, he smashed that barrier with a performance that may well have been the greatest breaststroke swim ever seen and among the finest in any event by a British swimmer, up there with David Wilkie's 2:15.11 world-record Olympic victory over 200m breaststroke in 1976 and Becky Adlington's 8:14.10 triumph over 800m freestyle at the Beijing Games in 2008.
Only three other men this year have been faster than Peaty's two half-way splits in a straight 50m dash, a race in which Peaty is world champion. His defence of that title starts tomorrow. Beyond that there are medal shots in the 4x100m medley relays, mixed and men.
No man had retained the world title at the biennial championships before Peaty did so in 2017; victory today would be three in a row. Two years on from Budapest 2017, the gap to Peaty and the best of the rest on the day remains precisely 1.32sec, American Kevin Cordes that much away two years ago, Wilby, a rival who trains a few lanes away from Peaty almost every day at the Loughborough Performance Centre, that much away today.
The Gwangju 2019 result:
1PEATYAdamGreat Britain GBR57.14
2WILBYJamesGreat Britain GBR58.46
3YANZibeiPeople's Republic of China CHN58.63
4KOSEKIYasuhiroJapan JPN58.93
5PRIGODAKirillRussian Federation RUS59.09
6WILSONAndrewUnited States of America USA59.11
7BALANDINDmitriyKazakhstan KAZ59.14
8CHUPKOVAntonRussian Federation RUS59.19
Wilby knows the size of the challenge ahead to close that gap on the way to the Tokyo 2020 Olympic Games but benefits from the magnet in his midst, his coach David Hemmings exchanging knowledge and sharing the expertise of scientists from the English Institute of Sport and British Swimming on a regular basis with Peaty's mentor Mel Marshall.
Adam Peaty – Photo Courtesy: Becca Wyant
The world record had been 58.46 sec when in 2015 Peaty began a series of swims that have made him one of the outstanding figures in the sport.
He is 1.41sec faster than the second-fastest man in history, which means that as he stops the clock, the closest man to him has his fingertips at Peaty's toes.
Peaty said one key factor in passing the target he set himself was becoming a little less desperate in his pursuit of it. "I look back at pictures of myself I have in my dining room and I don't even recognise that guy because you are so inexperienced to a real athlete," he said.
"Going through these past two, three years I have learnt the most important asset is my mental health and focus everything around that. So if I am chasing 56 or I am chasing 57, it's unhealthy. So I said this morning I wasn't going to chase 56, I was going to let it come to me and it's exactly what we've done."
In a single event, Peaty is the most dominant man in modern swimming history on this measure: his heats time yesterday morning, 57.59sec, and his world record last night mean that he had the 16 fastest 100m breaststroke swims in history. His 57.14sec win today, the fourth best of his career, make it 17, just one shy of the record 18 best efforts ever in one event at one moment in time held by Katie Ledecky, of the USA, over 800m freestyle.
Adam Peaty – Photo Courtesy: Becca Wyant
If Peaty wins gold next year in Tokyo, he will become the first British swimmer to defend his Olympic title in a four-year cycle, Henry Taylor having won the 1500m freestyle at the 1906 intercalated Games and then at London 1908.
Peaty's advantage over the rest of the world is not about to make him take his foot off the brake: if he retains the crown in Tokyo, he will put much of his success down to "a terrific team around me and the support staff and Mel, obviously, who has been there since ten years ago on a very special journey".
Scientists at the English Institute of Sport and British Swimming's performance centre at Loughborough are leaving no stone unturned in pursuit of speed, a mould of Peaty's head part of an armoury of weapons.
The face produces some of the biggest resistance to speed in swimming, more so in breaststroke than any other event. The angle of the head is critical.
Getting it right "could mean 0.1sec faster", says Marshall – of a man with a 1.4sec lead on the world.
Peaty's five biggest world-record milestones:
April 2015 – 57.92sec – First man inside 58 seconds at the national championships – London
August 2016 – 57.55 – First man inside 58 sec at an Olympic Games, in the heats – Rio de Janeiro
August 2016 – 57.13 – Wins Olympic gold – Rio
August 2018 – 57.10 – Defends his European title – Glasgow
Yesterday – 56.88 – First man under 57sec – Gwangju
… and the best of the rest:
I Shymanovich (Bela, 2019) 58.29
C van der Burgh (SA, 2012) 58.46
J Wilby (GBR, Gwangju 2019) 58.46
B Rickard (Aus, 2009) 58.58*
Yan Zibei (CHN, Gwangju 2019) 58.63
*time registered in a bodysuit which has been banned since 2010
More to follow soon