Black History Month: We salute NATE CLARK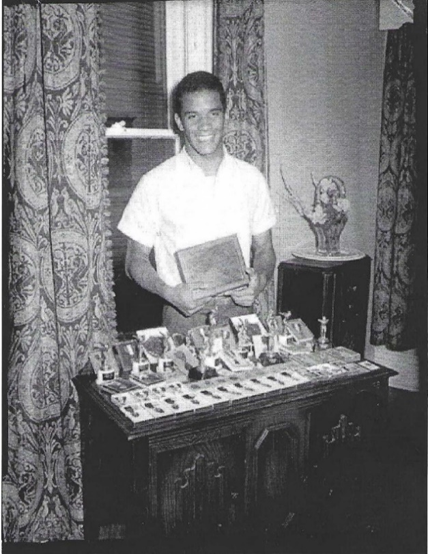 ---
CLARK: A TRAILBLAZING FIGURE IN COMPETITIVE SWIMMING
Breaking Barriers In Competitive Swimming
As a new generation of Black swimmers make their mark in the competitive swimming arena, there are those who paved the way to make their achievements possible. Nate Clark is one of the pioneering figures who broke barriers in competitive swimming. His induction into the International Swimming Hall of Fame (ISHOF) will be a historic win for Black and swimming communities.
Born in Pittsburgh in 1943 to Frank Clark Sr., the city's first Black fire captain and a schoolteacher mother, Clark achieved many firsts in competitive swimming when Jim Crow and segregation dictated the trajectory of African Americans' livelihoods. He was the first Black swimmer to place in an NCAA championship. He was also the first Black person to receive a full scholarship for swimming at a predominately white institution.
"Nate blazed a path for excellence in the pool and the classroom," said Ronald B. Saunders, chairperson of the Nathaniel L. Clark Project. "To maintain that level of scholarship — to maintain that level of performance is excellence personified."
Saunders is leading a campaign to induct Clark into the ISHOF. He is Clark's childhood friend and a former teammate. Saunders witnessed Clark's progression as a young star at their local YMCA to his glass-shattering collegiate career and professional pursuits. He was fully aware of Clark's "prowess and intellectual curiosity" for the sport and in his life. At an early age, Clark and his peers learned that they should not tolerate mediocrity.
"It was stressed that you have to dominate," Saunders reiterated. "Not only do you have to be good, but you also have to be better."
Swimming Journey and Accomplishments
This mindset manifested at the Centre Avenue YMCA, where he honed his swimmer skills. Swim coaches Terrence Gorman and Walter Crocker transformed the Center "Y" into a proving ground for up-and-coming talent.
Clark shone, placing first in the 20-Yard freestyle and second in the 20-Yard backstroke at YMCA swimming meets. Additionally, he placed second once and third twice at AAU meeting events.
Moving to the Beltzhoover area in his early teens, Clark attended Knoxville Junior High and South Hills High School. He trained at the integrated Allegheny YMCA and the YMHA, also known as the Jewish "Y." He was usually the only Black person on the team, a trend which continued throughout his adolescent and college journey. Clark remained focused on opportunities for advancement in the sport, and he was up for the challenge.
"Because of his excellence, they let him in. If he were just good, they wouldn't have," Saunders said.
In 1957, Clark received honors in the Pittsburgh City Junior High School Championship. He competed against his former teammates at Centre Avenue and Herron Hill Junior High. He won the 200-yard individual medley. In 1958, the South Hills student body chose him to represent the United States in three events at the International Swimming Meet between the U.S. and Canada. Therefore, leading him to make the Junior Olympic team. He won the 200-meter freestyle two years later at a Junior Olympic event in North Park, finishing in 2:18 seconds. That same year, he held the record for the 100-yard butterfly until 1973.
A strong academic and athlete, Clark received many scholarship offers. He eventually decided to attend The Ohio State University because of its top engineering and swimming programs. Clark helped Ohio State take home the NCAA championship in 1962 as a sophomore. Receiving awards in two butterfly events, he was the first Black swimmer to achieve this honor, finishing in fifth place. With a time of 2:04.9 seconds, Clark scored in the championship a second time in 1963, placing fourth overall.
Honoring Clark's Legacy
Unfortunately, his accomplishments received little or no fanfare in mainstream publications over the years. As a result, Saunders is committed to making a change. He made the commitment to make sure Clark gets the recognition he deserves in the sport of competitive swimming. Aquatics is not an anomaly for Black Americans but deeply ingrained in our culture throughout centuries.
Saunders sent a letter to Bruce Wigo in September to support Clark's nomination. Newspaper clippings and pictures from Clark's swimming career accompanied the letter. Wigo, who was the former CEO of the International Swimming Hall of Fame and consultant of various aquatic-related organizations and museums, acknowledged the significance of Clark's contributions and his impact on the racial history of America.
"There are so many issues, but Nate Clark addresses one of them," Wigo emphasized. "It is symbolic that he came from a program that had a natural tradition in swimming within the Black community, and it was respected. He was respected and went on to become a world-class swimmer."
Wigo forwarded the letter to several Black swimmers in hopes of gaining more support. Sabir Muhammad, an All-American and first Black American to win a medal at a major international swimming competition, is one of the individuals who received the letter. As a kid, he was a member of the City of Atlanta Dolphins, a predominately Black team with role models that guided them through the sport of aquatics, similar to Clark.
"I think he's a significant historical person who should be immortalized in the sport via the Hall of Fame," Muhammad said. "His story is great because of the context of where our country was when he was swimming."
Jim Crow laws in the South and covert racism in the North limited African Americans' access to recreational and competitive swimming. Attempts to stop them from using public pools ranged from unnecessary excuses and demands to physical assaults and chemical poisoning of swimming pools Black people swam in.
"The barriers for African Americans to swim in the United States were much, much greater," Wigo explained. "In terms of facilities and training, it was totally unequal and unbalanced."
"We had to navigate in a sea of white supremacy, segregation and Jim Crow," Saunders added. "We weren't necessarily offered the best pools and the best training grounds."
Nate Clark's accomplishments in the sport of swimming prepared the groundwork for others to achieve in a sport that remains predominantly white.
Graduating from Ohio State in 1966, Clark received a Masters and Juris Doctor from the University of Chicago. He worked in venture capital in New York City and Boston. He eventually returned before returning to Pittsburgh, where he resided until his passing in 2010.
"I think it's incumbent on us to recognize the trailblazers in our sports," Muhammad expressed. "The purpose of the Hall of Fame is to acknowledge those people that improve our sport, and Nate Clark is an exemplar of that."
Copied from "Black Kids Swim". There is a group pushing to get Nate inducted into ISHOF in the Pioneer category. He definitely was a pioneer!