Australian Coaches Back Mack Horton & Call On FINA To Back ISL Zero-Tolerance On Doping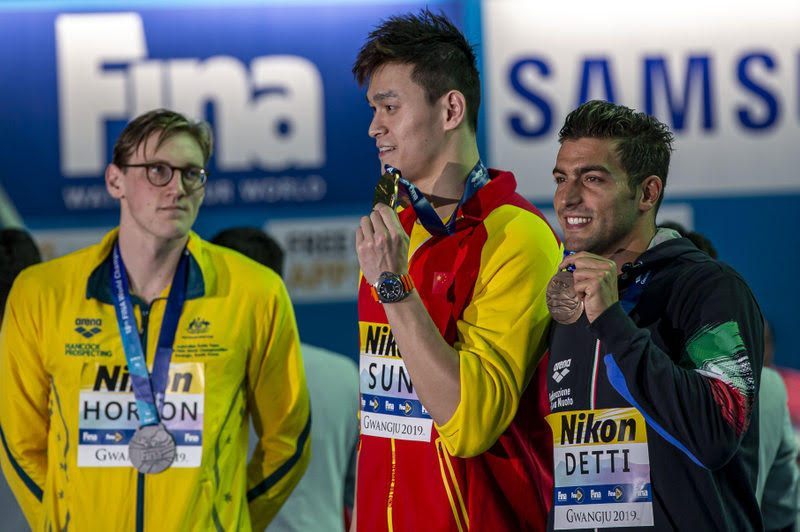 ---
by CRAIG LORD
23 July 2019, 01:03am
Mack Horton, left, keeps his distance to Sun Yang for the photo-op with bronze medallist

Gabriele Detti after medals in the 400 Free in Gwangju;

Photo courtesy: Patrick B. Kraemer
The Australian Swimming Coaches and Teachers Association (ASCTA) has called on FINA, the international federation, to follow the example of the International Swimming League and take a zero-tolerance approach to anti-doping "… rather than issue meaningless letters of warning against clean athletes who take a stand".
In a statement issued a moment ago, ASCTA joined a chorus of athletes and coaches from around the world in backing the stance made by Mack Horton when he refused to step up on the podium next to China's Sun Yang after the 400m freestyle final at the World Championships here in Gwangju, Korea.
Horton decided to make a stand against Sun's presence at a championship at a time when an anti-doping case against him is pending at the Court of Arbitration for Sport (CAS).
A tentative September date has been set for a hearing into the World Anti-Doping Agency's March challenge to a FINA Doping Panel hearing into troubling events that unfolded at an out-of-competition test near Sun's home last September, the events surrounding which were revealed by the Sunday Times in January.
It was March before WADA lodged a case with the CAS to challenge a FINA Doping Panel ruling that let Sun go free but handed him a series of stern rebukes for his behaviour during four hours of argument with out-of-competition testers who called at his home on September 4 last year.
Last weekend, Sun's lawyers protested their client's innocence in a statement that said the Olympic 200m freestyle champion had requested that the CAS hold its hearing in public in the interests of transparency.
Horton's silent protest has earned plaudits from international peers in the pool and on the deck, while in China, his stance has faced heavy criticism and abuse from fans of Sun Yang.
Now, ASCTA has issued a statement in which it notes the failure of sports organisations such as FINA to deal with a dark past, including allowing all GDR results to stand despite overwhelming evidence of almost two decades of systematic cheating.
FINA has long been criticised for having allowed, to this day, men such as Dr. Lothar Kipke to keep FINA honours given to them when they were members of the medical and anti-doping committees of the federation in the 1970s and 1980s. In the German doping trials of 1999-2000, Kipke and others were handed criminal convictions for their role in the abuse of minors during the 1970s and 1980s as part of the State Plan 14:25 systematic doping program.
Since then, the sport has lived under a cloud of doping controversy related to China in the 1990s and beyond and related to Russia, which in the lead-up to the Rio 2016 Olympic Games had the worst doping record of all nations in the pool for the previous decade. Russia was barred from official participation because of the growing crisis related to the revelations of Russian whistleblowers exposing corrupt practices at the heart of sport in the country:
In 2014, a unanimous vote by the FINA Media Commission in 2014 backed a joint call by Swimming World in the United States and the SwimVortex website in Europe for the ruling FINA Bureau to consider a reconciliation process and remove honours given to convicted criminals. The request was met with silence and lack of reply.
In 2018, the ISL, ahead of its inaugural Team Pro-League from October to December this year, revealed a policy of zero-tolerance for all athletes who have fallen foul of the WADA Code. A ban after one offence is possible under the WADA Code for the most serious of offences but most athletes are granted a second chance under the Code. The ISL says it will not allow any such thing in its professional league.
FINA yesterday issued a warning to Swimming Australia over Horton's protest. In response, ASCTA has issued the following statement:
The Australian Swimming Coaches and Teachers Association (ASCTA) applaud and support the stance taken by Australian Dolphin Mack Horton to call out cheating in sport – and calls for meaningful and immediate action on anti-doping.
Speaking on behalf of the Board and CEO, ASCTA President and former Dolphin coach, Mr Tony Shaw commended Mack Horton for escalating the issue and effectively putting FINA on notice.
"When organisations like FINA who are entrusted to administer our sport and create an even playing field, can't and don't take care of clean athletes the result is athletes step in and make a stand, " Mr Shaw said.
"For too long there has been an inadequate response from administrators which has put sport, in particular Swimming, in a state of crisis. From the East Germans in the '70s and '80s to China and Russia more recently, there has been repeated accusations of systemic cheating which has virtually gone unchecked."
"It is time for zero tolerance for drug cheats. If someone is convicted for using performance enhancing drugs, there should be a life ban. This is the policy of the International Swimming League and FINA should follow suit."
"Rather than issue meaningless letters of warning against clean athletes who take a stand, International Federations should look inwardly and deal with the issues rather than be complicit through inaction.
"ASCTA calls for meaningful and immediate action on anti-doping from FINA. The technology is available. It is their job to get on the front foot to protect the clean athletes of the world."
Swimming World has asked FINA for a response to the ASCTA statement and demand. We will bring you the federation's reply should we receive one.