Australian Chloe McCardel Chases Record 44th English Channel Crossing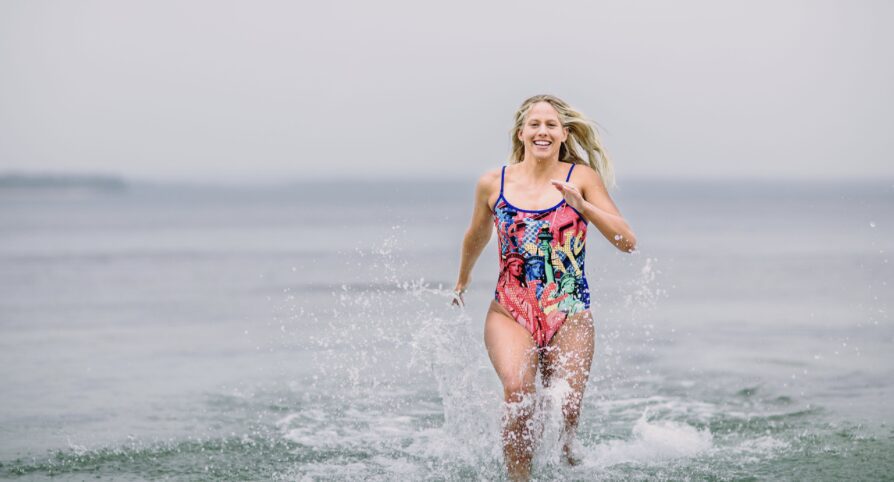 ---
by MATTHEW DE GEORGE – SENIOR WRITER
Australian Chloe McCardel Chases Record 44th English Channel Crossing
Australian marathon swimmer Chloe McCardel will pursue a world record 44th crossing of the English Channel over the next month.
McCardel has made the 34-kilometer crossing of the Channel on 41 occasions. That is more than any man in history and trails only the 43 crossings made by Alison Streeter. McCardel is aiming for crossing No. 42 later in September. If conditions allow, and anticipated August swims have already been pushed back due to high winds, she could be in line to make her 43rd and 44th crossings by early October.
"I can't wait to get these final swims underway, the closer I'm getting, the more excited I am," McCardel said in a press release. "I only have 3 swims remaining now, which I'm planning to carry out in September and October."
McCardel first crossed the English Channel in 2009. The 36-year-old native of Melbourne surpassed the men's world record of 34 crossings in 2020. She has persevered through the daunting passage so many times despite being hospitalized with hypothermia during a 2011 attempt.
She was the first Australian and only the fourth person to complete a triple non-stop crossing of the Channel in 2015, the first to do so in 25 years. Chasing Streeter's record is a natural next step for McCardel.
"Alison Streeter was my idol when I was moving to Channel swimming – she inspired me to continue to push my boundaries," McCardel said. "Australia has such a rich history in English Channel swimming and I'm so proud to represent my Country out in the Channel, a place which I see as my spiritual home. Although I've travelled alone for this challenge, I have such a great support network here in the UK who always get behind me and cheer me on!"
Chloe McCardel holds various world records, including the longest unassisted ocean swim (124.4 kilometers in the Bahamas in 2014), most English Channel crossings in one season (eight in 2016) and most Channel crossings in one week (three in 2015). She turned in the fastest crossing, male or female, of the 2011, 2012, 2016 and 2019 seasons. She also works as a coach and mentor to other open-water swimmer and a motivational speaker.
McCardel won the 2016 Poseidon Award from the International Swimming Hall of Fame, the year she was inducted to the International Marathon Swimming Hall of Fame. She is an inaugural member of the Australian Swimming Hall of Fame.
"I really want to inspire young people, especially girls, showing them that anything is possible – I only learnt how to swim at the age of 11 and I will soon have managed to swim the English Channel more times than anyone in the world, I want them to know that they can do anything too!," McCardel said. "I think sometimes women don't get recognised for their achievements as much as they should, to have female role models has been amazing for me and I really hope I can be that for other women and girls."