Australian Butterflier, Jon Sieben to be Inducted into the International Swimming Hall of Fame as Part of Class of 2021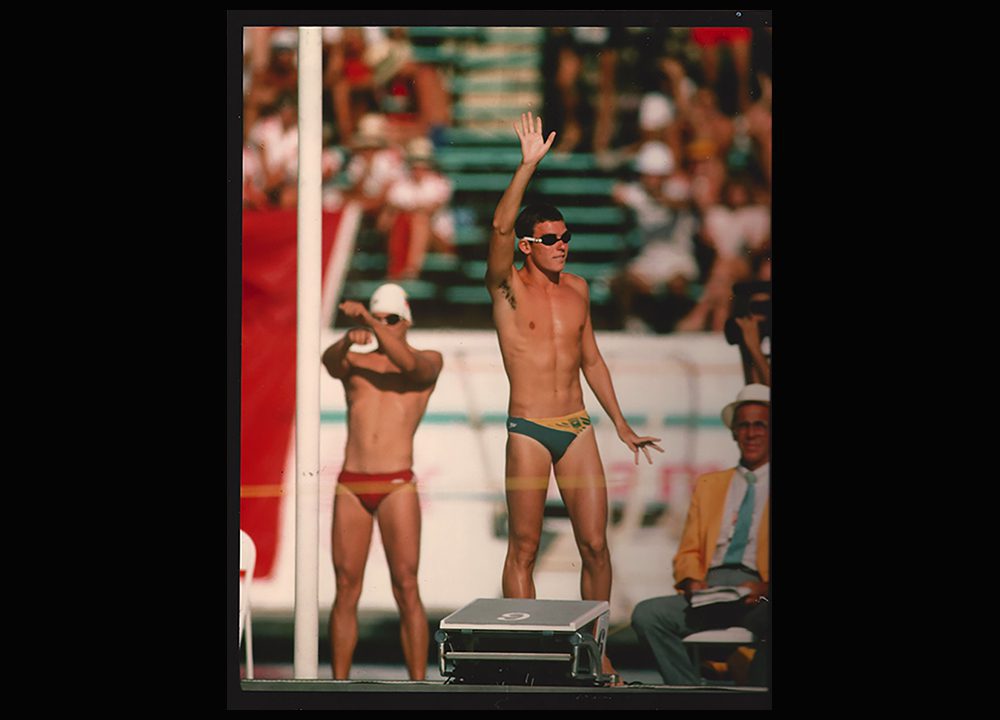 ---
Aussie Jon Sieben set the world record with a blistering 1:57.04 in the 200m butterfly, winning the event in Los Angeles, in the major upset of the 1984 Olympic Games.  He surprised everyone and beat Michael Gross of Germany. The record stood for 11 months until Gross regained it in 1985.  Sieben continued swimming through two more Olympic cycles, 1988, Seoul and 1992 Barcelona.
When his career ended, he walked away with 16 Long Course National Championships, 11 Open National Championships and numerous other championship medals.
Swimming as an NCAA swimmer, he competed for the University of Alabama under ISHOF Honor Coach, Don Gambril, who took him to the NCAA National Championships.  There, he won silver in the 200m butterfly and bronze in the 100-meter butterfly.
Although swimming competitively for Gambril, Laurie Lawrence was always Sieben's coach while competing at the Olympic Games, under the Australian flag.
Come and meet Sieben in person and hear his incredible life story at the ISHOF Induction dinner on Saturday, October 9, 2021. Become an ISHOF Legacy Member and attend the ISHOF Induction Dinner for FREE. Can't attend the event? Please consider donating to ISHOF, support Sieben and our other inspirational Honorees.
More about Jon Sieben:
With Sieben competing in three Olympic Games, it was the first time an Aussie swimmer had done so since Dawn Fraser had participated in three Olympic Games in 1956, 1960 and 1964.
Not only was Sieben an Olympic caliber swimmer, but in 2005 and 2009, he competed for Australia in the Universiade Games in the sport of water polo and in 2009, the team took home gold.
About the International Swimming Hall of Fame Induction Weekend

:

The International Swimming Hall of Fame (ISHOF) Induction Ceremony is shaping up to be a star-studded weekend with ISHOF Honoree and Sullivan Award Winner, Debbie Meyer, and double Olympic gold-medalist and everyone's favorite Olympic swimming broadcaster, Rowdy Gaines acting as co-emcees and hosts of the induction with multiple events spread out over two days in beautiful Fort Lauderdale, Florida.

Make your plans now to attend the weekend of October 8-9, 2021!  ISHOF Members can purchase the Complete Weekend Package (see below) and save! (Get info on membership here.) Can't attend the event? Donate to ISHOF to support our honorees.

This year's International Swimming Hall of Fame Honorees include:

In addition to the Class of 2020, two Honorees from the Class of 2019, who were unable to attend last year, will be present to be inducted. Honor Swimmer: Otylia Jedrzejczak (POL) and Honor Diver: Li Ting (CHN).

Get more information about this year's induction class here and more information about Otylia Jedrzejczak and Li Ting.

*deceased

The Induction Weekend Schedule

Friday, October 8, 2021

Paragon & ISHOF Awards Night
5:30 pm Cocktails
6:30 pm ISHOF and Paragon Awards
Saturday, October 9, 2021
Honoree Induction Day Luncheon – Meet Rowdy Gaines and go on a behind the scenes tour of the Aquatic Complex construction
Official 56th Annual International Swimming Hall of Fame Induction Ceremony and Dinner
5:30 pm VIP Reception
6:30 –10:00 pm Induction Ceremony & Dinner
Ticket Information
October 8-9th Complete Weekend Package 

(Includes Paragon/ISHOF Awards Night, Saturday Luncheon, and Induction Ceremony)
ISHOF Non-Members $425 BEST PRICE!!
October 8th Paragon Awards and ISHOF Awards Night 

(Hors D'oeuvres and Open Bar) 5:30 pm
October 9th Saturday Luncheon

 12:00-1:30 pm
October 9th Induction Ceremony and Dinner

5:30 pm
10 Person Table $3,500 and $5,000 (Prime location) options
HOTEL INFORMATION
Host Hotel: Fort Lauderdale Marriott Harbor Beach Resort & Spa
Upscale retreat with private beach access, two pools, four restaurants, full service spa and oceanside bar. Location of the Saturday evening induction ceremony. ¼ mile south of the International Swimming Hall of Fame.
3030 Holiday Drive, Ft. Lauderdale, FL 33316 (954) 525-4000
Special ISHOF Guest Rate of $259 per night
Book your group rate for International Swimming Hall of Fame
NOTE: RESORT FEE IS INCLUDED in the $259 rate
Courtyard by Marriott Fort Lauderdale Beach
440 Seabreeze Blvd., Ft. Lauderdale, FL 33316 (954) 524-8733
Special ISHOF Guest Rate of $169 per night
Honoree Ceremony October 9, 2021
Start Date: Wednesday, October 7, 2021
End Date: Tuesday, October 12, 2021
Last Day to Book: Friday, September 15, 2021
Book your group rate for Honoree Ceremony October 2021
Questions: contact Meg Keller-Marvin at meg@ishof.org or 570-594-4367