Asta Girdauskiene to be inducted into MISHOF Class of 2019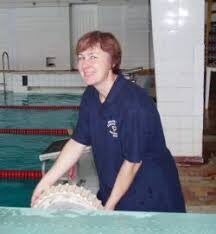 ---
The
International Masters Swimming Hall of Fame (MISHOF) is proud to announce
that Asta Girdauskiene, will
be inducted into the Masters International Swimming Hall of Fame as a member of
the Class of 2019 during the MISHOF
Induction ceremonies in St. Louis, MO, on Friday evening, September 13, 2019,
to be held in conjunction with the United States Aquatic Sports
convention. 
Asta Girdauskiene began her career in diving at the age
of nine and went on to win multiple national championship titles in the former
USSR.  The platform was always her strongest event.   But life
as a diver ended for  in 1982 after she completed her university degree
and began working as a lecturer. 
In 1991, a group of fellow divers from the Ukraine invited Asta
to join them for a Masters Diving meet.  Up until then, she had no idea
that something like Masters even existed.  That meet left a long-lasting
impression on Asta, especially the American team. She had never seen a
60-year-old, much less an 80-year-old compete in diving!
Girdauskiene has been competing in FINA World Masters Championships
since 2000, starting in the 30-34 age group, and most recently she competed in
the 55-59 age group in 2019.  She has won a total of 10 gold, five silver,
and five bronze medals and has set three world records on the 10m platform.
Asta is also a top-level certified FINA judge and has judged numerous events,
including the FINA Masters World Championships.
She says that "by far the greatest experience that comes from
Masters diving is the opportunity to meet new people who are all in love with
diving. Over the years I have learned that diving is the best way to remain
youthful in both body and mind. And I also understood, that in Masters events,
your position after the competition is not important. What is important, is the
ability to meet fellow diving enthusiasts, share experiences and learn from
each other."
Asta
will be inducted as part of a group of nine (9) outstanding individuals that
will be inducted at MISHOF's annual ceremony. The event will be held at the
Hyatt Regency St. Louis at the Arch in conjunction with the 2019 United States
Aquatic Sports Convention.
The
prestigious MISHOF class of 2019 includes five swimmers, one diver,
one synchronized swimmer, one water polo player and one contributor, from
five (5) different countries: the USA, Canada, Lithuania, Brazil and Japan.
SWIMMER
INDUCTEES: CAROLINE KRATTLI (USA), SATOKO TAKEUJI (JPN), RICK COLELLA
(USA), ROWDY GAINES (USA) and WILLARD LAMB (USA); DIVER INDUCTEE: ASTA
GIRDAUSKIENE (LIT), SYNCHRONIZED SWIMMER INDUCTEE: MARJORIE ANDERSON
(CAN), WATER POLO PLAYER INDUCTEE: JOAO MEIRELLES (BRA), CONTRIBUTOR
INDUCTEE: JIM MILLER (USA)
The
event is open to the public and free of charge. 
About ISHOF:
The International Swimming Hall of Fame, Inc. (ISHOF),
established in 1965, is a not-for-profit educational organization located in
Fort Lauderdale, Florida, USA.  It was first recognized by FINA, the
International Olympic Committee's recognized governing body for the aquatic
sports, in 1968.  ISHOF's mission is to collaborate with aquatic
organizations worldwide to preserve, educate and celebrate history, showcase
events, share cultures, and increase participation in aquatic sports.
For more information, call Meg-Keller-Marvin at 570 594-4367 or e-mail:
meg@ishof.org