As His Final World Record Vanished, Michael Phelps Celebrated – His Sport Continually Evolving and In Good Hands
---
by JOHN LOHN – EDITOR-IN-CHIEF
23 July 2023, 11:54pm
As His Final World Record Vanished, Michael Phelps Celebrated – His Sport Evolving and In Good Hands
How does the cliché go? All things must come to an end? After 20-plus years, that reality hit the swimming world – and beyond – on Sunday night when Michael Phelps' reign as a world-record holder ceased. Wait, really? Is that possible? The guy who elevated the sport to never-before-seen levels is no longer the fastest man in any specific discipline? It doesn't seem possible.
Ah, but that is where we are in late July 2023, seven years after Phelps last competed at the Olympic Games in Rio de Janeiro. And it took a magnificent performance for the GOAT's name to be removed from the record books. Truthfully, only that type of effort was appropriate given the influence the now 38-year-old has had on the sport for more than two decades.
For the past year, since he was crowned world champion last summer in Budapest, Frenchman Leon Marchand has been touted as the man who would take down Phelps' iconic – and last-standing – world record. We're talking about the 4:03.84 clocking the American legend delivered in the 400-meter individual medley as the opening act of his Beijing Blitz in 2008. Yep, that thing was set 15 years ago.
Marchand was less than a half-second off the standard at the 2022 edition of the World Champs, going 4:04.28 in Budapest. That swim initiated its own clock, a countdown timer on the lifespan of Phelps' mark. All focus, then, shifted to Fukuoka, site of the 2023 World Champs, as Marchand's next opportunity. It was a chance he wouldn't let escape.
For eight laps, Marchand unleashed a masterclass in multi-stroke swimming. Under world-record pace from the outset, the 21-year-old packaged power and precision to produce a time of 4:02.50 at the Marine Messe Hall. That time sliced more than a second off Phelps' world record, an eon in a sport that is typically defined by hundredths of seconds.
Phelps witnessed Marchand's record from a perch in the stands, thanks to NBC Sports having the foresight to include the Olympic legend in its broadcast booth. Over the past few years, Phelps has been a regular guest of NBC at major competitions, providing viewers with insights that not only reflect his deep knowledge, but also his passion. So, it made sense for Phelps to be on the call as Marchand targeted his last record.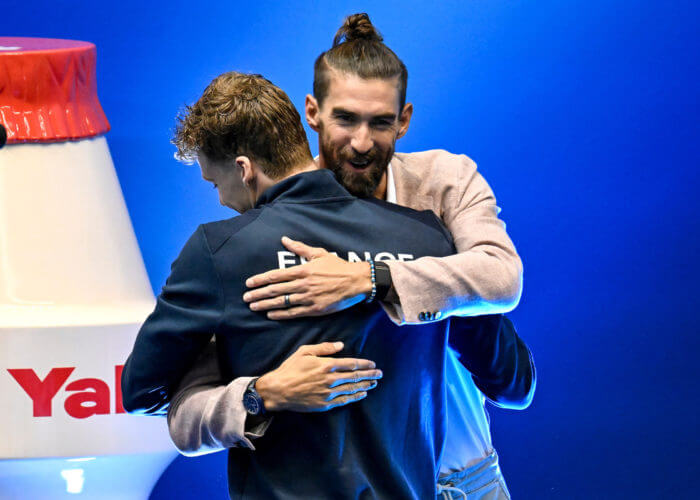 As Marchand moved through the water first in butterfly and then in backstroke, he was slightly under world-record pace. By the time he completed the breaststroke portion of the race, the strength among his many strengths, the French star was nearly three seconds ahead of Phelps' pace from Beijing. On the closing freestyle leg, there was no doubt Phelps' world record was taking its final breaths. By how much? That was the only question.
There was beauty to Marchand's performance, as it was a long-anticipated entry on a perfectly constructed timeline. A junior world champion, Marchand was a prodigy who advanced to the final of the 400 medley at the Olympic Games in Tokyo, his vast potential evident. From there, he shifted his training to Arizona State University and the guidance of coach Bob Bowman. You know, the guy who crafted a perfect timeline – from 11 years on – as the mentor to Phelps.
Together, Marchand and Bowman have achieved tremendous success, the pupil generating performances never previously seen at the collegiate level. In their day, the Phelps-Bowman partnership was a perfect pairing of vision and collaboration. Phelps wanted to change the sport, by bringing it greater attention and proving that no objective is unattainable. Marchand is now operating in that vein, too.
As much as what Marchand produced in the water was beautiful, so was the way Phelps carried himself in the booth while watching his final standard fade. With each lap, there was an elevated joy in the American's voice, with Phelps even calling out, "Let's go." Imagine rooting for your own record's demise. That's what happened. It wasn't a moment of mourning. It was a moment of excitement and deep appreciation for someone with whom Phelps can connect – and few others can. It was about recognizing the work that had been done. About honoring preparation and Bowman's ability to give Marchand what he needed to excel, and ultimately become a world-record holder. It was about a special moment for the sport of swimming.
It was about history.
When Marchand touched the wall and celebrated his achievement, Phelps applauded and gave his heir a standing ovation. Later in the evening, it was Phelps who presented Marchand with his medal, and gave the youngster a hug before raising his hand in the air. They were perfect scenes, one champion honoring another.
Before this weekend, Phelps had watched other world records go down. In 2009, he lost his mark in the 200 freestyle to Paul Biedermann, the German propelled by a technological speedboat of a suit. Ryan Lochte took his record in the 200 individual medley. Kristof Milak and Caeleb Dressel lowered his standards in the 200 butterfly and 100 fly, respectively. And now, the last record is gone.
While Marchand broke Phelps' record from the 2008 Olympic Games in Beijing, the American first set the world mark in the 400 medley in the summer of 2002 in Fort Lauderdale. That means nearly 21 years as the custodian of that standard, which is a record in itself.
Oh, there are plenty of other records still owned by Phelps. Twenty-eight Olympic medals, 23 of which are gold. Eight titles in a single Olympiad. Thirty-nine world records. Thirty-three medals at the World Championships. A couple of relay records to which he significantly contributed. The list remains long.
But on the line next to a singular event? No. His name is now missing. Such is the influence of time, innovation and the evolving emergence of young athletes who want to be their own version of Michael Phelps, eager to excel at unimaginable levels and have their own impact on the sport.
Leon Marchand is one.
Michael Phelps approves.