April 8: Happy Birthday Anastasia Ermakova !!!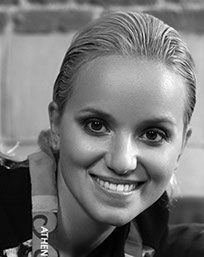 ---
Anastasia Ermakova (RUS) 2015 Honor Synchronized Swimmer
FOR THE RECORD: 2004 OLYMPIC GAMES: gold (duet, team); 2008 OLYMPICGAMES: gold (duet, team); 2001 WORLD CHAMPIONSHIPS: silver (duet),gold (team); 2003 WORLD CHAMPIONSHIPS: silver (solo), gold (duet, team); gold (team); 2005 WORLD CHAMPIONSHIPS: gold (duet, free combination); 2007 WORLD CHAMPIONSHPS: gold (duet technical, duet free, combination; 2002 WORLD CUP: gold (duet, team); 2006 WORLD CUP: gold (duet, team, combination); 2006 WORLD TROPHY: gold (duet); 2007 WORLD TROPHY: gold (team); 2010 EUROPEAN CHAMPIONSHIPS: gold (combination).
She is one of the most decorated synchronized swimmers in history with a combined 19 gold and two silver medals at the Olympic Games, World Championships, World Cups and World Trophies.
Anastasia Ermakova was born in Moscow, Russia in 1983. At the age of four, she joined a choreography school in Moscow, where she began down a road of the creative world of dance, art, and eventually synchronized swimming. The next year, at the age of five, she passed the test and made the selection for synchronized swimming. Anastasia says that from that moment on, "sport became the most important part of her life, and the gold medal was the goal to reach!" Synchronized swimming did not come to her naturally. She did not have natural ability, was not flexible like other athletes; but what she lacked in talent, she had twice as much in determination and willpower.
Training became a way of life, and then came the competitions. In 1998, Anastasia won her first Youth Olympic Games, which were held in Moscow; she won gold medals in the solo, duet and team. Anastasia began competing internationally and the medals continued to be gold. She competed at the 1999 World Junior Championships in California and won gold in duet and team; at the 2000 European Junior Championships Bonn-Berlin, gold medals in figures, solo, duet, team; and the 2001 World Junior Championships in Seattle, where she again won the gold in solo, duet and team.
After Anastasia proved herself as a junior synchronized swimmer, she advanced to become a member of the Russian National Synchronized Swimming Team in 2000. In 2004, she won the duet and team at the Athens Olympic Games, and then won the same at the Beijing Olympic Games in 2008, becoming a four-time Olympic Champion. She's also a nine-time World Champion and has won gold medals in every synchronized event – solo, duet, team and figures.
Anastasia has received many honors for her success in synchronized swimming. She has been awarded the Order of Friendship by Russian President Vladimir Putin in 2005, and in 2009 she was awarded the Order of Honor by Russian President Dmitry Medvedev.
After retiring from synchronized swimming earlier than she had hoped, due to a shoulder injury, Anastasia began coaching.
In October 2011, she relocated to Savona, Italy, to become the Executive Coach for the RARI Nantes Synchronized Swimming Team, as well as coach and choreographer for the Italian National Synchronized Swimming Team.