Andrew Wilson Reflects on Journey of Validation From Division III Swimmer to Olympian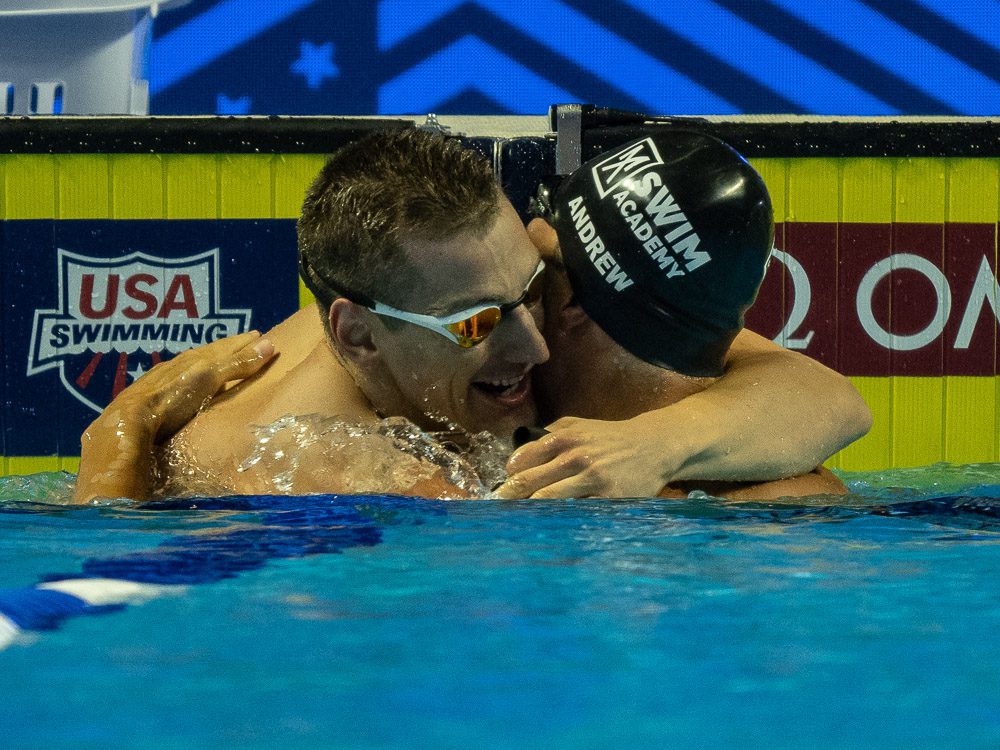 ---
by DAN D'ADDONA — SWIMMING WORLD MANAGING EDITOR
Andrew Wilson Reflects on Journey of Validation From Division III Swimmer to Olympian
The Olympic trials were a triumphant blur for Andrew Wilson — and an historical blur.
Wilson finished second in both breaststroke events to secure his place on the U.S. Olympic team for Tokyo, becoming a rare NCAA Division III athlete to reach the Olympics. Now, Wilson is preparing to make an impact for Team USA at the delayed Tokyo Games.
"It is definitely still a little weird. We are back in Athens training, so in some ways it seems like it could have never happened, but it is starting to sink in," Andrew Wilson told Swimming World last week. "I am trying to get refocused because I know I can go faster and represent the U.S. well."
Qualifying gives Wilson a sense of validation as a swimmer but also validation for his journey from Division III Emory University to the Olympic team.
"It has been a goal of mine for a while. Every kid that grows up swimming watches the Olympics and thinks how awesome it would be do to that. There have been a lot of ups and downs along the way and it just feels vindicating, as far as decisions I made to get to this point," Wilson said. "Everything just feels worth it which is a really great feeling. I am very proud of where I came from and how I got here. I hope all of the DIII athletes can share in this accomplishment. I am sure I won't be the last. It is an honor to pave the way, but I don't really feel like I am any different."
Wilson first qualified by taking second in the 100 breaststroke, finishing behind Michael Andrew — by a hundredth of a second. Andrew won in 58.73 to edge Wilson (58.74).
"Going in, Michael had been really fast and Nic (Fink) had been really fast. Finals at that meet always tend to be a little slower with the added pressure and stress. No one sleeps well between semis and finals.It just becomes about putting together a good race. It was just about getting my hand on the wall," Wilson said. "I was surprisingly calm before the race. I knew Michael was going to be out fast and the back half is where I was going to have to make my move. I had to make sure I didn't over-swim the first 50, which is easy to do with so much adrenaline. I saw that I was catching up to Michael, and that always gives you more energy, so I just gave everything I had."
With his place on the team solidified, it took pressure off Wilson for the 200. He finished second to Nic Fink, touching out Will Licon with a late push. Fink had finished third in the 100 and won the 200 in 2:07.55 to finish ahead of Wilson (2:08.32).
"A lot of the stress of that meet was lifted off of me after the 100. I didn't want to check out because I wanted to make it in the 200, too. I knew it would be a close race. Unfortunately, Nic and Will, were on the other side of the pool. We couldn't really see each other. My 200 for the first two swims I was really just trying to conserve as much energy as I could. I am always out pretty fast and I wanted to make sure I didn't over-swim the first 100. I had to build the third 50 and then see what I had left. There are plenty of places I can improve in that race, but it was enough," he said.
Wilson gets to go to Tokyo with Fink, his training partner.
"I was super happy for him. That meet is just brutal. The longer you are around the sport, the more people you know. There are six people you know in a final and want to make the team and only two go," Andrew Wilson said. "In the 100, it came down to me having to out-touch him for that second spot. He works harder than anyone I ever met. I was really happy that he put it together. The fact that we get to train together for another month and be back on the same team — Trials kind of pits everyone against each other — and now we can see what we can do as a pair against the rest of the world."