Amanda Beard To Be Inducted Into The International Swimming Hall of Fame
---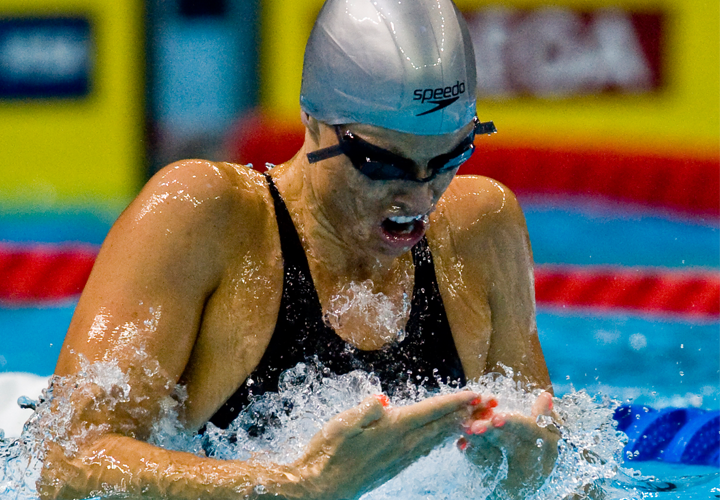 Amanda Beard, a seven-time Olympic medalist (two gold, four silver, one bronze) will be inducted into the International Swimming Hall of Fame as a member of the Class of 2018 during the Honoree Induction ceremonies in Fort Lauderdale, Florida, May 19, 2018.
Growing up in Southern California, Amanda Beard loved swimming and spent almost every waking hour at the pool during the summer months. When her older sisters joined a swim team, she became the team's cute mascot until she was old enough to join them.
When she started serious training as an 11-year old, no one could have imagined that this California girl, whose role model was the flamboyant bad boy of basketball, Dennis Rodman, would become America's best female breaststroker at the tender age of 13. Training under coach Dave Salo at Novaquatics Swim Club, her progress was so meteoric that she skipped Junior Nationals, jumping directly from competing against 12-year-olds to the Senior Nationals.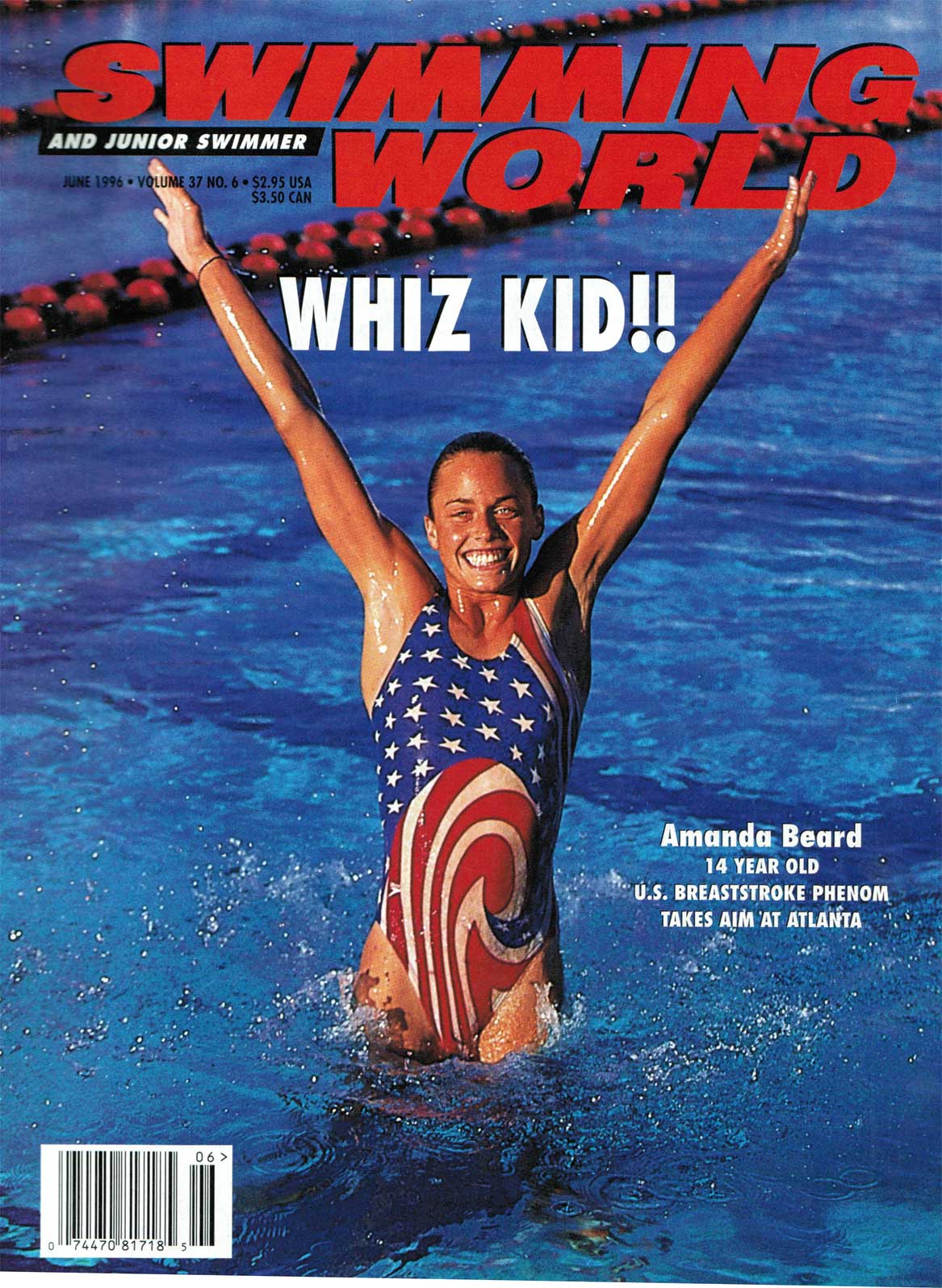 In 1995, Amanda stood a little over 5 feet tall and weighed 90 pounds dripping wet. So slender as to appear fragile, yet she was tough enough to win her first U.S. national title and qualify for the Pan-Pacs, where she won silver and bronze medals. She also broke a couple of meet records held by the great Tracy Caulkins.
In 1996, Amanda arrived in Indianapolis for the U.S. Olympic Trials slightly taller, slightly heavier and holding a teddy bear she would carry to the starting blocks for good luck. She returned to California to a hero's welcome after qualifying first in both breaststroke events, with times that made her a favorite to win three medals in Atlanta.
Four months later, when she made her Olympic debut in the 100-meter breaststroke, she didn't disappoint. Swimming from lane five in the finals, Amanda went from next to last at the half-way mark to next to first, to finish just behind Hall of Famer, Penny Heyns, in American record time. Amanda would leave Atlanta with a second silver in the 200-breast and a gold medal for the 4 x 100 medley relay.
After the 1996 Atlanta Games, Amanda became a darling of the media. She had breakfast with Dennis Rodman and appeared on the "Tonight Show" with Jay Leno. Unfortunately, she also suffered from the post "Olympic blues." To make matters worse, she was dealing with her parents divorce while going through physical maturity at the same time. Experiencing a four-inch growth spurt and its accompanying extra pounds, she struggled to reach the same speeds that had once come so easily when she was shaped more like a torpedo. In 1997, sportswriters started to wonder if she would ever do anything great in swimming again. Unfortunately, she would later say, it was the same negative loop she was playing in her own head, and she was literally drowning from the pressure of expectations. So, right after Nationals, Amanda decided to quit swimming permanently. Dave Salo supported her in her decision, but left it open-ended, and said if she ever wanted to come back, she would be welcomed. Luckily, her sabbatical only lasted a few months. When she decided to return, she did it for a healthy lifestyle, she told herself. More importantly, she wouldn't concentrate on her signature events, she would mix it up, do her own thing. She wouldn't put all that pressure on herself.
By 1999, Amanda had regained her spark. She was adjusting her technique to suit her new physique and was one of the nation's most sought-after college recruits. Her choice was to swim for coach Frank Busch at the University of Arizona and when she joined the team in the fall of 1999, she was 5 feet, eight inches tall and weighed 120 pounds.
In 2000, Amanda was considered an underdog to make her second Olympic team. At the Trials, she finished a disappointing eighth in the 100-breast, but the 200 was her best event. When she looked at the scoreboard after that race, and realized that she finished second to Megan Quann and had qualified for Sydney, she literally shook with excitement. Once again, she resembled the adorable youngster who had won three medals in Atlanta.
In Sydney, Amanda struggled, recording the eighth fastest time in both the prelims and semi-finals, which put her in lane eight for the final. In five days of competition, no swimmer in lane eight had won a medal and she was a full second from the 6th place qualifier. But after a pep talk from coach Busch, Amanda did it. In fourth place at the 150, she put on a painful burst of speed over the final ten meters to capture the bronze medal by .01 seconds.
It took almost three very difficult years for Amanda to adjust to her new body. When she finally did, she was almost unbeatable. In 2002, she won double gold at the Pan-Pacs. In 2003, she won gold in the 200-meter and silver in the 100-meter at the FINA World Championships. At the 2004 US Olympic Trials she qualified for four events, while breaking the world record in the 200-meter breaststroke.
In Athens she finally won her first individual gold medal when she won the 200-meter breaststroke in world record time. In the 200-meter individual medley, she won silver while setting a new American record. She won a second silver medal for the 4 x 100 medley relay and finished fourth in the 100-meter breaststroke.
After Athens, she embarked on a mission to turn herself from Olympic Champion into a lucrative brand name. Her life out of the pool was not without its challenges, as she describes in her 2012 memoir, "In The Water, They Can't See You Cry." Still, she had enough talent and toughness to train seriously for a few months and qualify for her fourth Olympic appearance, in Beijing, in 2008, at the age of 27. At the final team training session, Amanda was elected to serve as one of three co-captains of the women's Olympic swimming team. Although she placed a disappointing 18th in her signature 200-meter breaststroke event, she provided a role model for younger members of the team.
In 2009, Amanda married her soul mate, Sacha Brown, who she credits for encouraging her to seek therapy. In September of that same year, Amanda gave birth to their first child, a son, Blaise. After giving birth, she came out of retirement to swim in the 2010 Conoco Phillips National Championships. She had just hoped to be respectable, but finished second in the 200-breaststroke and qualified for the Pan-Pacs, once again. This success led her to continue training for a chance to reach her fifth Olympic Games in 2012. After finishing fifth and failing to make the team, she retired again, and in 2013, she gave birth to a daughter, Doone Isla Brown.
Last year, Beard opened the Beard Swim Co., a learn to swim company, out of Gig Harbor, Washington. Recognized for Excellence by the International Swimming Hall of Fame, The Amanda Beard Swim School believes the ability to swim is one of the greatest gifts a parent can give to a child.
About The International Swimming Hall of Fame Induction Weekend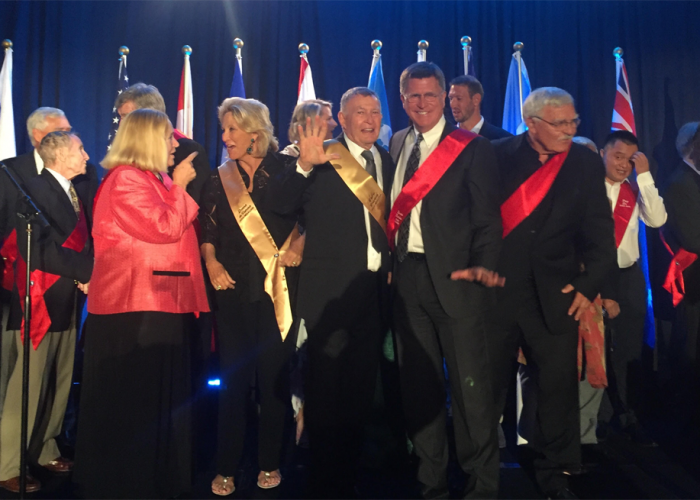 The International Swimming Hall of Fame (ISHOF) Induction Ceremony is shaping up to be a star-studded weekend with multiple events spread out over three days in beautiful Fort Lauderdale, Florida. Make your plans now to attend the weekend of May 18-20, 2018! ISHOF Members can purchase the Weekend Package and save!
This year's International Swimming Hall of Fame honorees include Swimmers: Rebecca Adlington (GBR), Amanda Beard (USA), and Libby Trickett (AUS); Water Polo Player: Brenda Villa (USA); Contributor: Andy Burke (USA); Diver: Irina Lashko (USSR, RUS, AUS) ; Coach: Bill Sweetenham (AUS); Synchronized Swimmer: Miho Takeda (JPN); Open Water Swimmer: Petar Stoychev (BUL); and Pioneer Synchronized Swimming Contributor: Joy Cushman (USA). Ian Crocker (USA) was a part of the Class of 2017, but was unable to attend the induction due to Hurricane Harvey. We will be officially celebrating his induction as part of the class of 2018.
The Paragon Awards and ISHOF Awards will be presented of Friday of the same weekend
2018 Paragon Award and ISHOF Award Recipients:
Frank Busch

for Competitive Swimming

Dr. Ben Rubin

for Diving

Bob Corb

for Water Polo

Jennifer Gray

for Synchronized Swimming

David Bell

for Recreational Swimming

Jill White

for Water Safety

Anthony Ervin and Constantine Markides –

Buck Dawson Author Award: "Chasing Water: Elegy of an Olympian"

Gay DeMario

– ISHOF Service Award

Lana Whitehead

– Judge G. Harold Martin Award

Johnny Johnson

– Virginia Hunt Newman Award

Kathy Bateman

– John K. Williams, Jr. International Adapted Aquatics Award

Bob Ingram

– Al Schoenfield Media Award
Additional Events
Reserve Your Hotel Rooms and Purchase Your Tickets Today
May 18-20, 2018 HOTEL INFORMATION
Host Hotel: Fort Lauderdale Marriott Harbor Beach Resort & Spa

Four and a half star upscale retreat with private beach access, two pools, four restaurants, full service spa and Oceanside bar. Location
of the Saturday evening induction ceremony. ¼ mile south of the International Swimming Hall of Fame.

Courtyard by Marriott Fort Lauderdale Beach

440 Seabreeze Blvd., Ft. Lauderdale, FL 33316 (954) 524-8733;
Special ISHOF Guest Rate of $159 per night
Please call 954 524-8733 and mention Swimming Hall of Fame Honoree Ceremony for the special Rate of $159.
For more hotel or ticket Information contact Meg Keller-Marvin meg@ishof.org / 570-594-4367