All that glitters is gold for Fort Lauderdale diver Juliet Radich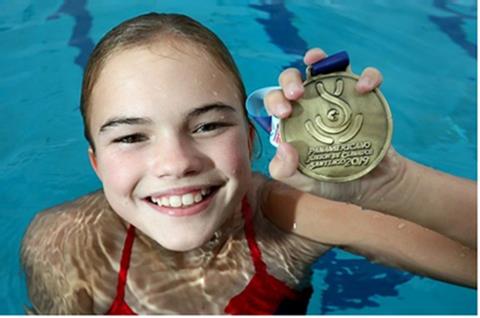 ---
Juliet will be honored at a commission meeting in October. She is also the 10M US National Champion. The highest level at the Jr. Pan Am Games is 5M for her age group.
By EMMETT HALL
SUN SENTINEL CORRESPONDENT |
Standing on the podium with the American flag draped across her shoulders as the United States National Anthem played was a golden moment Juliet Radich will savor for a lifetime. Representing Team USA at the 2019 Junior Pan American Championships in Santiago, Chile, the 11-year-old struck gold in the five-meter platform diving event to cap off a memorable summer.
"Winning the gold was definitely a highlight and very exciting," Radich said. "Having the American flag on my back with the national anthem playing was the greatest experience. If someone told me a year ago that I would be representing the U.S. I would have told them no way."
The Fort Lauderdale Dive Team member parlayed her two golds at the USA Diving Junior National Championships in Knoxville, Tennessee, to earn a selection to the 24-member USA squad. Boca Raton's Emile Moore, of Coral Springs Diving, was also a member of Team USA competing in the girls 14-15 age division.
"I just wanted to do well and didn't know what to expect at this level of a meet," Radich said. "I was pretty calm, helped my teammates and just did my best. Our Team USA teammates were really nice and cheered everyone on during our dives. I'm sad that I'm not going to see them for a while. It was really cool to dive in a different country and a great overall experience. I was very happy with my performance."
Radich had one week to add another dive to her repertoire as international rules required the divers to perform six dives compared to customary five dives in the states. She nailed the new 1 ½ somersault pike and closed out the competition with her signature inward double somersault to win by a comfortable margin. The last dive earned Radich 59 points to push her total to 242.65 points compared to the second-place Canadian diver's 217 points. She also competed in the 1-meter and 3-meter springboard finishing in sixth place.
The one-week interruption from school was well worth it for Radich who made the journey with her mother and father. Back home in Fort Lauderdale, the coaches and dive team members closely monitored her performance as well as her classmates at Bethany Christian School. Upon settling down and getting back into her normal routine, the sixth-grader received a hero's welcome at school.
"All my coaches and teammates wished me luck and were happy for me," she said. "I just really liked hanging out with Team USA while we got to know each other. I will be training and getting ready for competition season in January. The Pan Am games was a great, great experience."