5 Eye-Popping Stats That Defined the Tokyo Olympics; Including Fastest Men's 100 Freestyle Ever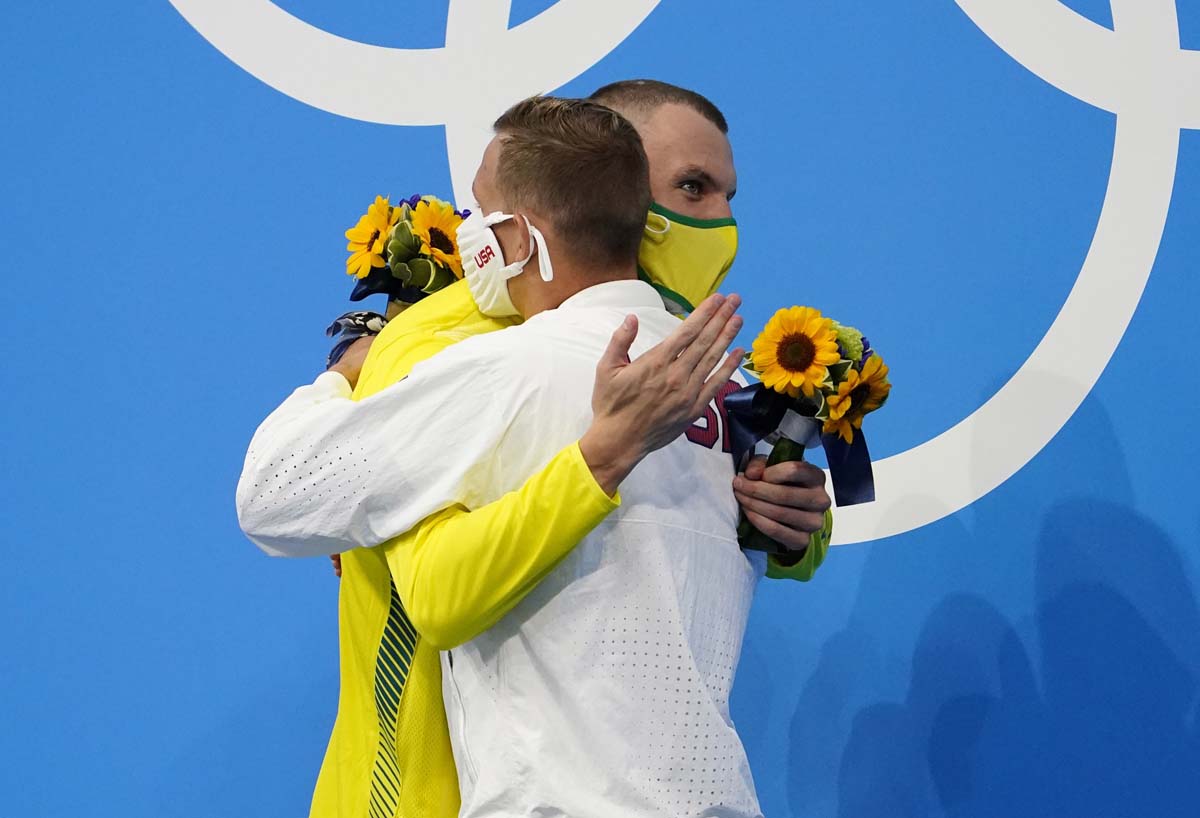 ---
Five Eye-Popping Stats That Defined the Tokyo Olympics; Including Fastest Men's 100 Freestyle Ever
Twelve years ago, the 2009 World Championships saw the sport of swimming taken to insane new levels of speed as swimmers embraced full-body, polyurethane suits that would be banned from the sport months later. Swimmers broke 43 world records that week, seven of which still stand. Most of the finals and podiums were faster than any other heat in history. In particular, in the men's 100 freestyle saw two-time defending world champion Filippo Magnini swim a 48.04 and finish ninth. You did not get into the final unless you swam under 48 seconds.
That never happened again until the Tokyo Olympics. The cutoff time to make the 2016 Olympic final was 48.23. At the 2017 World Championships, 48.31, and two years later, 48.33. But in Tokyo, Serbia's Andrej Barna swam a 47.94 in the semifinals — and placed ninth.
Andrei Minakov, Zach Apple and Thomas Ceccon all swam 48.0s. Teenagers Jacob Whittle and Joshua Liendo were in the 48.1 range. Canada's Yuri Kisil touched in 48.31, which would have at least tied for eighth at each of the past two World Championships, and that was good enough for 15th place.
On the other side of the brutal cutline for the final, France's Maxime Grousset placed eighth in 47.82 — the exact same time that won bronze at the World Championships just two years earlier. So while Caeleb Dressel and Kyle Chalmers almost exactly repeated their epic gold-medal battle, the rest of the field behind them had massively elevated the level of competition.
But the men's 100 free was not the only Olympic race that featured some crazy statistics. Here are four more.
---
Regan Smith Faster Than Any Other 100 Backstroke World or Olympic Champion
In 2019, Regan Smith led a gigantic leap forward in the 100 backstroke when she swam a 57.57 leading off the women's 400 medley relay at the World Championships. But in 2021, Smith struggled in the backstroke events while Australia's Kaylee McKeown and Canada's Kylie Masse caught up. In the Olympic final, Smith could not keep pace with those two rivals as McKeown won gold in 57.47, just two hundredths off her month-old world record, and Masse was second in 57.73. Smith earned bronze in 58.05.
That time would have won every previous major international final ever.
At the last World Championships, Masse's gold-medal-winning time was 58.60. The world record at the time belonged to Kathleen Baker at 58.00, and at the Worlds before that, Masse had broken an eight-year-old supersuit world record with her 58.10. Smith finishing three tenths away from silver shows just how much that event has improved in an incredibly short period of time. So while Smith's time did not stack up to her previous remarkable swims, it was still remarkable by any standard other than this year's.
---
Kristof Milak Beats Almost Every Phelps Winning Margin
Prior to the men's 200 butterfly final in Tokyo, Kristof Milak's suit ripped, and he had to change last-minute. The 21-year-old Hungarian competing at his first Olympics said that messed with his focus and killed his chances of going after the world record of 1:50.73 he set at the 2019 World Championships. Based on his amazing 100 fly performance (49.68, making him the second-fastest man ever), you have to believe Milak could have pushed for a 1:49 200 fly, as insane as that sounds.
But he merely swam a 1:51.25, breaking Michael Phelps' Olympic record and swimming faster than any other man ever had. And he won by 2.48 seconds over Japan's Tomoru Honda. Phelps won three Olympic golds in the event in 2004, 2008 and 2016, and the biggest margin of victory in those races was 0.67 in 2008. So Milak's margin was three times greater! In an off race.
Meanwhile, Phelps won five world titles in the 200 fly (2001, 2003, 2007, 2009 and 2011), and while three of those victories were by more than a second, only once did he win by more than 2.48 seconds. That was in 2007, at arguably his best meet, when he smashed the world record by 1.61 seconds and won by 3.04.
---
Hosszu's Dropoff Leads to Slower IM Finals
A lot of events at the Tokyo Olympics included unprecedented displays of speed. Not the women's IMs. Katinka Hosszu was incredibly fast in both IMs at the 2016 Olympics, with her 4:26.36 in the 400 IM (a world record) and 2:06.58 in the 200 IM (just off her world record of 2:06.12), and she was still strong in sweeping the world titles in both events in 2017 and 2019, with 2:07s in the 200 IM and 4:29s and 4:30s in the 400 IM.
No one was close to those marks in Tokyo. Japan's Yui Ohashi won both gold medals, but her winning times were the slowest times required to secure a global-level gold medal in a long time, 4:32.08 in the 400 IM and 2:08.52 in the 200 IM. times barely surpassed the silver-medal times from the 2019 Worlds. She was well off the times required to win silver at the 2016 Olympics (Maya DiRado's 4:31.15 in the 400 IM and Siobhan-Marie O'Connor's 2:06.88 in the 200 IM). Ohashi herself has been faster in the 200 IM in the past.
In fact, Ohashi's winning 200 IM time in Tokyo was slower than the winning time at the last three Olympics and slower than the winning time at every World Championships since 2011. In the 400 IM, every world champion has been faster since Katie Hoff at the 2007 World Championships.
Of course, who cares? Ohashi has the most important accolade, the two Olympic gold medals that are the crowing achievements of her great career.
---
Gold Medalists Not Present at the Last World Championships
In Tokyo, two men and one woman stood atop the podium in an individual event after not competing at all at the 2019 World Championships. Both were freestylers: 18-year-old Tunisian Ahmed Hafnaoui, who won the 400 freestyle, and 21-year-old American Bobby Finke, who was stormed past the field on the last length of the 800 free and 1500 free to win two gold medals. That comes with a slight caveat, however, as Finke actually swam at the 2017 Worlds (as a 17-year-old) before missing the team in 2019.
The surprise women's winner was, of course, American Lydia Jacoby, whose shocking emergence culminated with her upset win in the 100 breaststroke in Tokyo.
Every other gold medalist had competed in Gwangju two years earlier, while at the last Olympics, all men's champions had been at the previous year's World Championships while one women's champion who was making her major meet debut. That was Canada's Penny Oleksiak, the 16-year-old who tied for gold in the women's 100 freestyle.
Ten additional swimmers got onto the Tokyo podium after not qualifying for Gwangju, and those swimmers all had different circumstances. Seven made their major meet debut in Tokyo at the age of 21 or younger: Australia's Brendon Smith, Japan's Tomoru Honda, Switzerland's Noe Ponti and Americans Emma Weyant, Alex Walsh, Kate Douglass and Erica Sullivan. The USA's Annie Lazor was also making her debut at a major meet, albeit at the age of 27, while Australia's Emily Seebohm rebounded in her fourth Olympics after failing to qualify for the 2019 Worlds. France's Florent Manaudou was in his first major meet back after a three-year retirement.