2022 ISHOF Honoree Ceremony is just around the corner, do you have your tickets yet?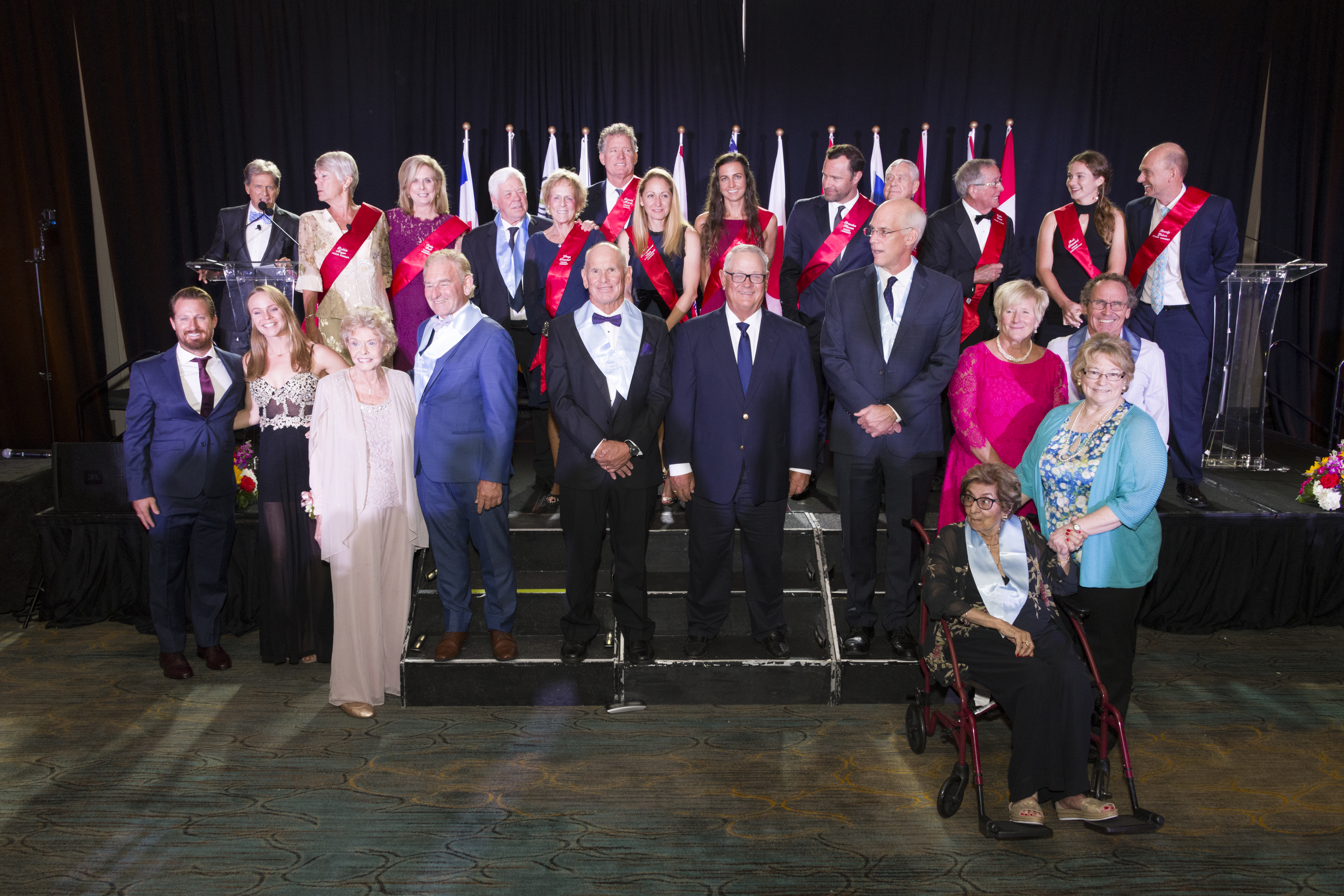 ---
2022 ISHOF Honoree Ceremony Weekend
The 57th Annual ISHOF Honoree Induction weekend will be held Friday, October 14 and Saturday, October 15, 2022 in Fort Lauderdale, Florida, USA. Make your plans now to attend! The Class of 2022 will include a star-studded class of 11 Honorees from six countries. Some of our Honorees this year are international Honorees that were originally part of the Class of 2020 but were unable to travel to the U.S. because of Covid, until now. In addition, we have three stellar U.S. Honorees joining this class. Read about all the Honorees below.
In addition to the ISHOF ceremony, the International Swimming Hall of Fame is proud to announce that it will be including MISHOF's prestigious Class of 2022 to its Saturday evening Induction program. This year Master's Class will include seven honorees from four countries: Four swimmers, one water polo player, one synchronized swimmer, and one contributor.
The Induction weekend will begin on Friday evening, October 14, 2022 and will celebrate the Paragon Award winners, which typically honor six stellar aquatic men and women from the following categories: competitive swimming, diving, synchronized swimming, water polo, recreational swimming and aquatic safety. This year's class has individuals that have dedicated their lives to aquatics, and we look forward to honoring them.
The ISHOF Specialty Awards honored on Friday evening, along with the Paragon Awards, include: The Buck Dawson Authors Award, is named after our beloved founder and author, William F. Dawson. In addition, we have The Virginia Hunt Newman Award, The John K. Williams Jr. Adaptive Aquatics Award, The Judge G. Harold Martin Award, The ISHOF Service Award, and others. It should be an exciting evening as we pay tribute to these individuals who will also be honored.
To read a little about each Honoree or award winner, see below.
2022 ISHOF Honorees:
Craig Beardsley (USA) Honor Swimmer: World record-holder in the 200-meter butterfly for three years in the early 1980s; gold medalist in his signature event, the 200-meter butterfly, at the 1979 Pan American Games in San Juan, Puerto Rico. Member of the 1980 U.S. Olympic team that was boycotted by the U.S. Olympic Committee; He set a world record of 1:58.21 in the 200-meter butterfly on July 30, 1980, just one week after the Olympic Games—a time that was over a second faster than Soviet swimmer Sergey Fesenko' who won the gold medal in Moscow at the 1980 Olympic finals.
Natalie Coughlin (USA) Honor Swimmer: Natalie Coughlinis a three-time Olympian and twelve-time Olympic medalist (3 Gold, 4 Silver, 5 Bronze). First woman to swim the 100-meter backstroke in under one minute in 2002. She achieved that milestone at the International Swimming Hall of Fame Aquatic Center during the U.S. Nationals in Fort Lauderdale. At the 2008 Beijing Olympics, Natalie became the first U.S. female athlete in modern Olympic history to win six medals in one Olympiad and the first woman ever to win gold in the 100-meter backstroke in two consecutive Olympic games. She competed in her third and final Olympic Games in London in 2012, where she earned a bronze medal in the 4×100-meter freestyle relay.
Michael Klim (AUS) Honor Swimmer: Klim has been called the best relay swimmer ever. He is a three-time Olympian, multi-time world champion and 21-time world record holder. He was a member of each of Australia's three relay teams, winning gold in the 4×200m freestyle relay and the 4×100m medley relay, and a silver in the 4×100m freestyle relay. At the 2000 Summer Olympics, Klim set a world record (48.18) leading off the 4×100m freestyle relay, which paved the way for a world record (3:13.67), beating the Americans in this event for the first time in Olympic history. Three days later, he was part of the 4×200m freestyle relay, which set another world record (7:07.05), which left the opposition over 5 seconds in arrears on its way to victory.
Jon Sieben (AUS) Honor Swimmer: Set the world record (1:57.04) in the 200m butterfly in the major upset of the 1984 Olympic Games; he then swam through two more Olympic cycles, 1988, Seoul and 1992 Barcelona, making him the first Aussie to do so since Dawn Fraser had done it in 1956, 1960 and 1964; 16 Long Course National Championships and 11 Open National Championships; As an NCAA swimmer, he won silver in the 200m butterfly and bronze in the 100-meter butterfly; Not only was Sieben an Olympic caliber swimmer, but in 2005 and 2009, he competed for Australia in the Universiade Games in the sport of water polo and in 2009, the team took gold.
Daichi Suzuki (JPN) Honor Swimmer: Suzuki was the Olympic gold medalist at the 1988 Olympic Games in the 100m backstroke, as well as a Japanese National Champion in the 100m Backstroke; Upon retirement, Suzuki stayed involved in swimming, sitting on the board of Japan's Anti-Doping Agency, as well as serving on the World Anti-Doping Agency's Athlete Committee; He was eventually selected as President of the Japan Swimming Federation, and more recently was named to head Japan's Ministry of Education, Culture, Sports, Science and Technology.
Marilyn Bell (CAN) Honor Open Water Swimmer: She swam across Lake Ontario when she learned Florence Chadwick was being offered a $10,000 purse to complete the swim – Bell wanted the honor to go to a Canadian swimmer. Three swimmers showed up, and Bell was the only one who finished the 20-hour, 59 minutes swim that had 5-foot waves and lamprey eels. As a result of the victory, the Canadian Press named her the Canadian Newsmaker of the Year in 1954; At the time, she was the youngest person to swim the English Channel and later she swam the Strait of Juan de Fuca off the Pacific coast – her woman's speed record held for more than 60 years! Bell became a Canadian hero.
Matthew Mitcham (AUS): Honor Diver: Mitcham received the highest single-dive score recorded in Olympic history at the 2008 Games ~ Beijing (two-and-one-half somersault with two-and-one-half twists/pike position); Olympic gold medalist on the 10-meter platform in 2008; first Australian to win Olympic gold in diving since Dick Eve in 1924; 2009 World Championship bronze medalist, 1-meter; 2010 Commonwealth Games silver medalist, 1-meter, synchro 3-meter, 10 meter and synchro 10-meter; and at the 2014 Commonwealth Games, gold in the synchro 10-meter platform event and silver in the 1-meter and synchro 3-meter events.
Ursula Carlile (AUS) – Honor Coach: In the 1970's, the husband-and-wife team of Ursula and Forbes Carlile made frequent periodic visits to the People's Republic of China, working with China's top coaches and national team. In 1972, Ursula became Australia's first female Olympic swimming coach, when selected as assistant coach to Don Talbotfor the 1972 Munich Games; Served as assistant to Terry Gathercole at the 1973 World Championships in Cali, Colombia; and in 1974, Ursula was selected as Australia's first female Head Coach for the Commonwealth Games, held in Christchurch, New Zealand. In yet another sterling accomplishment, during the 1970's and 1980's, she and Forbes coached five Olympians – all of them world record-holders: Karen Moras, Shane Gould, Jenny Turrall, Gail Nealand John Bennett.
Peter Hürzeler (SUI) – Honor Contributor; Peter Hürzeler is considered the Master of Swiss timekeeping technology: Swiss Timing; Since 1969, his organizational and creative skills have successfully delivered innovation, technology and timekeeping to the sport of swimming. Throughout the decades, he and his colleagues have invented and created many innovations in the aquatic disciplines, as well other sports. What he has done in sports and technology in swimming, no one else has ever achieved. Since 1970, Hürzeler has spent 3,708 days on the road, engaged in sports timekeeping, which includes 17 editions of the Olympic Games, 36 Continental Games, 19 World Championships, 23 European Championships and over 300 athletics meetings.
Carol Zaleski (USA) Honor Contributor: Zaleski has been in the center of quite a few firsts. She was the first female chairperson of the FINA Technical Swimming Committee and was the first female President of the United States Aquatic Sports. She served as President of USA Swimming for an unprecedented four terms, was the first female referee both at a FINA World Championships and an Olympic Games. And finally, she was the first female to be named deck referee at an Olympic Games in Beijing, 2008.
Mirko Vicevic (YUG/MON) Honor Water Polo Player: Vicevic has won gold at every major event on the water polo world stage; the Olympic Games, the World Championships and the FINA World Cup. His original club was Primorac of Kotor, Montenegro (formerly Yugoslavia), where he played from 1982 to 1989. After that, he played for several teams, Jadran, in Split, Croatia, Savona (Italy) Barcelona (Spain) Brixia (Brescia, Italy) and Pro Recco (Italy). Vicevic won the LEN Trophy for the years 2002, 2003 and 2006 with his club Brixia, and was selected as Best Sportsman of the Municipality of Kotor in 1986, 1988 & 1989 and Best Sportsman in Montenegro in 1988.
The Masters International Swimming Hall of Fame (MISHOF) is a division of the International Swimming Hall of Fame (ISHOF) with Inductions scheduled for Saturday, October 15, 2022
2022 MISHOF Honorees:
Doris Steadman* (USA) Honor Masters Swimmer: Doris Steadman didn't begin swimming Masters until four decades after she swam in college at Temple University. But by the time she was done, she set a total of 33 Masters World Records, some stood for as long as 11 years before being broken. She was in the Top Ten 190 times and of and she had 23 All-American Titles. She only attended one FINA World Championship but won all gold medals in the events she entered.
Dr. Jane Katz (USA) Honor Masters Contributor: Dr. Jane Katz has served the world of swimming in so many capacities. In 2000, Katz was awarded the FINA Certificate of Merit to honor her "dedication and contributions to the development" of the sport of swimming. As a member of the U.S. synchronized swimming team that performed at the 1964 Tokyo Olympic Games, Jane helped synchronized swimming become a sport at the Olympic level. She is an All-American and World Champion Masters Swimmer in competitive swimming, long distance swimming, and synchronized swimming. She has published numerous aquatic related books through the years, as well as DVDs, that range from water fitness to synchronized swimming.
Birte Hohlstein-Janssen (GER) Masters Artistic Swimming: Birte and her sister Silke, inducted in 2017, have been loyal Masters synchronized swimmers. Birte has attended 11 FINA Masters World Championships since 1994 and has won at least one gold or silver medal in 10 of the 11 meets. This success comes despite being hampered by the fact that there is no Masters team in her region. So, she and Silke have been limited to only doing solo and duet, except when they briefly joined a team based in Berlin. This brought them the gold medal in team, as well as duet, at the 1998 FINA Worlds in Casablanca, Morocco. Imagine if they had a team in their region?
Edith Bohm (GER) Honor Masters Swimmer: Since 1986, Edith Bohm has been in the Top Ten 22 times until 2008 when she competed in her last swim meet in Bavaria. She set 15 long course and 13 short course FINA Masters World Records in the breaststroke, one of them lasting seven years. Bohm has competed in seven FINA Masters World Championships between 1986 and 2004 winning a total of 29 medals, 18 of them gold. She is now 95 years old and lives in Munich where she still trains twice a week.
Olga Kokorina* (RUS) Honor Masters Swimmer: Russia's Olga Kokorina, born November 1, 1923, was a swimmer her entire life but did not start swimming Masters until 1998, when she was already 75 years old. She broke world records in almost every competition she entered. She then decided to risk it all and flew to the USA using all her money to take part in the World Masters Games in Portland, Oregon where she won three gold medals and established a world record in the 100m breaststroke. The next year at the European Championship in Innsbruck she broke two world records and won two golds. Her last recorded races were in 2015 where she swam in the 90-94 age group at the Russian Masters cup. In her 17 years in Masters swimming she broke 34 world records and won more than 50 gold medals. Olga Kokorina passed away in January of this year at the age of 98.
Shigehisha Sekikawa (JPN) Honor Masters Swimmer: Since 1991, Shigehisa Sekikawa has been in the Top Ten world rankings 24 times. He has set 14 long course and 17 short course FINA backstroke Masters World Records. His 1998 200m backstroke short course world record in the 65 to 70 age group stood for 7 years. He has not competed in any FINA Masters World Championships he accumulated his points by swimming world records and world rankings. He last competed in 2015.
Guenther Wolf (GER) Honor Masters Water Polo Player Günter Wolf was a five-time German National Champion with a team called SV 05 Würzburg. Wolf played 131 matches for the German National Team between 1969 and 1976 and took part in the 1972 (4th) and 1976 (6th) Olympic Games. From 2000 until now he has been involved with Masters Water Polo. With his team SC Duesseldorf, he has participated in eight FINA Masters World Championships, winning five gold, two silver and one bronze. In the LEN European Championships his team won three gold and two silver and more than 30 German National Championships.
*deceased
2022 Paragon Awards
Ellaine Cox – Competitive Swimming
Ellaine Cox volunteered for Indiana Swimming and progressed from representative for the monthly meetings for the Michiana Marlins (South Bend) to Age Group Chairman, Administrative Vice Chairman, Indiana Swimming and finally as a member of the Board of Directors. Eventually, Ellaine was asked to attend the annual United States Aquatic Sports convention, representing Indiana Swimming. She also served on the USA Swimming Site Selection/Facilities Committee for a number of years;chaired the Awards Committee for USA Swimming and eventually agreed and served as Chair until 2020 when several committee responsibilities were taken in-house by USA Swimming for staff members to manage.
But it wasn't until 1998, that all of aquatics saw Ellaine's real talents, when she was asked to become the Convention coordinator for the United States Aquatic Sports. She put together the most amazing group of special friends, as she called them, and they became one of the most successful convention groups in USAS history. As a team, they generated one million dollars in profit for USAS.
Julie Ahlering – Diving
St. Louis native, Julie (Capps) Ahlering was a four-time All-American Diver and Scholar Athlete for the University of Miami. She was a finalist in over 25 national diving events including the Olympic Diving Trials. After college she returned to St. Louis and raised four sons, but diving was not at all forgotten. She was asked to become a FINA Certified Diving Judge and help provide needed expertise in the sport. In 2010 she became FINA certified and immediately became known as one of the best diving officials in the United States. She judged ten NCAA, ACC, PAC-12 Championships as well as three Olympic Diving Trials. Ahlering soon became among the most respected international Diving judges in the World, judging FINA World Cups, World Championships, Commonwealth Games and she represented the United States as their Olympic Judge in the 2020 Tokyo Olympic Games.
Margaret MacLennan – Artistic (Synchronized) Swimming
Margaret MacLennan was the first female to be named as a member to the FINA Bureau (now FINA TSSC) in 1988 after she decided that synchronized swimming needed a presence. It was her passion and her valuable skills that not only earned her a seat on the Bureau but allowed her to influence the advancement of FINA rules for synchronized swimming. Her political astuteness and diplomacy elevated the credibility and interest of synchronized swimming in a field of male-dominated aquatic sports. She worked tirelessly and consistently with the Bureau during her tenure and was well respected by her peers.
She began as a long-time judge and volunteer in BC Synchro before she became involved in the sport at the international level as a member of the formerly named FINA TSSC (Technical Synchronized Swimming Committee), from 1984 to 1988. Margaret lobbied long and strong with her cohorts to bring Synchronized Swimming to the world stage as part of the Olympic Games, as well as working with FINA to elevate the sport. She served as the Technical Delegate for Synchro at the 1996 Olympic Summer Games in Atlanta, Georgia and officiated at the 1984, 1988, and 1992 Games as well.
Al Beaird – Water Polo
For 24 years, Al Beaird served as Executive Director for the Mountain Pacific Sports Federation (MPSF). He was the first Executive Director chosen in 1992, when the MPSF was created and established to serve the competitive needs of member institutions from the Big West, Pacific-10 (now the Pac-12) and Western Athletic Conferences, as well as other selected universities in the western United States; and to provide championships competition for Division I intercollegiate Olympic sports in a conference setting. The founding principles on which the MPSF was originally formed were to provide enhanced competition and championship opportunities for sports without conference affiliation; to contain the costs of competition; and to ensure the survival of endangered sports.
Kent Williams, PPOA – Recreational Swimming
Kent Williams literally wrote the book on swimming pool operations. He personally developed he program and wrote the textbook for the National Recreational Pool Association's Aquatic Facility Operator's program, starting in 1991 and he went on to continue to help shape the educational pool operational process. In addition, he founded and operated the PPOA, the Professional Pool Operators of America, to promote professionalism and recognition of swimming pool operators.
J. Arturo Abraldes, Ph. D. – Aquatic Safety
Dr. Arturo Abraldes is a fine example of a person that successfully mixes theory and practice in water safety, both national and internationally. He has served in the field of lifesaving as an academic, author, researcher, lifeguard, instructor, sport coach, journal editor and conference facilitator for the last 25 years. His qualifications are both academic and vocational. He received a Master's degree on Physical Education, Sport and Health Education and a Ph D in Physical Education with a thesis on lifesaving. He holds 14 certifications in swimming, lifesaving, first aid, lifeguarding, instructor, coach, referee, and national assessor from seven organizations. And with over 180 publications, Arturo is one of the most prolific water safety authors in the world. He has co-authored over 20 lifesaving related books, numerous educational DVDs, and has been a speaker at national and international conferences.
ISHOF Specialty Awards
Michael Loynd (USA) – Buck Dawson Authors Award: The Watermen: The Birth of American Swimming and One Young Man's Fight to Capture Olympic Gold: Michael Loynd is chairman of the St. Louis Olympic Committee, a representative on the International Olympic Committee's World Union of Olympic Cities, a member of the International Society of Olympic Historians, and a sports attorney and lecturer. He is the author of All Things Irish: A Novel, and now, The Waterman: The Birth of American Swimming and One Young Man's Fight to Capture Olympic Gold, the story of ISHOF Honoree, Charlie Daniels.
Jordan Whitney-Wei (USA) – 2021 Buck Dawson Authors Award: Katharine Whitney Curtis – Mother of Synchronized Swimming: Jordan Whitney-Wei is the great-grandnephew of Katharine Whitney Curtis. His bookwas released on February 25, 2020. His book focuses on family, synchronized swimming and his "Aunt Kate," a woman ahead of her time. This is Whitney-Wei's third book and his first award. Katharine "Kay" Curtis was the originator of synchronized swimming, as we know it today. She also wrote a book about it in 1936, though there was much more to her life and career. Unbound by fear, or the narrow expectations of society, she was a woman who lived ahead of her time making things happen along the way. Curtis was inducted into the International Swimming Hall of Fame in 1979.
Russell Weaver (USA) – ISHOF Service Award: Russell Weaver has easily given over 25 years of his time, connections, and resources to ISHOF. He is extensively involved with business networks throughout South Florida. When he attends these meetings and events, he always has in his mind, "Can this help ISHOF in any way?" As president of the Greater Fort Lauderdale Sisters Cities International and co-chair of Tower Club Internationals, Weaver works closely together with the Greater Fort Lauderdale Alliance, Greater Fort Lauderdale Chamber of Commerce, Broward County, and the City of Fort Lauderdale. He helps to promote Broward County's business and cultural highlights to the Miami based Consulates and binational chamber of commerce organizations. During these international monthly meetings, new business and government relationships are established, highlighting Fort Lauderdale and Broward County as a world class destination. As always, Weaver remembers ISHOF and always gives us the opportunity to showcase our Honorees at some of these events and educate the international local community and others, about what our museum has to offer.
James S. O'Connor (USA)– Judge G. Harold Martin Award: Jim O'Connor has more than 40 years-experience as an aquatic professional and is committed to the prevention of aquatic accidents and teaching children to swim. O'Connor is the Aquatics Program Manager for Miami-Dade County Parks and Recreation Open Spaces Department, the third largest parks and recreation department in the United States and the largest municipal learn to swim provider in the state. O'Connor has held numerous aquatic positions, served on the "Advisory Council" of the "National Drowning Prevention Alliance," has been an adjunct professor at the University of Miami, Aquatics Coordinator for the American Red Cross Greater Miami and Keys Chapter, and was the Aquatic Director and Head Swim Coach at the University of Oregon.
Patricia Cirigliano (ARG) Virginia Hunt Newman Award: Dr. Patricia Cirigliano started the first Argentine swimming school for babies in 1960. The school was centered around her holistic method, Matronatacion®, which is a creative and original approach to aquatic initiation for babies that involves human integrity and respect for the child and the family. To present, 17,000 babies, toddlers and young children beginning at 15 days old have learned to swim and have enjoyed the Matronatacion® method at Cirigliano's school, whose motto is "Swimming is learnt by playing." Dr. Cirigliano is member of a great number of associations such as, International Physical Education Federation and Panathlon Club in Buenos Aires and the National Swimming Schools Association in the U.S.A. Since 1991, she has been an active member of the Argentine Pediatrics Association.
Julia Meno (USA) John K. Williams, Jr. International Adaptive Aquatics Award – Sponsored by S.R. Smith: Julia Meno, CTRS, ATRIC, CMT, is the founder and owner of Therapeutic Aquatics, LLC. and is an internationally known presenter and instructor on aquatic therapy and wellness. Julia has a profound love and respect for the power of water as a healing instrument. She founded Therapeutic Aquatics, Inc. in 1996 and began providing aquatic therapy services in Jackson, WY; she also worked closely with the Jackson school district's Adaptive PE Program, L.I.F.E. grants, and Wyoming Medicaid Children's Waiver which all provided a platform to create Pediatric AquaHab© for children with challenges; Julia has worked as a Dementia Care Coordinator and is currently a presenter and faculty for the Aquatic Therapy & Rehab Institute, Inc. She was the recipient of the ATRI Tsunami Spirit Award in 2002 and the Aquatic Therapy Professional Award in 2014 for her innovations and contributions in education to the aquatic therapy industry.
Wayne Goldsmith (AUS) Al Schoenfield Media Award: Goldsmith has been a thought-provoking leader and influencer in the swim industry for more than 30 years. He has worked directly with many of the world's leading coaches, athletes, teams and sporting organizations in over 30 different countries. Wayne is a recognized global expert in coaching, coach education, and coach development for peak performance. His lessons in leadership, team development, change acceleration and continuous improvement provide swim coaches with quality, credible, engaging information via articles, videos, podcasts, seminars, clinics, and talks.
This year, both evening events will be will once again be hosted at the Fort Lauderdale Marriott Harbor Beach Resort and Spa, located one quarter mile south of ISHOF on beautiful Fort Lauderdale Beach.
The ISHOF Honoree Induction and Dinner will also host its annual silent auction. If you have anything you might want to donate to this year's silent auction, please contact Meg at meg@ishof.org
Hotel information, Ticket purchase information and schedule and location of events is listed below.
Make your plans now to attend October 14 & 15, 2022! Purchase your tickets TODAY!!! (Get info on membership here.) Can't attend the event? Donate to ISHOF to support our honorees.
The Induction Weekend Schedule
Friday, October 14, 2022
57th Annual International Swimming Hall of Fame Specialty and Paragon Awards
Business Casual
Ft. Lauderdale Marriott Harbor Beach Resort and Spa, 3030 Holiday Drive, Ft. Lauderdale, FL 33316, 954.525.4000
* 6:00 pm ~ Cocktail Reception ~ Ocean Ballroom
Cocktails and hors d'oeuvres
Cocktails sponsored by Spirited of Fort Lauderdale
* 7:00 pm ~ ISHOF Specialty and Paragon Awards ~ Ocean Ballroom
Sponsored by Pentair
Saturday, October 15, 2022
Official 57th Annual International Swimming Hall of Fame Induction Ceremony and Dinner
Black Tie Optional
Ft. Lauderdale Marriott Harbor Beach Resort and Spa, 3030 Holiday Drive, Ft. Lauderdale, FL 33316, 954.525.4000
* 5:30 pm ~ VIP Reception and Silent Auction ~ Grand Ballroom Foyer
Cocktails sponsored by Spirited Fort Lauderdale
* 6:30 –10:00 pm ~ Honoree Induction Ceremony & Dinner – Grand Ballroom
HOTEL INFORMATION
Host Hotel: Fort Lauderdale Marriott Harbor Beach Resort & Spa – Click here – $229 per night
3030 Holiday Drive, Ft. Lauderdale, FL 33316 (954) 525-4000
Additional Hotel Option: Courtyard by Marriott Fort Lauderdale Beach $189 per night
440 Seabreeze Blvd., Ft. Lauderdale, FL 33316 (954) 524-8733
BOOK YOUR ROOM HERE – Click here
Please join us at the 57th Annual Honoree Induction Ceremony, Purchase Tickets HERE