2022 ISHOF Honor Swimmer Craig Beardsley Joins 'One in a Thousand' Campaign, "The Hall of Fame Connects All Of Us"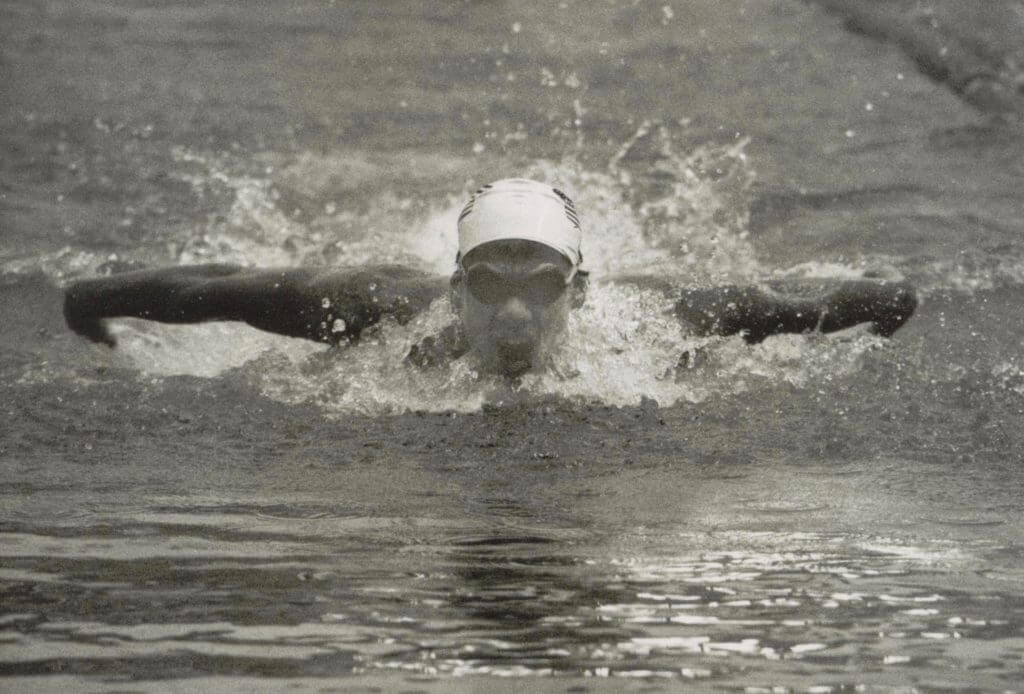 ---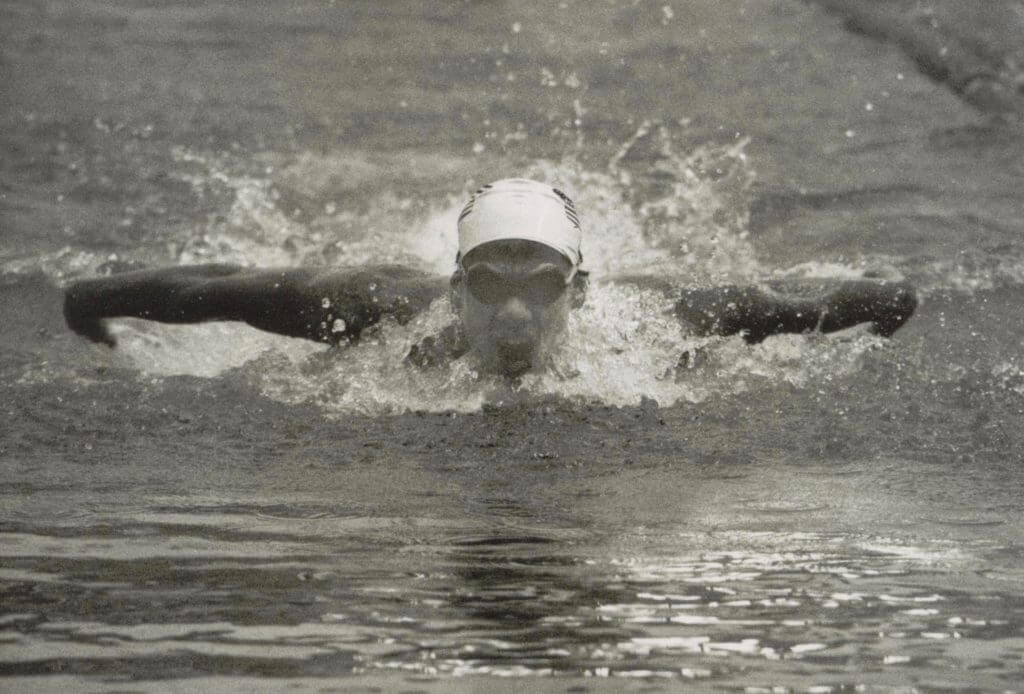 Pan American Games gold medalist and former 200 butterfly world record holder, and 2022 ISHOF Honor Swimmer, Craig Beardsley has joined the International Swimming Hall of Fame's "One in a Thousand" campaign, which is designed to help the Hall of Fame thrive during the uncertainties of the COVID-19 pandemic.
"I donate because when I was a kid, we would go to Fort Lauderdale and the Hall of Fame was there," Craig Beardsley said. "As a young athlete, it was burned into my brain the importance of something like this! The importance of having an International Swimming Hall of Fame to acknowledge not only the athletes but everyone in aquatic sports.
"People should know of our sport and the people that came before them and what they did to get the sport to where it is today. We all are on the shoulders of giants. For me, it was the '72 and '76 Olympic teams that kicked it off for me.
"Swimmers are a unique group of people and we are a family and whenever you meet a competitive swimmer, there is an instant connection and bond. You meet someone and go, 'hey you're a swimmer?' and next thing you know there are a million things you're talking about. It makes the world a better place to have similarities and the same things we experience. It's a bond that lasts through your lifetime. I think the Hall of Fame is a big part of that – it is part of the glue that actually holds us all together. I love the fact that even though I can't make every banquet, I can read the newsletters and hearing who is getting inducted and who gets an award. It keeps us engaged at a different level, to see what our friends are doing.
"The Hall of Fame for me always goes beyond just swimming. It means a lot more to me. That's why I donate all the time because I've developed friendships within the organization and it means a great deal to me. I don't swim Masters but I am involved with Swim Across America so I stay engaged. That's what the hall of fame does! It keeps us connected around the world which I think is really important. The swimming bond lasts a lifetime."
Join the One in a Thousand Club by helping ISHOF on a monthly or one-time basis.
For larger corporate sponsorships and estate-planning donations, please contact us at customerservice@ishof.org.
Craig Beardsley: 1980 Olympian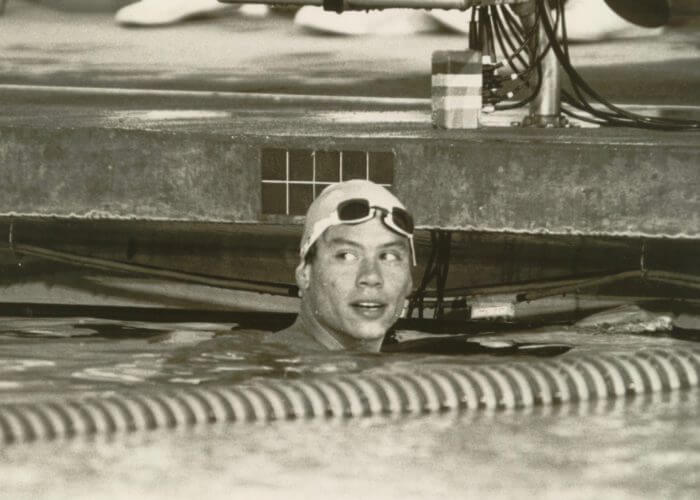 History views Craig Beardsley as an American great in the 200 meter butterfly. He was preceded by Carl Robie, Mark Spitz and Mike Bruner. He was followed by Mel Stewart, Tom Malchow and Michael Phelps. But Beardsley is missing the Olympic gold medal they all possess, and by no fault of his own. He was a victim of circumstance and political turmoil.
At the height of his career, like many of his United States teammates, Beardsley was poised to capture gold in the 200 butterfly at the 1980 Games. He was the Pan American champion in 1979, earning him favorite status for Moscow. But when President Jimmy Carter announced the United States would boycott the Olympiad, Beardsley's dream was crushed.
His nightmare only grew darker four years later, when in pursuit of redemption, Beardsley placed third in his prime event at the U.S. Olympic Trials. The finish locked him out of a trip to Los Angeles and led him into retirement. It was also the first year in which nations were limited to two athletes per event, rather than three.
"The lesson I learned from that was actually a very good life lesson," Beardsley once said of his boycott ordeal. "Sometimes, you do everything in your power, you do everything you're supposed to do, but sometimes things are just out of your control. You've got to learn to put that behind you, let it roll off your shoulders, and just move on."
Even without an Olympic appearance and hardware, Beardsley's accomplishments are impressive.
Two world records (with his reign atop the event lasting for more than three years)
Gold medals at the 1979 and 1983 Pan American Games
A bronze medal at the 1982 World Championships
Perhaps most impressive is the fact that his first world record was an emphatic rebuttal to what unfolded—without his presence—at the 1980 Olympics. Just 10 days after the Soviet Union's Sergey Fesenko won gold in a time of 1:59.76, Beardsley blasted that performance with a global standard of 1:58.21. The effort left no doubt who was the dominant man in the event.
The International Swimming Hall of Fame wants to know if you are one in a thousand? We think you are! Show how special you are and become a member of the International Swimming Hall of Fame's "One In A Thousand" Club. Help keep the International Swimming Hall of Fame moving forward toward a new vision and museum by joining now!
During these unprecedented times, the ISHOF Board is calling on every member in the aquatic community to make a small monthly commitment of support to show how special you are and how special the International Swimming Hall of Fame is to everyone.
"Our goal is simple. If we get 1,000 people to simply commit $10, $25 or $50 per month, we will generate enough revenue to go beyond this Covid-19 Pandemic Crisis." – Bill Kent – Chairman of the ISHOF Board

"Those that believe in our vision, mission, and goals can join us in taking ISHOF into the future and be a part of aquatic history." – Brent Rutemiller – CEO and President of ISHOF
Since 1965, ISHOF has been the global focal point for recording and sharing the history of aquatics, promoting swimming as an essential life-skill, and developing educational programs and events related to water sports. ISHOF's vision for the future is to build a new museum and expand its reach by offering its museum artifacts digitally through a redesigned website.
The ISHOF Board of Directors is calling on all members of the aquatics community to make a small monthly commitment to show their dedication to aquatics and how special the International Swimming Hall of Fame is to everyone.