2019 ISHOF Honoree Weekend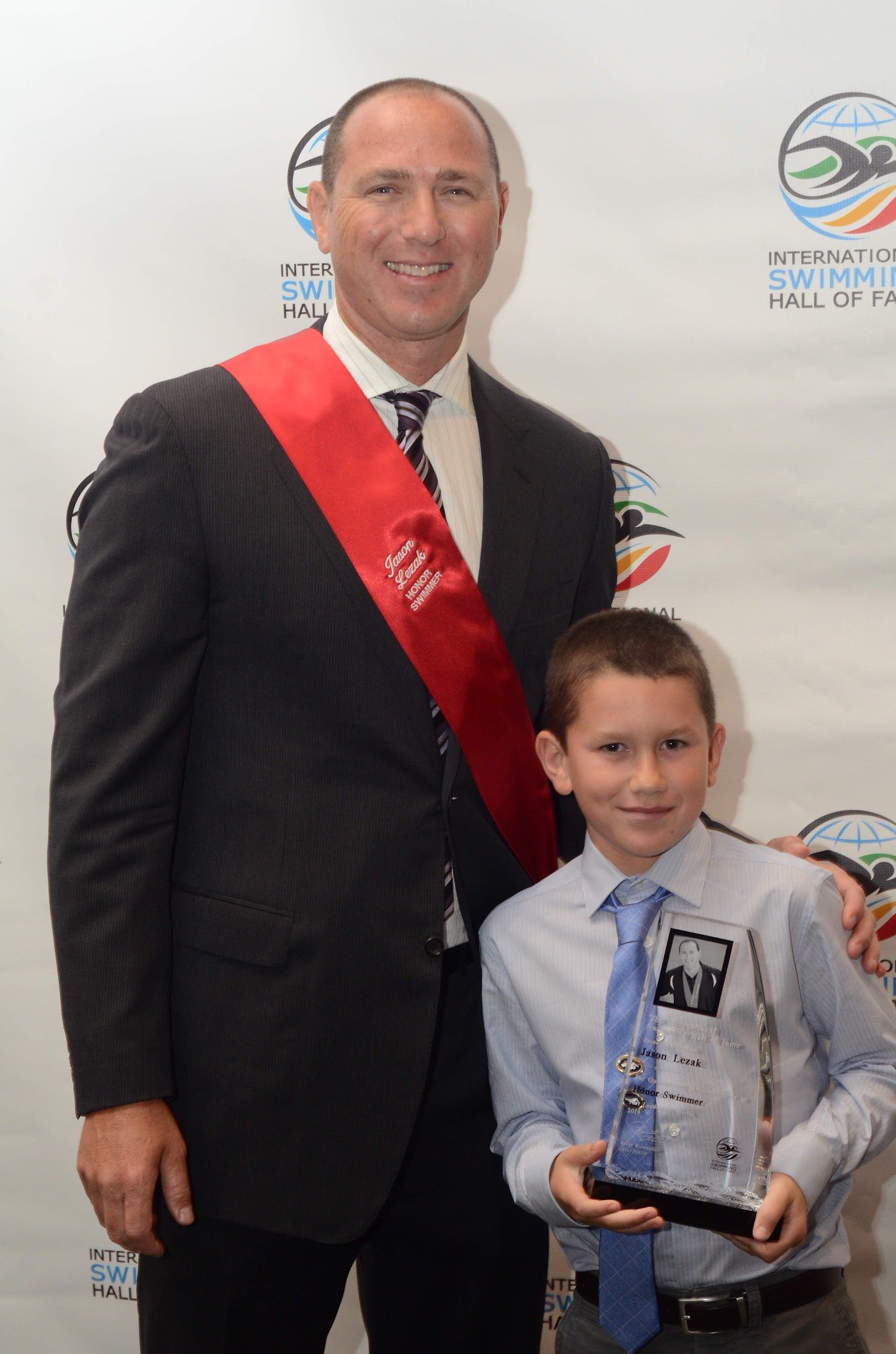 ---
ISHOF hosted the Class of 2019 Honorees and award winners, May 17-19, 2019 in Fort Lauderdale, Florida for the 55th annual ISHOF Induction weekend.
The weekend kicked off Friday evening, May 17th with the 24th Annual Paragon Awards, sponsored by Pentair Aquatic Systems. The Paragon Awards are presented annually to individuals or organizations for outstanding contributions to aquatics in six categories.
The Paragon Award winners included Greg Eggert, Competitive Swimming, Bill Farrar, Diving, Carvin DiGiovanni, Recreational Swimming, Peter Davis, Aquatic Safety, Don Holbrook, Water Polo and Igor Kartashov for Synchronized Swimming.
2019 Paragon and Award Winners
Other award winners for the evening included, Ruth Meyer who received the John K. Williams Jr. International Adapted Aquatics Award; Jim Wood was given the Lifetime Achievement Award posthumously and was represented by his sister, Terry Commodore and his brother, Bob Wood. David S. Duda was awarded the Judge G. Harold Martin Award, and Robert Strauss was presented the Virginia Hunt Newman Award. Dale Petranech received the ISHOF Service Award for his many, many years of help and friendship to the Hall of Fame.
Peter Bick received the Al Schoenfield Media Award. Peter is a photographer who has taken many fabulous photos for numerous magazines, including Sports Illustrated, Time and Swimming World.
Carolyn Wood received the Buck Dawson Authors Award for her book, "Tough Girl".
Dr. Joe MacInnis
Dr. Joe MacInnis
On Saturday morning, 2019 ISHOF Gold Medallion Recipient, Dr. Joe MacInnis gave us a preview
of his underwater world and was the speaker at the luncheon. MacInnis, a speaker for numerous Fortune 500 companies, gave ISHOF guests a special treat. He spoke on leadership in high risk environments, telling stories of his adventures and expeditions.
The 55th annual Induction ceremony began Saturday evening at 6:00 pm at the Ft. Lauderdale Marriott Harbor Beach Resort and Spa. 2019 marked the second year ISHOF has had a successful silent auction. With donations from swimming legends like Caleb Dressel, Natalie Coughlin, Anthony Ervin and Jason Lezak, just to name a few, the ISHOF Silent Auction was a huge hit among ISHOF guests and swimming enthusiasts that were able to bid online.
A special thank you to all those who donated to our 2019 Silent Auction. Besides swimming memorabilia, we had exciting items, like a 7-day vacation in Cabo San Lucas, thanks to the generosity of Drury Gallagher, an African Safari, A Napa Valley wine excursion and much more.
The ISHOF Silent Auction will now be an annual event during the Honoree weekend and a major fund-raising opportunity for ISHOF. Please consider ISHOF if you have any items that you might to donate for next year's event. Contact Meg Keller-Marvin at 570.594.4367 or meg@ishof.org if you would like to be part of the silent auction.
This year's Induction Class of 2019 included four swimmers, Jason Lezak (USA), Stephanie Rice (AUS), Britta Steffen (GER) and Otylia Jegrzejczak (POL); one diver, Li Ting (CHN); one synchronized swimmer, Olga Sedakova (RUS); one water polo player, Alessandro Campagna (ITA); one coach, Boris Popov (RUS); one open water swimmer, Marcella MacDonald (USA); one contributor, Dr. Ferenc Salamon (HUN) and one Pioneer, Alfred Nakache* (FRA). The Gold Medallion recipient for 2019 was Dr. Joseph MacInnis.
Jason Lezak and son Ryan
The class of 2019 begins with the swimmer who anchored one of the most memorable races in history. Jason Lezak has competed in four Olympic games, 2000, 2004, 2008, and 2012, and has won eight Olympic medals, four gold, two silver, and two bronze. Lezak will always be remembered as the anchor of the U.S. 4×100m freestyle relay team that won the gold medal and set a new world record at the 2008 Beijing Olympic Games. Lezak's split a 46.06, is the fastest 100m freestyle split in history by nearly six-tenths of a second.
Micki King and Stephanie Rice
Australian Stephanie Rice won three Olympic gold medals at the 2008 Summer Olympics in Beijing, in the 200 and 400 meter individual medley and in the 4×200 meter freestyle relay, each of which were won in world record time. Rice was the first women to go under 4:30 in the 400 I.M. mark in the event.




Otylia Jędrzejczak is the first Polish Honoree to be inducted into the International Swimming Hall of Fame. She was the Olympic champion from the 2004 Games in Athens in the 200 meter butterfly and finished 4th in this event in the 2008 Summer Olympics in Beijing. In Athens 2004, she also won silver in the 400m freestyle and 100m butterfly.


Britta Steffen is a German competitive swimmer, who specialized in freestyle sprint events, and won a total of 19 gold, 10 silver and eight bronze medals in international competition. She has competed in three Olympic Games, 2000, 2004 and 2008, and has broken five world records in her career.
Li Ting began her career as a synchronized platform diver for China and won gold in most events she entered, including the 2004 Olympic Games, the 2003 World Championships, and the 2002 Asian Games. After mastering the platform, her coaches decided to have her switch to the 3-meter springboard, where she went on to win gold at the 2005 World Championships, and the 2006 Asian Games.
Olga Sedakova
Olga Sedakova was Russia's first great synchronized swimmer to appear on the international scene. She was Russia's champion and represented her country in two Olympic Games, three World Championships, five World Cups, and other international competitions. She has won gold in solo, duet and team competitions.
Sandra Bucha and Alessandro Campagna
Palermo-born, Alessandro (Sandro) Campagna was considered one of the most complete water polo players of all time. As a member of the Italian national team, he won gold from 1992 to 1995, at the Barcelona Olympics, at the FINA Cup in Athens, at the European Championships in Sheffield and Vienna, and at the World Championships in Rome with the legendary "Settebello".
Penny Dean and Marcy MacDonald
Dr. Marcella 'Marcy' MacDonald has crossed the English Channel 15 times and three of her Channel swims were double crossings, (68 km/42 miles). In addition to the Channel, MacDonald has completed the Triple Crown and most of the Marathon Swimming top swims, including five times Around Manhattan Island Swim. MacDonald is heading back to Dover, in July (2019) to swim the English Channel on the 25th anniversary of her first Channel swim. Good Luck Marcy!!!
Boris Popov is one of the greatest coaches in the history of Soviet Union/Russian water polo. He has been the national team coach on and off since 1978, was the Olympic Coach in 1980, when the team won gold and in 1988 when they took bronze. Popov went on coaching the team to more gold medals at 1983, 1985, 1987, and 1989, European Championships, and he was a player on the 1964 Olympic team in Tokyo when they won the bronze medal. He is currently a Vice President of the Russian Federation.
Tom Gompf and Dr. Ferenc Salamon
For over 70 years, Dr. Ferenc Salamon has been involved in the sport of water polo, and few could say they have done more. Salamon, a medical doctor from Budapest, has been a player, referee, and an administrator. He has been on numerous FINA and LEN committees, dating back to 1972.
There are many exciting and interesting stories of many different athletes and how they got to the top, but Alfred Nakache's story is one like no other that we have ever heard. It is an amazing story of sport, perseverance, hate, determination and success. The ISHOF was fortunate to have numerous family members of Alfred Nakache travel to ISHOF from Israel and France to celebrate the induction and celebrate his life in aquatics.
The Nakache Family
Alfred Nakache was a Jewish French swimmer and water polo player, originally from Algeria. At the 1936 Olympic Games in Berlin, he finished 4th in the 4x 200m freestyle relay. Upon his return home, due to the conflict with Germany, he was forced to flee Paris and become a refugee in Toulouse during the German occupation. On July 6, 1941, he improved the standing world record in the 200m breaststroke set by the American Jack Kasley, from 2:37.2 to 2:36.8. At the time of his records, the Nazis occupied France and he fought against their claim that "the Jew Nakache … polluted the waters of French pools!"
When the deportation of the Jews began, Alfred, as well as his wife and two-year old daughter were arrested and deported in 1944. The family was killed as soon as they arrived in Germany, and Alfred was believed dead. In 1945, when the Auschwitz camp was freed by the Allies, Nakache was one of the 47 survivors of this camp, weighing only 92 lbs. Four months later, he started training and became part of the winning French National relay and first post-war Summer Olympics team in London in 1948. As far as is known, he is one of only two Jewish athletes who competed in the Olympics after surviving the Holocaust.
He was the subject of a French documentary in 2001, entitled "Alfred Nakache, the Swimmer of Auschwitz".
Dr. Joseph MacInnis
If you had to describe him in just a few words, you might say, Dr. Joe MacInnis is an underwater explorer, but he is so much more. MacInnis was an adviser to the team that discovered the wreck of the RMS Titanic. In 1987, aboard the French submersible Nautile, he made his first nine-hour dive to the Titanic at 4,000 miles south of Newfoundland.
In 1991, he was the co-leader of a $5 million expedition to film Titanic on the giant-screen IMAX format. He made a second nine-hour dive that included spending time on Titanic's bridge deck. It was his expedition that inspired Canadian filmmaker James Cameron's Academy Award winning film, which hit the big screens in 1997.
In 2012, he was expedition physician and journalist for Cameron and National Geographic for the seven-mile deep solo science dive into the Mariana Trench in the western Pacific Ocean, the deepest natural trench in the world.
Dr. MacInnis has spent 6,000 hours working inside the Atlantic, Pacific and Arctic Oceans. He has authored nine books about undersea science and engineering projects and the leadership needed to make them succeed that have been published by Random House, Penguin and National Geographic.
Dr. MacInnis currently examines and writes about leadership and team genius in lethal environments.
The weekend wrapped up with a Swim Across America led by Rob Butcher and Swim Fort Lauderdale. The swim was held at Carter Park the and raised money for Cancer research.
Rob Butcher and friend