1986 Honor Diver, Lesley Bush visits ISHOF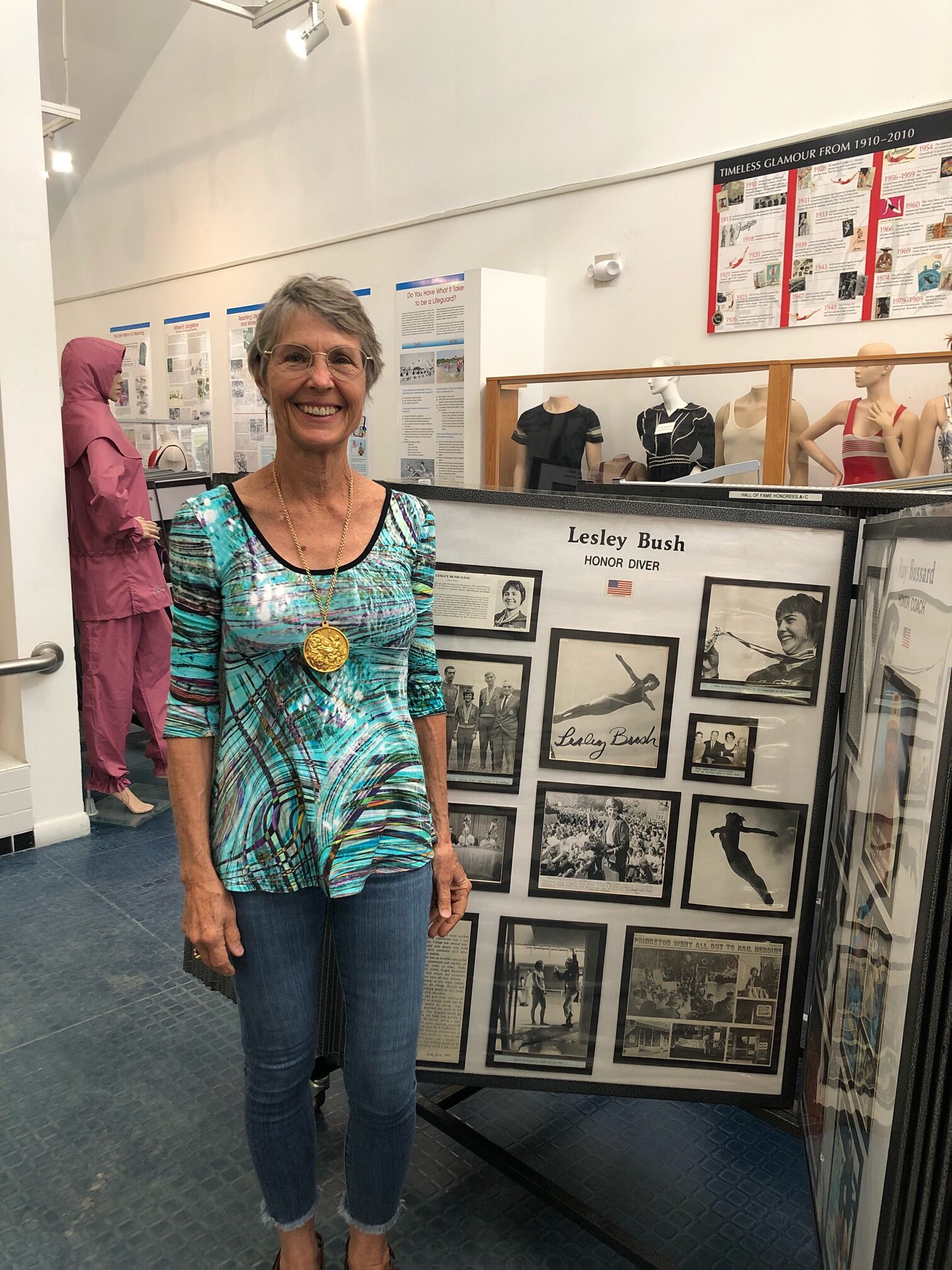 ---
ISHOF Honoree Lesley Bush Visits ISHOF
Last week, ISHOF Honor Diver, Lesley Bush came over from the west coast of Florida to visit ISHOF. She had not been to ISHOF for some years, so being a diver, she was particularly interested in seeing the new 27-meter diver tower and of course the museum! She bought her Olympic medal over to share, which was quite a treat! Leslie won the gold medal on the 10-meter platform at the 1964 Olympics in Tokyo, Japan.
To read Lesley's 1986 Induction bio:
Lesley Bush (USA)
Honor Diver (1986)
FOR THE RECORD: OLYMPIC GAMES: 1964 gold (platform); 1968 member of US Olympic Team; PAN AMERICAN GAMES: 1967 gold (platform); AAU NATIONALS (5): Outdoors: 1965, 1967 (platform); Indoors: 1967 (1m), 1968 (3m, platform); 1967 Lawrence J. Johnson Award.
Lesley Bush (USA), the pride of New Jersey and Indiana University was equally at home on the low board (1M), high board (3M) or platform (10m Tower). She won in the 1964 Tokyo Olympics on the Tower and came back three years later to win the Pan American Games off the tower. In between she won five AAU Nationals for Hall of Fame Hobie Billingsley's Indiana University divers including the one-meter springboard at the 1967 AAU Nationals and the three-meter springboard at the 1968 AAU Indoor Championships. Her diving was so spectacular during the 1965-1967 period that she was awarded the Lawrence J. Johnson Award in 1967 as the USA's outstanding aqua athlete in the sports of diving, swimming, synchronized swimming and water polo. She made a second Olympic team in 1968, but failed to medal. Coming from a diving family, Lesley's brother, David Bush, was also an Olympic diver on the 1972 U.S. team.