World Champion and Olympian Synchro Swimmer, Olga Sedakova To Be Inducted Into ISHOF
---
Olga Sedakova started synchronized swimming at just nine years old. Since the sport was still new to the Soviet Union, Olga and her coach developed training methods that combined swimming techniques along with famed Russian ballet and acrobatic methods. Through many years of hard work and dedication, Olga's dreams came true…becoming World Champion in the solo, duet and team events at the 1998 World Championships.
Olga Sedakova will be inducted into the International Swimming Hall of Fame as a member of the Class of 2019 during the Honoree Induction ceremony in Fort Lauderdale, Florida, May 18, 2019.
Meet Olga in person and hear her inspirational life story at the ISHOF Induction dinner. Become an ISHOF Legacy Member and attend the ISHOF Induction Dinner for FREE. Can't attend the event? Please consider making a donation to ISHOF to support Olga and our other inspirational honorees.
About Olga Sedakova
The Soviet Union was late to enter synchronized swimming and its first swimmer to show up on the international scene was a girl named Olga Sedakova. Sedakova came from an educated family, her father was a neurologist and her mother, an engineer.
When Sedakova was about nine years old, she and her twin sister came upon synchronized swimming by pure chance. Olga's mother was working at one of the largest aquatic centers in Moscow and it was there that the girls discovered synchronized swimming.
Early on, the girls trained with a very young coach, Elena Polianskaja. She was very ambitious, but because synchronized swimming was so new to the Soviet Union, she did not have much knowledge about the sport. It was clear that Olga was talented in the sport, but it took years until she began to fully develop her skills and shine on the podium.
While Olga was in her mid-teens, Soviet women's magazine, Journal Price, hosted an international competition event to celebrate International Women's Day for Soviet women. Olga and her synchro teammates participated in this event. It was a great opportunity for the young synchronized swimmers not only to see other successful swimmers, but to learn from them as well. At this point in her training, Olga knew nothing about paddling techniques and regulations. She absorbed as much as she could at the competition by watching the other swimmers. Since Russia has always been so successful in the ballet and acrobatics, Olga and the other synchronized swimmers also developed their own training methods, based on Russian ballet and acrobats.
Then in 1988, things began to change.
In 1988, at the Junior European Championships, the Russians won their first gold medal in synchronized swimming. Olga was soon called up to the (Senior) National Team to represent her country. It took two years as a member of the National Team, before she could take a lead role as a soloist and with a duet partner to compete internationally for Russia.
In 1991 at the European Championships in Athens, Greece, Olga won her first gold medals, one in each of the three events, solo, duet with partner Anna Kozlova, and team. Next, she travelled to Perth, to the FINA World Championships, where she placed fourth in all three events. In 1992, Olga Sedakova competed in her first Olympic Games in Barcelona, Spain and placed fourth in both events, the solo and duet, which were the only synchro events offered at the Olympic Games at that time.
After the Olympics, Sedakova decided to make a change and moved to Switzerland. She decided to begin using her partner's coach, Svetlana Fursova, who was currently living and working in Zurich at the Limmat Nixen Club.
All year round they trained splitting time between different three clubs. Part of the year they trained in the USA, in Santa Clara, California, with the famous, Aquamaids. Part of the year they trained in Zurichpart, and in spring, they went back to Russia and trained with the National Team.
In 1993 at the FINA World Cup in Lausanne, Switzerland, Olga and her partner, Anna Kozlova, won the silver medal for their duet performance, while Olga took bronze for her solo performance. Then, in 1994, Olga won her first gold medal in the solo event at the Goodwill Games in St. Petersburg.
Olga's partner, Anna left for America and her coach, Svetlana left for Canada. After the success she had just found, she now found herself alone in Switzerland, without a partner, or a coach.
Sedakova decided to coach at her club in Zurich, as well as train herself in her free time, with the help of Susie Morger, the Swiss Coach. Olga eventually went back to Russia to once again train with the National Team, so she could perform with them at the upcoming World Championships. They placed fourth and Olga also took fourth in the solo event. At the 1996 Olympic Games in Atlanta, the only synchronized swimming event was team, and the Russians took fourth behind the USA, Canada and Japan.
In 1997, Olga went back to Russia to begin practicing with her new partner, ISHOF Honoree, Olga Brushnikina and the Russian team as well. Later that year in Guangzhou, China, Sedakova won the FINA World Cup gold medal in the solo and duet. The January of the following year, 1998, all her dreams came true and she achieved her long-awaited goal. Olga Sedakova became World Champion in the solo, duet and team events, at the FINA World Championships in Perth, Australia. With three gold medals at one World Championships, Sedakova was only the fourth person to sweep every event at a single championship. The other three athletes to do so were ISHOF Honorees, Teresa Anderson, in 1973 at the first World Aquatics Championships, Carolyn Waldo, in 1986 and Becky Dyroen-Lancerat the previous competition in 1974.
Sedakova had reached the pinnacle of her career and accomplished everything she had set out to do. She retired and decided to take on a new challenge, coaching! Sedakova became the National and Olympic Team coach for the Swiss National Team.
She took the Swiss team to the 2000 (Sydney) and 2004 (Athens) Olympic Games. She choreographed and swam in (along with Billy May) the big show production of Swan Lake and Sleeping Beauty in Switzerland.
Now living in Zurich, Olga is married to a former Swiss boxing champion has three daughters. She stopped coaching synchronized swimming after her second daughter. She hopes one day to return to synchronized swimming, but today, her family in the most important thing.
About The International Swimming Hall of Fame Induction Weekend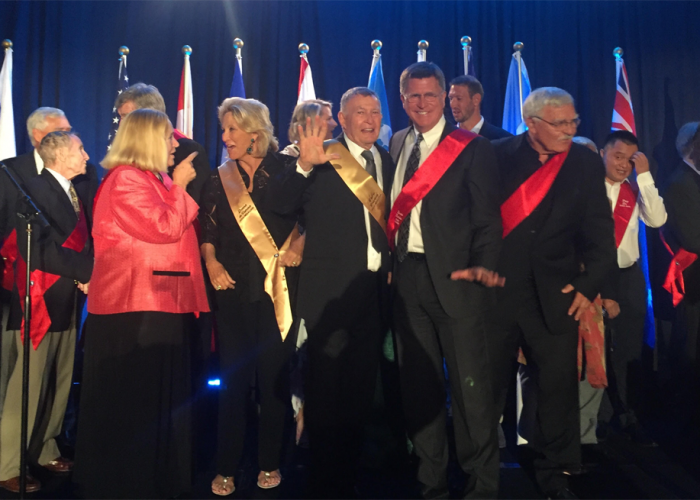 The International Swimming Hall of Fame (ISHOF) Induction Ceremony is shaping up to be a star-studded weekend with multiple events spread out over three days in beautiful Fort Lauderdale, Florida. Make your plans now to attend the weekend of May 17-19, 2019! ISHOF Members can purchase the Weekend Package and Save! Can't attend the event? Make a donation to ISHOF to support our honorees.
This year's International Swimming Hall of Fame honorees include Swimmers: Jason Lezak (USA), Otylia Jedrzejczak (POL), Stephanie Rice (AUS), Britta Steffen (GER); Diver: Li Ting (CHN); Water Polo Player: Alessandro Campagna (ITA); Coach: Boris Popov (RUS); Synchronized Swimmer: Olga Sedakova (RUS); Open Water Swimmer: Marcy MacDonald (USA); Contributor: Dr. Ferenc Salamon(HUN); and Pioneer: Alfred Nakache* (FRA).
ISHOF will also present the 2019 Gold Medallion Award, ISHOF's highest honor, to Dr. Joseph B. MacInnis.
Greg Eggert—

Competitive Swimming

Don Holbrook—

Water Polo

Bill Farrar—

Competitive Diving

Igor Kartashov—

Synchronized Swimming

Peter Davis—

Aquatic Safety

Carvin DiGiovanni—

Recreational Swimming

Carolyn Wood

—Buck Dawson Author Award: "Tough Girl"

Dale Petranech

—ISHOF Service Award

David Duda

—Judge G. Harold Martin Award

Robert Strauss

—Virginia Hunt Newman Award

Ruth Meyer

—John K. Williams, Jr. International Adapted Aquatics Award

Peter Bick

—Al Schoenfield Media Award

Jim Wood*

—Lifetime Achievement Award
The Weekend Schedule
Friday, May 17th — Paragon & ISHOF Specialty Awards Night
5:30 PM Cocktails, 6:30 PM ISHOF and Paragon Awards at ISHOF Museum
Saturday, May 18th — Honoree Induction Day Luncheon
12-1:30 PM Luncheon ISHOF Museum
Official 55th Annual International Swimming Hall of Fame Induction Ceremony
VIP Reception 6:00 PM, Induction Ceremony 7:00 –10:00 PM at Fort Lauderdale Marriott Harbor Beach Resort and Spa
Sunday, May 19th — Swim Across America
TICKET INFORMATION
MAY 17 ISHOF Awards and Paragon Awards Night (Hors D'oeuvres and Free Bar) 5:30 PM

MAY 18 Luncheon

MAY 18 INDUCTION CEREMONY AND DINNER 6:00 PM
HOTEL INFORMATION
Host Hotel: Fort Lauderdale Marriott Harbor Beach Resort & Spa

Four and a half star upscale retreat with private beach access, two pools, four restaurants, full service spa and oceanside bar. Location
of the Saturday evening induction ceremony. ¼ mile south of the International Swimming Hall of Fame.

Courtyard by Marriott Fort Lauderdale Beach

440 Seabreeze Blvd., Ft. Lauderdale, FL 33316 (954) 524-8733
Special ISHOF Guest Rate of $169 per night
Please call 954 524-8733 and mention Swimming Hall of Fame Honoree Ceremony for the special Rate of $169.
For more hotel or ticket Information contact Meg Keller-Marvin meg@ishof.org / 570-594-4367
* Deceased