The International Swimming Hall of Fame Announces 2018 Paragon Award Recipients
---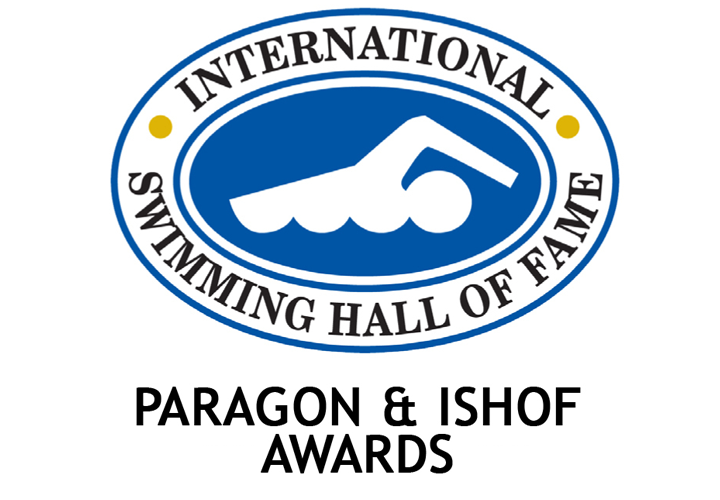 Sponsored by Pentair Aquatic Systems, the International Swimming Hall of Fame (ISHOF) announced today the recipients of the 23rd Annual Paragon Awards.  The Paragon Awards are presented annually to individuals or organizations for outstanding contributions to aquatics in six categories. This year's recipients are Frank Busch for Competitive Swimming; Bob Corb for Water Polo; Dr. Ben Rubin for Competitive Diving; Jill White for Aquatic Safety; Jennifer Gray for Synchronized Swimming and David Bell for Recreational Swimming. This year's awards will be presented onFriday evening May 18, 2018, in ceremonies at the International Swimming Hall of Fame, in Fort Lauderdale, Florida, USA.
"Pentair is honored to be associated with the International Swimming Hall of Fame and to recognize leaders in the aquatic industry who play a prominent role in the promotion of aquatics", said Jim Drozdowski, Institutional Aquatics Sales Manager for Pentair Aquatic Systems.

"The annual Paragon Awards bring some of the most interesting and fascinating people each year to the Hall of Fame," said ISHOF CEO Brent Rutemiller. "These are the unsung heroes who make competitive and recreational aquatics possible, who save lives, who promote water safety and further aquatic education."
The Paragon Awards are part of ISHOF's 54th Annual Hall of Fame Honoree Weekend, May 18-20. For ticket information visit www.ishof.org or call 954-462-6536.  For more information about the Paragon Awards, see: Paragon Awards
2018 Paragon Award Recipients:
Competitive Diving

• Dr. Ben Rubin (USA)
Dr. Ben Rubin became involved in the sport of diving 40 years ago, when he became the team doctor for the Mission Viejo Natadores in California.  As an Orthopedic Surgeon, he cared for the athletes on the team and as his expertise in diving injuries became more widely known, he began treating athletes from other diving teams from around the country.  During this time, Dr. Rubin began working with USA Diving and was asked to assemble the first ever Sports Medicine Team to provide treatment and care for the U.S. National Team and all the athletes participating in the National Championships, as well as at the World Championships and the Olympic Trials.  Rubin's Sports Medicine Team was one of the best, if not THE best group of experts ever assembled.  At the 1984, 1988 and 1992 Olympic Games, Dr. Rubin served as the physician for the USA teams.
Synchronized Swimming

• Jennifer Gray (GBR)
Jennifer Gray has served as the National Development Officer for the Amateur Swimming Association for Synchronized Swimming and Diving. She is one of the most widely published authors for synchronized swimming, having published nine books on the sport, one in collaboration with Istvan Bayli, "Long Term Athlete Development for Synchronized Swimming".  Jennifer is one of the most sought out presenters at conferences on synchronized swimming for both judges and coaches. Her presentations applying Laban's Theories of Movement to synchronized swimming were the first of their kind.   She has been a valued member of the FINA Ad Hoc Committee on Degrees of Difficulty since its creation in 1987. Gray has conducted clinics for 23 national associations and 24 FINA/LEN clinics. She has conducted clinics on every continent.  She has judged or refereed at the FINA World Championships, Junior World Championships, World Masters Commonwealth Games, Goodwill Games and at the Olympic Games in Beijing. And in addition, she is a FINA Evaluator.
Water Polo

• Bob Corb (USA)
Bob Corb is a former water polo official who is now responsible for the education of all varsity officials working for the NCAA.  For the past ten years, Dr. Corb has used his background as an official, training as a psychologist, and his education in athletic administration to create a national program whose goal is to improve the overall quality and consistency of officiating throughout the country.  As the NCAA national coordinator of officials for both the men and women's water polo, his initiatives in support of this goal has included the development and growth of the National Evaluator Group (NEG), currently consisting of twenty members across the US with a combined 750+ years of water polo experience.






Competitive Swimming

• Frank Busch (USA)
Frank Busch was the National Team Director for USA Swimming from 2011 through 2017.  Prior to that appointment, Busch had a 31-year coaching career, leading his collegiate and club teams to national championships seasons.  After his hiring at the University of Arizona in 1989, Busch went on to win Division I titles at both Men and Women's National Championships. During his coaching years, Busch was named to numerous coaching staffs for USA Swimming, including Athens 2004, and Beijing 2008.  In addition to his contributions to American swimming, Busch has coached athletes from over a dozen other countries to international success.  Busch has been the recipient of multiple coaching awards including United States Olympic Committee (USOC) and USA Swimming Coach of the Year.  He is a six-time NCAA Division I Coach of the Year and earned the Pac-10 Conference Coach of the Year award 11 times.  He was inducted into the American Swim Coaches Association (ASCA) Hall of Fame in 2008.
Recreational Swimming

• David Bell (USA)
David Bell has been a contributor to the Boy Scouts of America (BSA) national aquatics program for over 40 years.  He became an instructor trainer for BSA camp aquatics directors in 1974 and continues to teach at those week-long schools.  The hundreds of adults he has trained have in turn provided safe swimming programs for tens of thousands of youth.  He has been an Aquatics Specialist on the BSA National Health and Safety Committee since 1996 and became a Charter Member of the BSA National Aquatics Task Force in 2005.  He was a major contributor in the redevelopment of the BSA Lifeguard professional lifeguard certification in 2008.
Water Safety:

• Jill White (USA)
Jill White is an internationally recognized safety, risk management, and training specialist in the field of aquatics. She is the co-founder of the Starfish Aquatics Institute (SAI) – a certification agency for lifeguards, swimming instructors and pool operators – and a managing partner of StarGuard Elite (SGE) – a provider of training, aquatic risk prevention, and operational support services to waterparks, the cruise industry, and aquatic venues in the U.S. and international locations. A frequent speaker at industry conferences and the author of numerous publications, Jill was recognized by Aquatics International magazine as one of the "Power 25 of the last 25 years" for her contributions and influence in the field, was selected to the World Waterpark Association Hall of Fame, and is a recent recipient of the National Drowning Prevention Alliance Lighthouse Award.
—————–
About Pentair Aquatic Systems: Pentair Aquatic Systems is a world-wide leader in the manufacture of residential and commercial swimming pool equipment including PARAGON™ Competitive Starting Platforms, which have been the leader in innovation, design and quality for over 50 years. Pentair is a proud sponsor of the ISHOF "Paragon Awards" since 1996. For more information about the Paragon Awards, see: https://www.ishof.org/awards/paragon.html
About ISHOF:  The International Swimming Hall of Fame, founded in 1965 and recognized by FINA, the international governing body for aquatic sports, is a not-for-profit educational organization. Its purpose is to; Preserve swimming history, Celebrate the heroes and to educate the public about the benefits and importance of swimming as a key to water safety, fitness, good health, quality of life, and to Inspire Swimming For All, Swimming For Life!" . For more information about ISHOF, see www.ishof.org