ROWDY GAINES to be inducted as part of MISHOF Class of 2019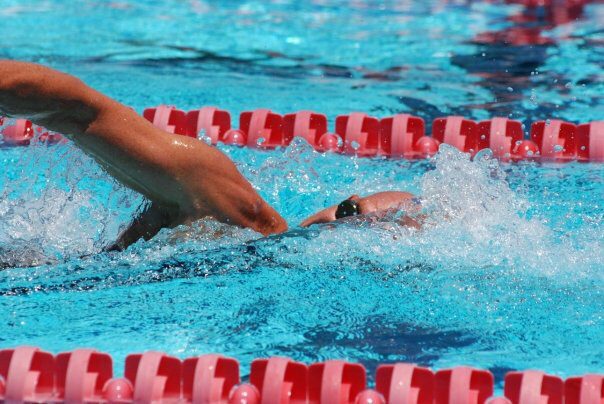 ---
The International Masters Swimming Hall of Fame (MISHOF) is proud to announce that Rowdy Gaines, will be inducted into the Masters International Swimming Hall of Fame as a member of the  Class of 2019 during the MISHOF Induction ceremonies in St. Louis, MO, on Friday evening, September 13, 2019, to be held in conjunction with the United States Aquatic Sports convention. 
As a sprint freestyler, Ambrose "Rowdy" Gaines became a legend when he overcame the disappointment of the 1980 Olympic boycott to win three gold medals at the 1984 Los Angeles Games. 
Then, in 1988, Rowdy got involved in Masters swimming when the legendary Tiger Holmes asked him to be a part of his Holmes Lumberjax Masters team and join them on their trip to the FINA Masters World Championships in Australia.  
In 1991, Rowdy's athletic pursuits in Masters Swimming came to a halt, when the swimming champion was diagnosed with Guillain-Barre syndrome, a rare condition in which a person's immune system attacks part of their peripheral nervous system.  He made a full recovery after only two months of treatment, eventually integrating swimming into his physical therapy routine. 
In Masters swimming, Rowdy has broken 26 FINA Masters World Records (19 long course and 7 short course), 24 individual USMS records and has competed in four different age groups. Gaines has been in the Top Ten 17 times and he has had 57 swims ranked in the top ten.  Rowdy has attended only two FINA World Championships, and only one, swimming in individual events, so he has accumulated most of his points through world records, world rankings and top ten standings. 
The longevity of some of Rowdy's world records is incredible.  His longest standing world record of his 200m freestyle record in the 30-34 age group that was set in 1989 is still standing after 30 years.   
Rowdy recently turned 60 and is hoping to swim in future Masters meets. Every year, he hosts the Rowdy Gaines Masters Classic, a Masters swim meet held every October in Orlando.  This year will be the 11th annual.  
Gaines will be inducted as part of a group of nine (9) outstanding individuals that will be inducted at MISHOF's annual ceremony. The event will be held at the Hyatt Regency St. Louis at the Arch in conjunction with the 2019 United States Aquatic Sports Convention.
The prestigious MISHOF class of 2019 includes five swimmers, one diver, one synchronized swimmer, one water polo player and one contributor, from five (5) different countries: the USA, Canada, Lithuania, Brazil and Japan:
SWIMMER INDUCTEES: CAROLINE KRATTLI (USA), SATOKO TAKEUJI (JPN),  RICK COLELLA (USA), ROWDY GAINES (USA) and WILLARD LAMB (USA); DIVER INDUCTEE: ASTA GIRDAUSKIENE (LIT), SYNCHRONIZED SWIMMER INDUCTEE: MARJORIE ANDERSON (CAN), WATER POLO PLAYER INDUCTEE: JOAO MEIRELLES (BRA), CONTRIBUTOR INDUCTEE: JIM MILLER (USA)
The event is open to the public and free of charge.  
About MISHOF:
The purpose of the MISHOF is to promote a healthy lifestyle, lifelong fitness and participation in adult aquatic programs by recognizing the achievements of individuals who serve as an example for others. To be considered, honorees must have participated in Masters programs through at least four different masters age groups and are qualified by an objective point system based on world records, world top 10 rankings and World Championship performances. The MISHOF is a division of the International Swimming Hall of Fame, in Fort Lauderdale, Florida. For more information, please visit: www.ishof.org
About ISHOF:
The International Swimming Hall of Fame, Inc. (ISHOF), established in 1965, is a not-for-profit educational organization located in Fort Lauderdale, Florida, USA.  It was first recognized by FINA, the International Olympic Committee's recognized governing body for the aquatic sports, in 1968.  ISHOF's mission is to collaborate with aquatic organizations worldwide to preserve, educate and celebrate history, showcase events, share cultures, and increase participation in aquatic sports.
For more information, call Meg-Keller-Marvin at 570 594-4367 or e-mail:meg@ishof.org