Rebecca Adlington To Be Inducted Into International Swimming Hall of Fame
---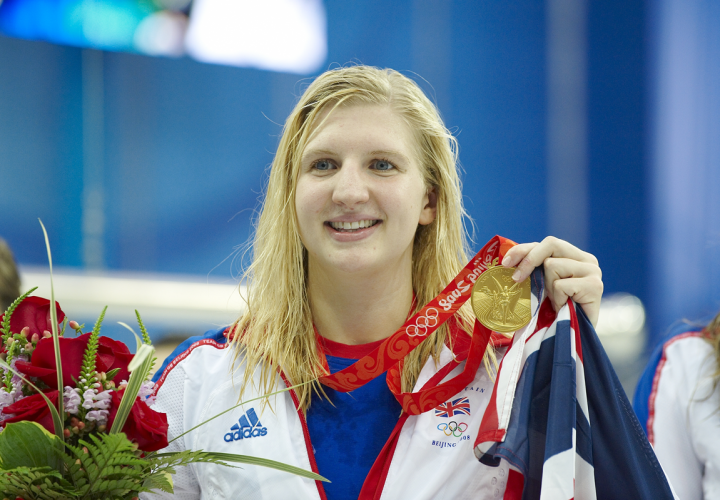 Rebecca Adlington, Britain's most decorated female Olympic swimmer, will be inducted into the International Swimming Hall of Fame with the Class of 2018 in ceremonies in Fort Lauderdale, Fla., May 19, 2018.
Rebecca "Becky" Adlington was born in Mansfield, Nottinghamshire, in Central England. It is near where the world-renowned Robin Hood became a legend. But that was a thousand years ago. Today, Becky is the region's most famous celebrity as a modern hero who won her gold honestly in the pool.
The legend of Becky was not born in Sherwood Forrest, but in the Sherwood Baths. The youngest of three girls, Becky naturally wanted to do what her older sisters did. The sisters were all swimmers. Before long, Rebecca's desire to keep up with them made her into a serious competitor.
By the age of 14, when she was showing real promise as a distance swimmer, she came under the guidance of coach Bill Furniss, who would remain her coach throughout her career. She thrived on his regimented routine and the lifestyle of training twice a day, four times a week, with Saturday mornings and meets.
"I never had to wake her up," recalled her mother Kay. "She was always ready."
Her commitment to training combined with mental toughness and her ability to tolerate pain made her one of Britain's brightest Olympic hopefuls. After a year with Furniss she won the 800 meters gold medal at the 2004 European Junior Championships.
Both Becky and her coach looked forward to 2005 with high expectations, but early in the year she came down with a case of glandular fever. Then, just as she was getting back in the pool, her sister Laura came down with a case of encephalitis that put her on life-support and fighting for her life for over a month. Laura eventually recovered, but the experience was traumatic for Becky and the next few years were full of ups and downs.
In 2006, she won the silver medal in the 800 free at the European Championships, but then placed 10th the next year in the same event.
As the British Olympic Trials in 2008 approached, Becky knew she would have to swim her heart out and to the surprise of many, she won the 200 and 400 meters freestyle, in addition to the 800, which was her signature event. She would drop the 200 to focus on the longer events.
First up in Beijing was the 400, an event for which she had not even been certain to qualify for the British team. In the prelims she swam brilliantly and qualified for the finals in lane in 5. Then, in the final, she went from fifth place with 50 meters to go to snatch the gold medal ahead of American Katie Hoff and teammate Joanne Jackson in a thrilling finger-tip finish. It was the first Olympic gold medal for a British woman since Anita Lonsbrough who won the 200 meters breaststroke in 1960.
When she won the 800m freestyle five days later, destroying the field and smashing Janet Evans' 19 year-old world record, there was no precedent. Adlington was the most successful woman swimmer Britain ever produced and the first British swimmer since Henry Taylor won multiple gold medals one hundred years earlier, in 1908.
Her triumphs in Beijing brought her instant fame: front-page headlines, an open-top bus parade in her home town and a coveted pair of gold Jimmy Choo shoes. In 2009 she became a celebrity spokesperson for the Encephalitis Society and received an Office of the British Order (OBE) by HRH (Her Royal Highness) Queen Elizabeth at Buckingham Palace. And in 2010, the refurbished Sherwood Swimming Baths were renamed the Rebecca Adlington Swimming Centre.
But she hadn't retired. In fact, between the Beijing and London Olympics, she stood on the podium in every major international event in which she competed, even though she refused to wear the polyurethane suits that helped the world records tumble in 2009. When she won gold in the 800 and silver in the 400 meters freestyle at the 2011 FINA Championships in Shanghai, expectations were high that she could repeat her double gold medal performance from Beijing in London.
But it was always going to be tougher for her for her competing at home. In Beijing she was an unknown, which is a tremendous psychological advantage in terms of pressure and surprise. In London, that advantage belonged to a 15 year old American named Katie Ledecky. So it wasn't to be.
When Adlington took bronze in the 400 meters, she was delighted – for the 400m was her weaker race. But after winning a second bronze in the 800, the disappointment showed.
"I'm sorry I didn't win," she said after the race, and "I hope the public were still proud of me."
She didn't have to worry about that. The British public adored her and when she retired a few months later, at the age of 23, it was as Great Britain's most decorated female Olympian of all time. Since then she has joined the BBC as a popular commentator for the aquatic sports. She has appeared on a number of television shows as a celebrity guest, contestant or spokesperson. In 2015, she gave birth to a daughter, Summer, and in 2016 she launched Becky Adlington's Swim Stars – a partnership program designed by Becky for pool operators to make learning to swim fun and enjoyable. Her vision is to ensure that every child leaves primary school able to swim at least 25 meters.
About The International Swimming Hall of Fame Induction Weekend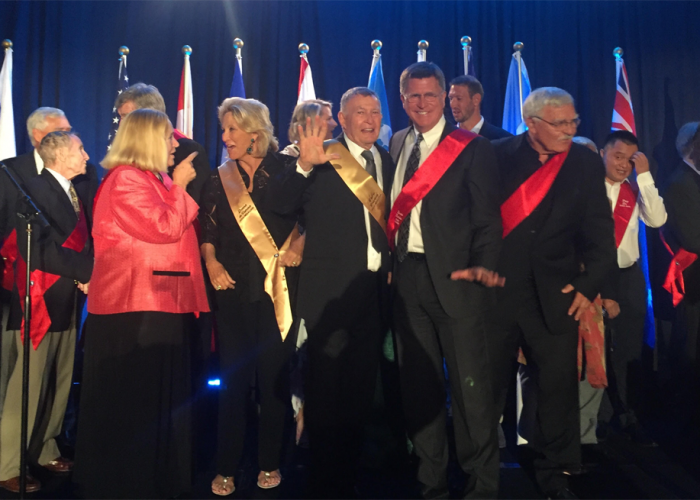 The International Swimming Hall of Fame (ISHOF) Induction Ceremony is shaping up to be a star-studded weekend with multiple events spread out over three days in beautiful Fort Lauderdale, Florida. Make your plans now to attend the weekend of May 18-20, 2018! ISHOF Members can purchase the Weekend Package and save!
This year's International Swimming Hall of Fame honorees include Swimmers: Rebecca Adlington (GBR), Amanda Beard (USA), and Libby Trickett (AUS); Water Polo Player: Brenda Villa (USA); Contributor: Andy Burke (USA); Diver: Irina Lashko (USSR, RUS, AUS) ; Coach: Bill Sweetenham (AUS); Synchronized Swimmer: Miho Takeda (JPN); Open Water Swimmer: Petar Stoychev (BUL); and Pioneer Synchronized Swimming Contributor: Joy Cushman (USA). Ian Crocker (USA) was a part of the Class of 2017, but was unable to attend the induction due to Hurricane Harvey. We will be officially celebrating his induction as part of the class of 2018.
The Paragon Awards and ISHOF Awards will be presented of Friday of the same weekend
2018 Paragon Award and ISHOF Award Recipients:
Frank Busch

for Competitive Swimming

Dr. Ben Rubin

for Diving

Bob Corb

for Water Polo

Jennifer Gray

for Synchronized Swimming

David Bell

for Recreational Swimming

Jill White

for Water Safety

Anthony Ervin and Constantine Markides –

Buck Dawson Author Award: "Chasing Water: Elegy of an Olympian"

Gay DeMario

– ISHOF Service Award

Lana Whitehead

– Judge G. Harold Martin Award

Johnny Johnson

– Virginia Hunt Newman Award

Kathy Bateman

– John K. Williams, Jr. International Adapted Aquatics Award

Bob Ingram

– Al Schoenfield Media Award
Additional Events
Reserve Your Hotel Rooms and Purchase Your Tickets Today
May 18-20, 2018 HOTEL INFORMATION
Host Hotel: Fort Lauderdale Marriott Harbor Beach Resort & Spa

Four and a half star upscale retreat with private beach access, two pools, four restaurants, full service spa and Oceanside bar. Location
of the Saturday evening induction ceremony. ¼ mile south of the International Swimming Hall of Fame.

Courtyard by Marriott Fort Lauderdale Beach

440 Seabreeze Blvd., Ft. Lauderdale, FL 33316 (954) 524-8733;
Special ISHOF Guest Rate of $159 per night
Please call 954 524-8733 and mention Swimming Hall of Fame Honoree Ceremony for the special Rate of $159.
For more hotel or ticket Information contact Meg Keller-Marvin meg@ishof.org / 570-594-4367