Open Water & Triple Crown Swimmer, Marcy MacDonald, to be Inducted Into International Swimming Hall of Fame
---
08 March 2019, 04:05pm
Marcy MacDonald's motto is "Dream, Prepare, Succeed." It is this outlook on life, along with her determination that has guided Marcy to an impressive list of open water swimming accomplishments including 16 English Channel swims (including three double crossings – there AND back), 5 swims around Manhattan Island, a swim across Loch Ness (luckily, no monster sighting), a swim around the Island of Jersey UK, a Catalina Island channel crossing, and too many more to state. From the age of 12, Marcy knew that open water swimming was her passion and she remains committed to that ambition today. Marcy MacDonald will be inducted into the International Swimming Hall of Fame as a member of the Class of 2019 during the Honoree Induction ceremony in Fort Lauderdale, Florida, May 18, 2019.
Meet Marcy in person and hear her incredible life story at the ISHOF Induction dinner. Become an ISHOF Legacy Member and attend the ISHOF Induction Dinner for FREE. Can't attend the event? Please consider making a donation to ISHOF to support Marcy and our other inspirational honorees.
FOR THE RECORD MARCY'S ACCOMPLISHMENTS: 16 English Channel Crossings including 3 double crossings, Loch Ness (36 km/22 miles), around the Island of Jersey UK (66 km/41 miles), Ederle Swim (28 km/17.5 miles), three times across Long Island Sound (27 km/17 miles), 5 times around Manhattan Island (46 km/28.5 miles), Molokai Channel (42 km/26 miles), Tampa Bay (24 miles), 3 times Boston Harbor (10 miles), Maui Channel (10 miles), around Mercer Island, WA (20 km/12.4 miles) and the Triple Crown.
Marcy MacDonald is a purist. She believes in swimming in the purist form: a bathing suit, a cap and googles, no wetsuit or any performance enhancers. When Marcy MacDonald was 12 years old, she told her younger sister that she would swim the English Channel one day, and she lived up to that promise many times over. The English Channel is her one great love.
MacDonald completed her first Channel crossing in 1994. Since then she has made 16 crossings, three of which were double crossings. She was the first American woman to swim across the English Channel to France and back in 2001. Of her crossings, MacDonald says the chill factor is the biggest barrier. "The swimmer must endure cool seas, ranging from 59 to 67 degrees, for between 10 to 20 hours, making hypothermia, a major consideration."
At 18.2 nautical miles, the English Channel is considered by many as the Mount Everest of Open Water Swims. It is a stretch of water that connects the shores of England to the Shores of France. Most swimmers leave from the famed Whited Cliffs of Dover at Shakespeare Beach and hopefully end up on the shore of Cap Gris Nez. MacDonald says, "This is where I feel at home."
MacDonald was also the first American and the fifth solo swimmer in history to swim the full 23 miles across the famed Loch Ness, in Scotland. While completing the swim, MacDonald was also raising money for Homes for the Brave, a charity that provides housing and services to homeless veterans.
MacDonald will attest that she and most other marathon swimmers crave a challenge; it's what keeps them going. Just like climbers who search for mountains to conquer, marathon swimmers need to swim open waters, channels, or bays. Large bodies of water seem to always call out to them.
The most-famous swims on the open water circuit make up what is known as the Triple Crown. The English Channel, The Manhattan Island Marathon Swim, and the Catalina Channel Swim. MacDonald completed the Triple Crown in 2013 and became a member of an exclusive club that had under 100 members at the time.
MacDonald has completed the Manhattan Island Marathon Swim, a 28.5-mile circumnavigation of the island of Manhattan, five times in her career. Water temps are much warmer than the Channel crossing, as they tend to range from 64-67 degrees in June to the mid-70's in July. Her best time swimming around the island was on June 12, 1999, with a time of 7 hours and 13.04 minutes.
As for the Catalina Channel Crossing, MacDonald swam the 20.1 miles from Catalina Island to the shores of San Pedro, California on June 25, 2013, in 12 hours, 09 minutes with partner, Scott Lautman, in a tandem swim.
Other notable swims that MacDonald has completed include: the 24-mile Tampa Bay, Florida, Marathon Swim; a solo swim around Mercer Island, Washington; and a Swim Across the Sound, a 17-mile swim across Long Island Sound, NY. Marcy completed the Swim Across the Sound swim three times which is a major fundraiser for the St. Vincent's Medical Center Foundation of CT.
MacDonald has successfully crossed the Ka'iwi Channel and the Maui Channel, both in Hawaii. She completed the 41-mile Round Jersey solo swim in the United Kingdom, the Kingdom Swim between Vermont and Quebec, and the Ederle Swim from The Battery in New York to Sandy Hook, New Jersey. MacDonald even attempted a 52-mile swim from England to Belgium, that had never been attempted before, but after 15 hours, an injury to her left shoulder forced her to stop at a beach north of Calais.
MacDonald has been inducted into three Halls of Fame: The International Marathon Swimming Hall of Fame, the American International College Hall of Fame, and the Manchester Sports Hall of Fame. In 2004, she was given The Allison Streeter MBE award, and in 2011 she was named the World Open Water Swimming Woman of the Year.
Dr. Marcy MacDonald is a Podiatrist and operates her own practice in Manchester, CT. In her spare time, she enjoys coaching at the Laurel East Hartford YMCA and gives talks about her exciting adventures and open water swims. MacDonald does find time to fit in her training, so she is always ready for that next big swim. "It's just right stroke, left stroke, right stroke, left stroke — for hours on end, the Life of an Open Water Swimmer!"
ABOUT THE ENGLISH CHANNEL SWIM
Swimmers have been crossing the English Channel since 1875 and doing so on a regular basis since the early 1920's. The English Channel is the best-known bucket list item for marathon and open water swimmers. Over 1,500 men and women have swum the English Channel and we could not even guess the number that have tried it.
By nearly all accounts, it is the most difficult. It's more than 20 miles, it's cold, the ship traffic is intense, the water is saltier, and the tides can bring swimmers to a halt. As swimmers from England approach the French shore, the changing tides and currents can force them to basically swim in place for up to four hours.
The English Channel is one of the busiest shipping lanes in the world, with approximately 600 vessels moving up and down them every day, plus ferries, sea cats, and jetfoils crossing between England and France on very regular intervals. Channel swims differ from other swims of this distance by their complexity and the local environment. The Channel has quite a lot of hazards such as seaweed and flotsam and jetsam (rubbish and timbers, etc.). It usually has a swell and when the wind is in the opposite direction to the tide it can turn quite choppy.
The swim is every bit a mental swim, especially while swimming in the darkness of night or fog. There is an element of luck involved in getting everything to fall right on the day. The swimmer can only wear a swim suit, swim cap and googles, NO wetsuits are permitted. A solo crossing starts the moment the swimmer enters the water off the English shores. During the swim, nourishment must be taken in without touching or holding onto the boat. The crossing is complete and successful when the swimmer walks or climbs onto the French land without assistance. Therefore, it is one of the ultimate challenges.
About The International Swimming Hall of Fame Induction Weekend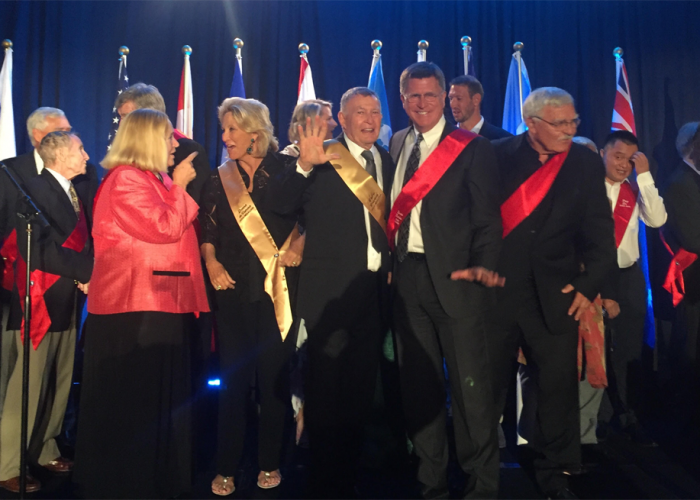 The International Swimming Hall of Fame (ISHOF) Induction Ceremony is shaping up to be a star-studded weekend with multiple events spread out over three days in beautiful Fort Lauderdale, Florida. Make your plans now to attend the weekend of May 17-19, 2019! ISHOF Members can purchase the Weekend Package and Save! Can't attend the event? Make a donation to ISHOF to support our honorees.
This year's International Swimming Hall of Fame honorees include Swimmers: Jason Lezak (USA), Otylia Jedrzejczak (POL), Stephanie Rice (AUS), Britta Steffen (GER); Diver: Ting Li (CHN); Water Polo Player: Alessandro Campagna (ITA); Coach: Boris Popov (RUS); Synchronized Swimmer: Olga Sedakova (RUS); Open Water Swimmer: Marcy MacDonald (USA); Contributor: Dr. Ferenc Salamon(HUN); and Pioneer: Alfred Nakache* (FRA).
ISHOF will also present the 2019 Gold Medallion Award, ISHOF's highest honor, to Dr. Joseph B. MacInnis.
Greg Eggert—

Competitive Swimming

Don Holbrook—

Water Polo

Bill Farrar—

Competitive Diving

Igor Kartashov—

Synchronized Swimming

Peter Davis—

Aquatic Safety

Carvin DiGiovanni—

Recreational Swimming

Carolyn Wood

—Buck Dawson Author Award: "Tough Girl"

Dale Petranech

—ISHOF Service Award

David Duda

—Judge G. Harold Martin Award

Robert Strauss

—Virginia Hunt Newman Award

Ruth Meyer

—John K. Williams, Jr. International Adapted Aquatics Award

Peter Bick

—Al Schoenfield Media Award

Jim Wood*

—Lifetime Achievement Award
The Weekend Schedule
Friday, May 17th — Paragon & ISHOF Specialty Awards Night
5:30 PM Cocktails, 6:30 PM ISHOF and Paragon Awards at ISHOF Museum
Saturday, May 18th — Honoree Induction Day Luncheon
12-1:30 PM Luncheon ISHOF Museum
Official 55th Annual International Swimming Hall of Fame Induction Ceremony
VIP Reception 6:00 PM, Induction Ceremony 7:00 –10:00 PM at Fort Lauderdale Marriott Harbor Beach Resort and Spa
Sunday, May 19th — Swim Across America
TICKET INFORMATION
MAY 17 ISHOF Awards and Paragon Awards Night (Hors D'oeuvres and Free Bar) 5:30 PM

MAY 18 Luncheon

MAY 18 INDUCTION CEREMONY AND DINNER 6:00 PM
HOTEL INFORMATION
Host Hotel: Fort Lauderdale Marriott Harbor Beach Resort & Spa

Four and a half star upscale retreat with private beach access, two pools, four restaurants, full service spa and oceanside bar. Location
of the Saturday evening induction ceremony. ¼ mile south of the International Swimming Hall of Fame.

Courtyard by Marriott Fort Lauderdale Beach

440 Seabreeze Blvd., Ft. Lauderdale, FL 33316 (954) 524-8733
Special ISHOF Guest Rate of $169 per night
Please call 954 524-8733 and mention Swimming Hall of Fame Honoree Ceremony for the special Rate of $169.
For more hotel or ticket Information contact Meg Keller-Marvin meg@ishof.org / 570-594-4367
* Deceased