Open Water Swimmer Petar Stoychev To Enter International Swimming Hall of Fame
---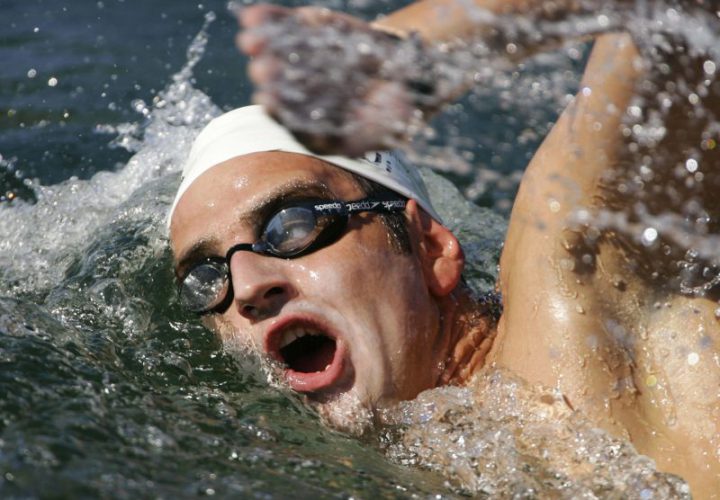 Photo of Bulgaria's Stoychev swimming in men's 25 km open water race at World Aquatic Championships in Montreal.
The International Swimming Hall of Fame (ISHOF) is proud to announced that Open Water Swimmer, Petar Stoychev, from Bulgaria is the second of 10 aquatic athletes selected for the ISHOF Class of 2018.
As in past years, the ISHOF will make a series of announcements until all members of the class are named. The 54th Annual ISHOF Induction Weekend will be held in Fort Lauderdale, May 18 – 20, 2018.
Petar Stoychev is unique among all the world's open water swimmers. Stoychev's versatility in open water swimming is unprecedented. A superman in the water, he has been able to cross great channels and swim in extreme conditions with water temperatures ranging from 35 to 90 degrees. He was the first swimmer to cross the English Channel in under seventy minutes.
Born on October 24, 1976 in Momchilgrad, Bulgaria, Stoychev started to practice swimming at the age of six in the town of Smolyan, under the guidance of his first coaches Evelina and Ognyan Georgiev. This little boy from the Rhodope Mountains could hardly have dreamed then that he would compete in four Olympic Games and become one of the greatest open water swimmers in history.
Stoychev made his first international success in 1992, when the 16 year old swimmer placed fourth in the 400-meter freestyle at the European Junior Championships. After that, in the same year, he made his open water debut at the annual Ohrid Swimming Marathon in Macedonia, where he placed second. This was when Stoychev realized that his strength was in longer distances and challenging conditions in the open water. At the 1995 European Open Water Championships in Austria, Stoychev managed to place sixth at the 5 kilometer swimming event and 12th in the 25 kilometer. Then, he slowly gave up swimming in the warm and luxurious pools and started to swim in the open waters of marathon swimming, organized by the International Swimming Federation (FINA).
Stoychev enters the ISHOF with more than 60 international marathon victories to his credit. Remarkably, he has won international championships in waters that have ranged in temperature from 2°C (35.6°F) to 32°C (89.6°F). He won the FINA World Cup/World Series titles eleven consecutive years, from 2001 – 2011. He also won the Traversée Internationale du Lac Memphrémagog in Magog, Canada (34 km), Lac Saint-Jean in Roberval, Canada (32 km) and the Ohrid Lake, Macedonia Swimming Marathon (30-km) each 11 consecutive times. In 2007, he became the first to swim the English Channel in under seven hours, with a time of 6:57.5.
In addition to his numerous achievements in marathon swimming, Stoychev has participated in four Olympic Games. Twice as a pool swimmer (2000 & 2004) before the open water event joined the Olympic program and in 2008 & 2012, where he finished 6th and 9th respectively in the 10K Olympic races which were shorter than his preferred 25K and longer distances. In Beijing, in 2008, Stoychev was Bulgaria's flag bearer at the opening ceremony. Petar Stoychev is not only an open water swimmer whose versatility is unprecedented, but he takes an active role popularizing swimming in Bulgaria and around the world. He frequently meets with children and supports the UNICEF initiatives in the campaign against child obesity. He has also served in Bulgaria's Ministry of Sport and on the FINA Athlete's Commission. 
About The International Swimming Hall of Fame Induction Weekend
The International Swimming Hall of Fame (ISHOF) Induction Ceremony is shaping up to be a star-studded weekend with multiple events spread out over three days in beautiful Fort Lauderdale, Florida.  Make your plans now to attend the weekend of May 18-20, 2018!  ISHOF Members can purchase the Weekend Package and Save!
This year's International Swimming Hall of Fame honorees include Swimmers: Rebecca Adlington (GBR), Amanda Beard (USA), and Libby Trickett (AUS); Water Polo Player: Brenda Villa(USA); Contributor: Andy Burke (USA); Diver: Irina Lashko  (USSR, RUS, AUS) ; Coach: Bill Sweetenham (AUS); Synchronized Swimmer: Miho Takeda (JPN);  Open Water Swimmer: Petar Stoychev (BUL); and Pioneer Synchronized Swimming Contributor: Joy Cushman (USA). Ian Crocker (USA) was a part of the Class of 2017, but was unable to attend the induction due to Hurricane Harvey.  We will be officially celebrating his induction as part of the class of 2018.
The Paragon Awards and ISHOF Awards will be presented of Friday of the same weekend
2018 Paragon Award and ISHOF Award Recipients:
Frank Busch

 for Competitive Swimming

Dr. Ben Rubin

 for Diving

Bob Corb 

for Water Polo

Jennifer Gray 

for Synchronized Swimming

David Bell

 for Recreational Swimming

Jill White

 for Water Safety

Anthony Ervin and Constantine Markides – 

Buck Dawson Author Award: "Chasing Water: Elegy of an Olympian"

Gay DeMario

 – ISHOF Service Award

Lana Whitehead

 – Judge G. Harold Martin Award

Johnny Johnson

 – Virginia Hunt Newman Award

Kathy Bateman

 – John K. Williams, Jr. International Adapted Aquatics Award

Bob Ingram

 – Al Schoenfield Media Award
Additional Events