Olympic Water Polo Player Brenda Villa To Be Inducted Into The International Swimming Hall of Fame
---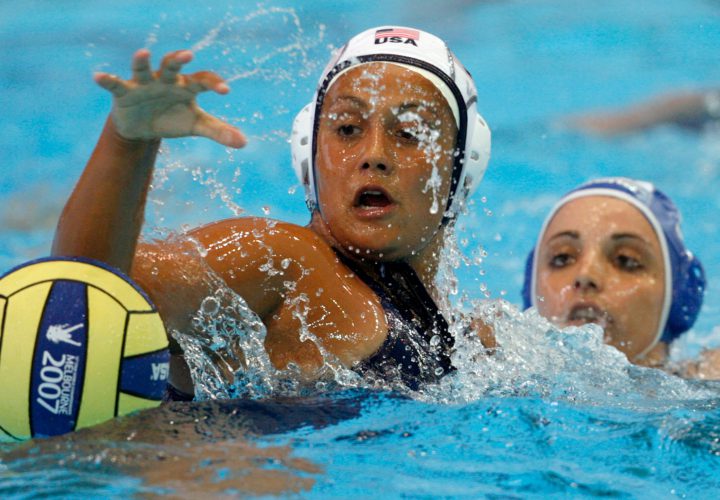 Brenda Villa is the most decorated player in the history of women's water polo
Brenda Villa is the most decorated player in the history of women's water polo. Brenda will be inducted into the International Swimming Hall of Fame as a member of the Class of 2018 in ceremonies in Fort Lauderdale, Fla., on May 19, 2018.
Brenda Villa was born and raised in the City of Commerce, a mostly Latino, blue-collar industrial community of 12,500 residents, located southeast of Los Angeles. While surveys show as many as 70 percent of Latino children cannot swim, Commerce is an outlier. It has one of the finest aquatic facilities in California and over the past 30 years it has developed one of the most prolific and sophisticated youth water polo programs in the United States. There are no financial barriers to swim in Commerce. Residents can learn to swim and participate on teams almost for free. For Latino's living in Commerce, swimming is cool!
When Brenda was five years old her parents, immigrants from northern Mexico, took her to the pool so she wouldn't be afraid of the water like her mother. After two years on the swim team, they reluctantly allowed to follow her older brother Edgar into the rough and tumble sport of water polo. This was before the explosion in girls water polo programs and Brenda practiced with and competed mostly against boys. And it didn't take long for her to realize that she was as good, if not better than most of them.
Playing with and against boys made the Commerce girls teams a powerhouse in Junior Olympic Competition. At the 1994 National Junior Olympics, for example, Brenda played in all three age groups, leading the Commerce girls to the 13 & under title, Bronze in 15 & under division and gold again in 17 & under division.
When she got to Belle Gardens High in the fall of 1994, the school didn't have a girls team, so she played on the boys team while enduring plenty of snide comments. But the competition improved her game and helped her develop the smarts, instincts and toughness that contributed to her becoming one of the best players in the world, male or female, despite being just 5 feet 4 inches tall. Before she graduated, she led the school to four consecutive CIF Finals, two titles and was named to four First Team All-County, All League and All-American high school lists for boys.
While Brenda enjoyed water polo and excelled in the classroom, her goal from at least the age of 12, was to attended Stanford University on a swimming scholarship. But that goal changed in the Fall of 1993 when Stanford announced it was starting a women's water polo team.
"I wanted to go to Stanford for swimming," she said. "But now I will go for water polo. I'm a little better in water polo than swimming."
Following her freshman year in High School, Brenda was selected for the US Junior Women's National Team. After playing in the 1995 Junior World Championships, where she was selected for the All-World Jr. Team, Women's National Team Coach Sandy Nitta moved her up to the Senior National Team. Two years later she was the US team's leading scorer at the 1997 FINA World Cup.
While Brenda enjoyed wearing the Red-White and Blue and traveling around the world, her top goal was to play water polo for Stanford. But in the fall of 1997, during her senior year in high school, the International Olympic Committee announced that Women's water polo would join the 2000 Olympic program. So she re-set her goal higher – it was not just to play for Stanford, but to also to win an Olympic Gold medal for the USA. She had no idea then that it would take 14 long years to do it.
When Brenda entered Stanford in the fall of 1998, it was as the nation's most heralded recruit. But to pursue her new goal she had to red-shirt her first two years to prepare for the Olympics – an opportunity that was anything but assured. For in 1998, the USA women's team was ranked 8th in the world and there would only be six teams in the inaugural Olympic tournament.
There were two chances for teams to qualify for the 2000 Olympic Games. When the USA failed to qualify at the FINA World Cup in May of 1999, it came down to a last chance qualification tournament in Palermo, Sicily in April of 2000. In what was a do or die game against Hungary, it was a goal by Brenda that broke a 5 -5 tie late in the fourth quarter to earn the USA a ticket to Sydney.
Continuing to improve under coach Guy Baker, Team USA approached Sydney as one of the favorites after upsetting Australia at the 2000 UPS Holiday Cup final, behind two goals from Brenda.
In Sydney, Team USA reached the gold medal match and it came down to last minute heroics again. Trailing by a goal in the final minute, Baker designed a play for 39 year old Hall of Famer Maureen O'Toole to draw an exclusion and then to get the ball into Brenda's hands. When Brenda scored with 26 seconds to play, it looked like the game was going to overtime, but it was not to be as Australia scored a game winner at the buzzer.
The remarkable story of the USA first women's Olympic water polo team is told in Sydney's Silver Lining, an enjoyable read by Kyle Utsumi.
Finally, in the spring of 2001, Brenda played her first game for Stanford. During her three years playing for Cardinal, she would twice be named player of the year and led Stanford to its first women's NCAA title in 2002.
After graduating form Stanford, Brenda played professionally in Europe and coached in the off season as Team USA dominated the world of Women's water polo. In the first decade of the new millennium, the USA won three world Championships, seven World League Super Finals and numerous other tournaments. But the Olympic Games remained a disappointment, with a bronze medal in Athens and Silver again in Beijing.
And then came London. After 17 years on the national team, Brenda, once the youngest player on the team was now the captain. Only Heather Petri, two years older, remained from Sydney. One again, behind a new coach, Adam Krikorian, and an infusion of new talent, Team USA entered the 2012 Olympic Games as the favorite – and this time they didn't disappoint. Brenda and Team USA finally got the gold with an 8 to 5 victory over Spain.
Considering her size and background, she appears, perhaps, to have been highly unlikely to become the most decorated woman in the history of water polo. But she has what psychologists, sociologists and others who study such things call the X-Factor – inexplicable qualities combined with physical and mental talent, determination and a love and passion for her endeavor, that not only account for her success but for making those around her better. For while Brenda had a great shot and always was one play ahead of the rest of the players, she always thought of the team first.
Once, when the great Dr. Sammy Lee was asked what it was that made Greg Louganis such a great diver, he said that if he knew the answer to that question he be a millionaire and he'd train another 100 divers to dive like Greg. It was a question he just had no answer for. The same is true with Brenda. There is no easy explanation for understanding her success.
Brenda has received numerous awards and recognition over the course of her incredible career, but none mean more to her than the City of Commerce naming the pool she grew up swimming in the Brenda Villa Aquatic Center.
Today, Brenda and her husband Gino are the proud parents of a baby girl, Gianna. They live in northern California where Brenda continues to share her passion for excellence and love of water polo through coaching, personal appearances and her work with several non-profit foundations.
About The International Swimming Hall of Fame Induction Weekend
The International Swimming Hall of Fame (ISHOF) Induction Ceremony is shaping up to be a star-studded weekend with multiple events spread out over three days in beautiful Fort Lauderdale, Florida. Make your plans now to attend the weekend of May 18-20, 2018! ISHOF Members can purchase the Weekend Package and save!
This year's International Swimming Hall of Fame honorees include Swimmers: Rebecca Adlington (GBR), Amanda Beard (USA), and Libby Trickett (AUS); Water Polo Player: Brenda Villa (USA); Contributor: Andy Burke (USA); Diver: Irina Lashko (USSR, RUS, AUS) ; Coach: Bill Sweetenham (AUS); Synchronized Swimmer: Miho Takeda (JPN); Open Water Swimmer: Petar Stoychev (BUL); and Pioneer Synchronized Swimming Contributor: Joy Cushman (USA). Ian Crocker (USA) was a part of the Class of 2017, but was unable to attend the induction due to Hurricane Harvey. We will be officially celebrating his induction as part of the class of 2018.
The Paragon Awards and ISHOF Awards will be presented of Friday of the same weekend
2018 Paragon Award and ISHOF Award Recipients:
Frank Busch

for Competitive Swimming

Dr. Ben Rubin

for Diving

Bob Corb

for Water Polo

Jennifer Gray

for Synchronized Swimming

David Bell

for Recreational Swimming

Jill White

for Water Safety

Anthony Ervin and Constantine Markides –

Buck Dawson Author Award: "Chasing Water: Elegy of an Olympian"

Gay DeMario

– ISHOF Service Award

Lana Whitehead

– Judge G. Harold Martin Award

Johnny Johnson

– Virginia Hunt Newman Award

Kathy Bateman

– John K. Williams, Jr. International Adapted Aquatics Award

Bob Ingram

– Al Schoenfield Media Award
Additional Events