Olympic Diving Champion Bob Clotworthy Passes Away at 87
---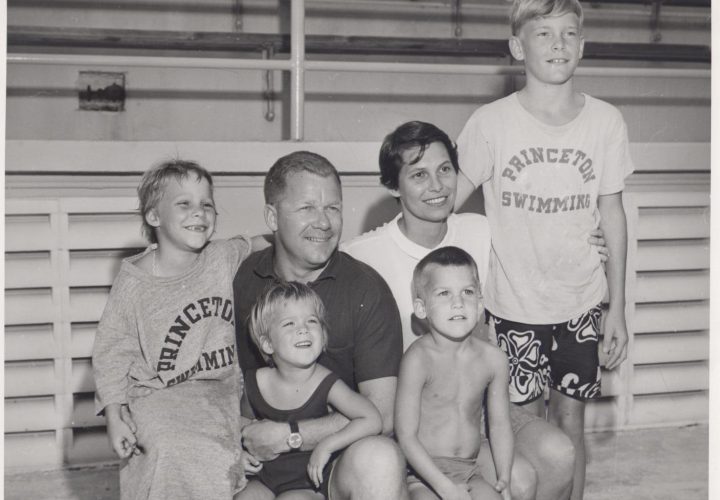 Bob Clotworthy with his family in Fort Lauderdale, FL – Photo Courtesy: ISHOF
Passage by Bruce Wigo, ISHOF.
Olympic diving champion Robert (Bob) Lynn Clotworthy passed away peacefully at his home, in Salt Lake City, Utah on June 1st. He was 87 years old.
Born in Westfield, New Jersey, Bob attended the Ohio State University where he won 11 Big Ten, NCAA, and National AAU Championships before capping off his career with an Olympic gold medal at Melbourne in 1956. In between he won a bronze in Helsinki (1952) and another bronze at the Pan Am Games (1955). These were all as a springboard diver but he added a silver from the tower at the Pan Ams just to prove his versatility.
"The pressure in the (Olympic) Games is so intense," Bob later recalled. "I've never felt anything like it. I felt it some at Helsinki in '52 but I wasn't supposed to win there, but at Melbourne in '56 I was the favorite. It's like taking your life's work and putting it on the line." But there was another strong reason. "I wanted to do good for the United States. I felt strongly about wanting to beat the Russians."
After retiring from amateur diving, Bob followed a long line of divers turned swim coaches in the tradition of Ernst Brandsten, Karl Michael, Dick Papenguth, Clarence Pinkston and Mike Peppe. He coached at West Point and Dartmouth before returning home to New Jersey to coach at Princeton University (1958 – 1970). At Princeton he produced two Olympic medalists in swimming, Jed Graef (gold in 1964) and Ross Wales (bronze in 1968). On the International Swimming Hall of Fame's Youtube channel is an interview with Bob explaining Jed's backstroke form. But more importantly, his swimmers and divers, at all levels, remember him best for how he changed their lives.
In 1957, Bob was the subject of a photo essay shot by legendary Sports Illustrated photographer John Zimmerman that appeared in the April 8th issue. Bob recently recalled the photo shoot in an interview with Bruce Wigo of the Hall of Fame.
"To get the effect they wanted," Bob remembered, "the photo crew blacked out all windows and lights so I had to dive into the Princeton pool in pitch black. By the time the pool was blacked out and the cameras were ready it was midnight. As I dove, John would press a button for the strobes four times, setting off four flashes that captured four images of my dive on each shot. I did about 50 dives in total darkness that night. It was exhausting and the strobes were really tough on my eyes. They chose my reverse-dive-pike, and the end product made it well worth the effort. For the underwater shot, I had a dim light from a scaffolding that helped me find the water. By the time the shoot was over, it was after 5 AM. Exhausting as it was, they made it fun and I had a terrific time. I really loved working with those guys."
The iconic images that made photojournalistic history can be viewed on pages 25 – 31 of the April 8 1957 issue.
One of the most significant incidents in Bob's life came at the 1955 Pan American Games in Mexico City.
"I had climbed onto the 10 meter tower to watch the swimming races below," Bob recalled," and that is where I met my future wife. After the races, she climbed down and I just went off the deep end, so to speak."
The girl Bob plunged off the tower for was Cynthia Gill, a graduate of Fort Lauderdale's Pine Crest School, who had won a bronze medal in the 100 meter backstroke at the Pan Am Games. Shortly after their marriage, in March of 1958 in Hanover, New Hampshire, where Bob had been coaching Dartmouth, the International Educational Exchange Service, a branch of the State Department, selected the Clotworthy's to make a good will tour. Their mission was to give swimming and diving exhibitions around the world, including stops in Japan, Malaya, Singapore, Thailand, Ceylon, Egypt, Morocco and a ten day visit to the World's Fair in Brussels, Belgium. The trip took from June until September and Bob and Cynthia dubbed their government-funded honeymoon "Around The World in 107 Days."
In 1970, Bob packed up the family and joined the Peace Corps. The family lived in Caracas, Venezuela where he trained their Olympic diving coaches. Upon returning to the states, Bob took a job at Arizona State. While the job didn't work out, the climate provided a miracle cure for a sinuscondition that Cynthia had developed and Bob ended his career as a teacher at the Albuquerque Acadamy and retired to his beloved Taos, New Mexico.
Cynthia Gill Clotworthy, passed away six years ago, and according to her family, her final words: "It's wonderful". Bob really never got over the loss of the love of his life.
In his final years, Bob continued to devote his spare time to finishing a complete history of the sport of diving.
Bob was inducted into the International Swimming Hall of Fame in 1980.
He leaves behind, his brother William (Jo); his four loving children, Susan Syring, Bruce (Leslie), Jodi Best (Steve), and Erin Joosse (Chris); his twelve grandchildren; and fifteen great grandchildren.
A Celebration of Bob's life will be held from 12:00 until 2:00 pm on Friday, June 15, 2018 at Larkin Sunset Gardens, 1950 E Dimple Dell Road (10600 South), Sandy, UT 84092.
RSVP jodisbest@gmail.com if planning to attend.