Libby Lenton Trickett To Be Inducted Into The International Swimming Hall of Fame
---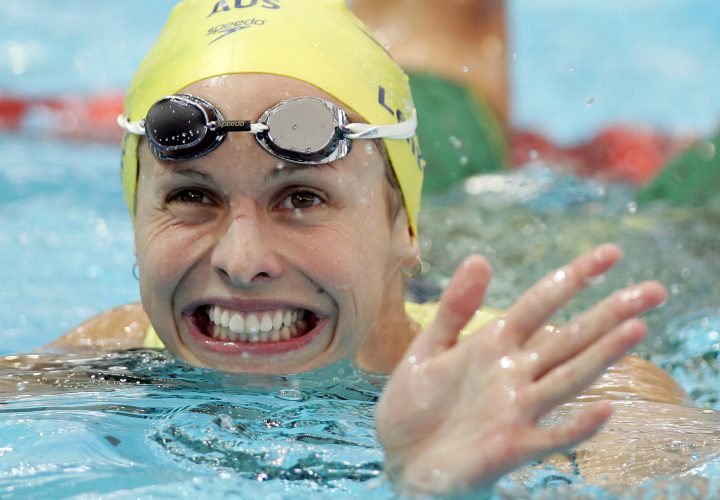 Australia's Libby Lenton smiles after competing in the heats of the women's 100m freestyle at the Commonwealth Games in Melbourne March 17, 2006
Lisbeth "Libby" Lenton Trickett, a 4-time Olympic gold medalist in swimming will be inducted into the International Swimming Hall of Fame as a member of the Class of 2018 in ceremonies in Fort Lauderdale, Fla., on May 19, 2018.
Lisbeth "Libby" Lenton, the youngest of four children, was born on January 28, 1985, in Townsville, Queensland, Australia, a seaside city with a rich swimming history. It was where, in the Tobruk Memorial Baths, the Australian team prepared for the 1956 Olympic Games and produced their country's greatest Olympic success, winning eight of 13 events at the Melbourne Games.
Libby learned to swim at the age of one and joined her first team at four. By age ten, she was one of Queensland's top age groupers. Then, in 1995, her parents divorced and her mother, Marilyn, moved the family to Brisbane, where Libby started training under coach John Carew, mentor of Kieren Perkins and Hayley Lewis. But as a sprinter Libby felt like she needed to move into a different environment and program, and in early 2002, she started training under coach Stephan Widmar.
Her progress under Widmar was rapid and explosive. Suddenly, the 18-year old girl who had never reached the podium at the state level, stood on the top step four times, for the 50-meter and 100-meter freestyle and 50-meter and 100-meter butterfly, at the Queensland Championships in January of 2003. She followed that by winning gold and silver in the 50 and 100-meter freestyle, and a bronze in the 100-meter butterfly at the 2003 Telstra Australian Champions in Sydney. This qualified her for the Australian Senior National Team.
She made her international debut in April at the inaugural Mutual of Omaha "Duel in the Pool" meet in Indianapolis. She beat Hall of Famer, Jenny Thompson to win the 100-meter freestyle in 54.71 seconds. She finished first in the 50 free in 24.92 seconds, but she was disqualified for a false start. However, even though video could not be used to change the result, officials later ruled her start was fair and she was credited with setting a new Australian record and the first Australian to break 25 seconds.
At the 2003 FINA World Championships in Barcelona, she won a bronze medal in the 50-meter freestyle and another for the 4 x 100m freestyle relay.
In 2004, swimming In the preliminaries of the 100-meter freestyle at the 2004 Australian Olympic Trials, Libby held both hands over her face in shock when she looked at the scoreboard and saw she had touched the wall in a time of 53.66 seconds, 0.11 of a second inside the world record set by Hall of Famer, Inge De Bruijn in the same pool four years earlier. She was the first Australian woman to hold the record in this event since Shane Gould in 1973.
"I'm in absolute complete and utter shock", she said after the race. "I just went out there to have fun and ended up with the world record."
Libby qualified for and swam in three events in Athens. Unfortunately, she did not qualify for the 100-meter freestyle event finals, but she earned a bronze medal in the 50 free and her 4 x 100-meter freestyle relay team made up of: Libby, Petria Thomas, Jodie Henry and Alice Mills overtook Team USA on the final leg to win the gold in the event for the first time in 48 years!
Libby cemented her position among the world's top swimmers in 2005. First at the Montreal FINA World Championships by reeling in gold in the 50-meter freestyle, silver in the 100-meter butterfly and two golds and a silver for the three relays. Then again, at the Duel in the Pool, she pulled in three more gold: the 100 free, the 200 free and in the 4 x100 free relay. Back in Australia, she twice broke the world record in the 100-meter freestyle at the Telstra Australian Short Course Championships.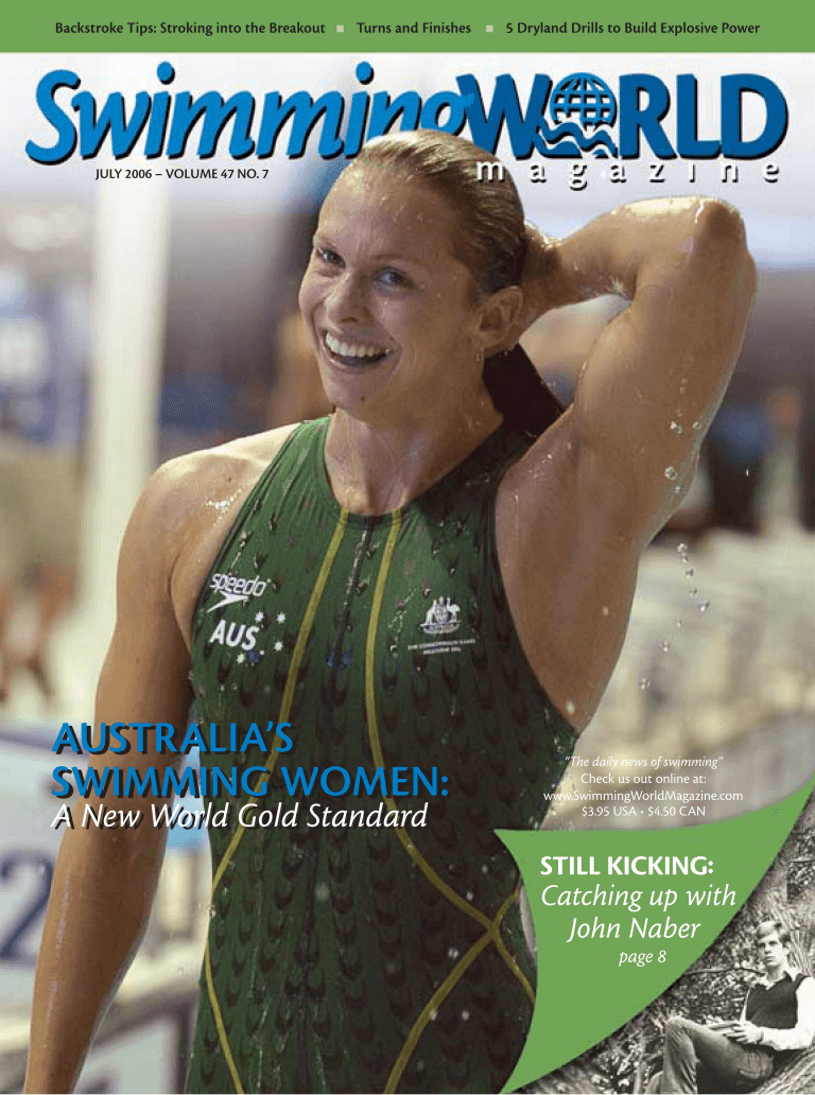 In 2006, Libby won five gold medals, in the 50 and 100-meter freestyle as well as all three relays at the Commonwealth Games in Melbourne. It was then on to Shanghai, for the Short Course World Championships, where she repeated her performance, winning five of Australia's twelve gold medals, as well as being named "Leading Female Swimmer of the Meet".
Libby won five more gold medals at the 2007 FINA World Championships, in Melbourne. This time, three individual, the 50 and 100-meter freestyle and the 100 fly as well as two relays, with the 4 x 100 freestyle relay in a record-breaking time of 3:35.48. A week later, at the third USA-Australia "Duel in the Pool" in Sydney, she led off the 4 x 100 mixed relay against Michael Phelps. Although Phelps beat her to the wall, her time of :52.99 broke the world record of Britta Steffens by nearly a third of a second.
"Before the race he said good luck, He's a good competitor to race against and I will remember that for the rest of my life, that I raced against Michael Phelps," she said.
Three days later, On April 7, Libby married longtime love and fellow Australian swimmer, Luke Trickett, at the Taronga Zoo on Sydney Harbor. The couple reportedly sold the media rights for the wedding to a magazine for $100,000 and split the fee among three charities.
While on their honeymoon, Libby learned that FINA refused to recognize her record against Phelps because it was in an event not recognized by FINA. In March of 2008, competing under her new name Libby Trickett, she broke Steffen's record of :53.30 with a time of :52.88 at the Australian Championships.
Her performance at the 2008 Beijing Olympic Games, brought her two gold, one silver and one bronze. She was part of the world record winning relay team, the 4 x 100 medley relay, that brought home the gold, and her 4 x 100 freestyle relay team took bronze. Individually, Trickett won a gold medal in the 100-meter fly and took silver in the 100-meter freestyle, placing just behind Britta Sheffen of Germany, despite the fact that she came in several tenths of a second above her own record.
Libby briefly retired from swimming in 2009, at the age of 24 but decided to return to competition in 2010 to be part of the 4 x 100 freestyle relay team at the 2012 London Olympic Games, winning yet another gold, her fourth and final Olympic gold medal of her career.
Libby retired in 2013 for the final time.
Libby received an OAM for her contributions to swimming in 2005 and was inducted into the Sports Australia Hall of Fame in 2016. Her contributions to the community and the nation goes far beyond her efforts in the pool. In 2014, Libby became an Ambassador to the Starlight Children's Foundation, and more recently she has become lead ambassador for the RBC Race for the Kids.
Libby gave birth to daughter Poppy in 2015 and struggled with the transition to motherhood. Trickett had struggled with depression throughout other times in her life as well. She had worked with sports psychologists and by seeking that advice and guidance, Libby says, that "the biggest lesson she learnt was that it's OK to ask for help and that help is really valuable." Libby Trickett became an Ambassador of beyondblue, an Australian sports organization that supports good mental health, tackles stigma and discrimination and provides support and information on anxiety, depression and suicide to everyone in Australia. Libby is currently Queensland's Mental Health Ambassador.
Most recently, Libby and her husband Luke had their second daughter, Eddie on February 28, 2018.
About The International Swimming Hall of Fame Induction Weekend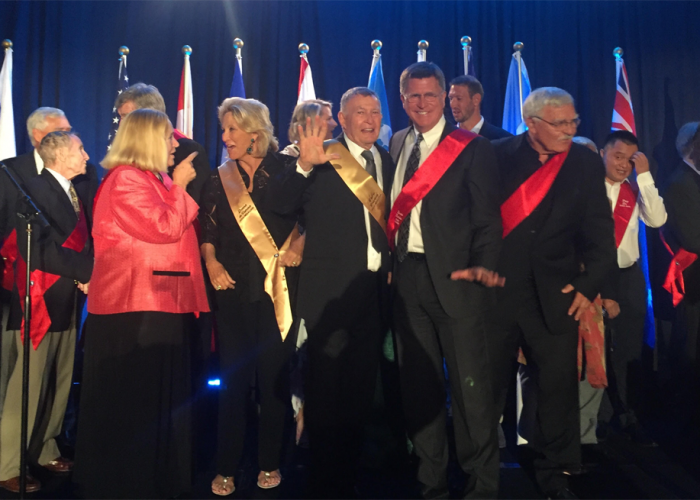 The International Swimming Hall of Fame (ISHOF) Induction Ceremony is shaping up to be a star-studded weekend with multiple events spread out over three days in beautiful Fort Lauderdale, Florida. Make your plans now to attend the weekend of May 18-20, 2018! ISHOF Members can purchase the Weekend Package and save!
This year's International Swimming Hall of Fame honorees include Swimmers: Rebecca Adlington (GBR), Amanda Beard (USA), and Libby Trickett (AUS); Water Polo Player: Brenda Villa (USA); Contributor: Andy Burke (USA); Diver: Irina Lashko (USSR, RUS, AUS) ; Coach: Bill Sweetenham (AUS); Synchronized Swimmer: Miho Takeda (JPN); Open Water Swimmer: Petar Stoychev (BUL); and Pioneer Synchronized Swimming Contributor: Joy Cushman (USA). Ian Crocker (USA) was a part of the Class of 2017, but was unable to attend the induction due to Hurricane Harvey. We will be officially celebrating his induction as part of the class of 2018.
The Paragon Awards and ISHOF Awards will be presented of Friday of the same weekend
2018 Paragon Award and ISHOF Award Recipients:
Frank Busch

for Competitive Swimming

Dr. Ben Rubin

for Diving

Bob Corb

for Water Polo

Jennifer Gray

for Synchronized Swimming

David Bell

for Recreational Swimming

Jill White

for Water Safety

Anthony Ervin and Constantine Markides –

Buck Dawson Author Award: "Chasing Water: Elegy of an Olympian"

Gay DeMario

– ISHOF Service Award

Lana Whitehead

– Judge G. Harold Martin Award

Johnny Johnson

– Virginia Hunt Newman Award

Kathy Bateman

– John K. Williams, Jr. International Adapted Aquatics Award

Bob Ingram

– Al Schoenfield Media Award
Additional Events