Jurgen Schmidt To Be Inducted Into International Masters Swimming Hall of Fame
---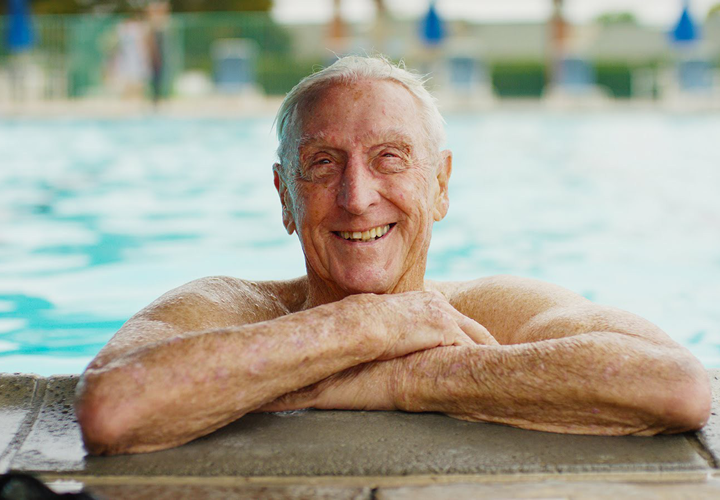 The International Masters Swimming Hall of Fame (IMSHOF) is proud to announce that Jurgen Schmidt, USA,  will be inducted into the International Masters Swimming Hall of Fame as a member of the Class of 2018 during the IMSHOF Induction ceremonies in Jacksonville, Florida, Friday evening, September 28, 2018.
The Induction will be held in conjunction with the United States Aquatic Sports convention.
Schmidt has been ranked in the Top Ten for 43 years. He has competed in two FINA Masters World Championships,1988 and 2006, winning one gold, four silver and two bronze medals.
Schmidt's biggest change in competitive swimming came in 1973 when he read an article in the Chicago Tribune about an upcoming national long course meet at Circle Campus (University of IL) in August 1973.  Schmidt then joined the Ryall Masters.  He placed in the Top 5 in the 50-54 age group and swam against ISHOF Honoree Doc Counsilman in the 1500m freestyle.  He was hooked.   During the next few years he was involved with Paul Huntinger, Bobbi Turcotte and Frank Havlicek in forming the Illinois Masters and putting on swim meets.
Schmidt's most memorable moment in Masters was winning the 50m butterfly and 100m freestyle, plus swimming on the National Record setting 200m freestyle and 200m medley relays.  It took him five years to accomplish this and he did it at Brown University long course meet in 1978.
Another love of Schmidt are the open water and distance swims. One of the best was a six over 60 age relay, swimming from San Pedro, California to Catalina Island in September 1985.  Not only did they finish it but also set a new record in their age group.
In 1989 he moved to Lompoc, California to take care of his parents who were in their 90's. During those years he never stopped competing and swam for various clubs. In Lompoc he started working out with his best friend, IMSHOF Honoree, Frank Piemme. They went to all the local meets and some Nationals Championships.
In 2013, Schmidt was a member of the 310 + relays, setting world records in the 200m, 400m and 800m freestyle; 200m medley, and 400m medley in L.C.M.  In 2015, he became a Speedo spokesman for "Fueled By Water", a video on the internet as a 90-year-old swimmer.
Masters Swimming has been Schmidt's life saver.  The camaraderie and many lifelong friends that he has made during his 43 years in Masters Swimming are things he will never forget. With the help of his fitness routine he continues to be a complete, healthy, happy person.  His attitude, compassion, and desire to swim another day has made it possible to lovingly care 24/7 for his wife, who suffers from Alzheimer's Disease.
Schmidt will be inducted as part of a group of nine (9) outstanding individuals will be inducted at the IMSHOF's annual ceremony. The event will be held at the Hyatt Regency Jacksonville Riverfront in conjunction with the 2018 United States Aquatic Sports XXXVIX Convention.
The prestigious IMSHOF class of 2018 includes four swimmers, two divers, one synchronized swimmer, one water polo player and one contributor, from five (5) different countries: the USA, Austria, Germany, Brazil and Japan:
SWIMMER INDUCTEES: MAURINE KORNFELD (USA), HITOMI MATSUDA (JPN), MARCUS MATTIOLI (BRA), JURGEN SCHMIDT (USA),

DIVER INDUCTEES: MARY BENNETT (USA), IRMTRAUD BOHN (AUT)

SYNCHRONIZED SWIMMER INDUCTEE: BETH CAREY (USA),

WATER POLO PLAYER INDUCTEE: WOLF-RÜDIGER SCHULZ (GER)

CONTRIBUTOR INDUCTEE: WALT REID (USA)
In addition to honoring the IMSHOF Honorees, ISHOF will be recognizing Swimming World Magazine's Top Ten Masters Swimmers from 2017.
Swimming World Magazine's Top Twelve Masters Swimmers for 2017 are: Men – Rick Colella (USA), Sergey Geybel (RUS), Nicolas Granger (FRA), Karl Hauter (GER), Willard Lamb (USA), and Darian Townsend (USA); Women – Noriko Inada (USA), Maurine Kornfeld (USA), Betty Lorenzi (USA), Karlyn Pipes (USA), Diann Uustal (USA), and Laura Val (USA).
About IMSHOF
The purpose of the IMSHOF is to promote a healthy lifestyle, lifelong fitness and participation in adult aquatic programs by recognizing the achievements of individuals who serve as an example for others. To be considered, honorees must have participated in Masters programs through at least four different masters age groups and are qualified by an objective point system based on world records, world top 10 rankings and World Championship performances. The IMSHOF is a division of the International Swimming Hall of Fame, in Fort Lauderdale, Florida. For more information, please visit: www.ishof.org
About ISHOF
The International Swimming Hall of Fame, Inc. (ISHOF), established in 1965, is a not-for-profit educational organization located in Fort Lauderdale, Florida, USA. Recognized by FINA, the International Olympic Committee's recognized governing body for the aquatic sports in 1968, its mission is to preserve the history of swimming, celebrate the heroes, promote the benefits and importance of swimming as a key to fitness, good health, quality of life, and the water safety of all children and adults, and connect older generations of swimmers to youth.
For more information, call Meg-Keller-Marvin at 570 584-4367 or e-mail: meg@ishof.org