International Masters Swimming Hall of Fame Welcomes Induction Class of 2018
---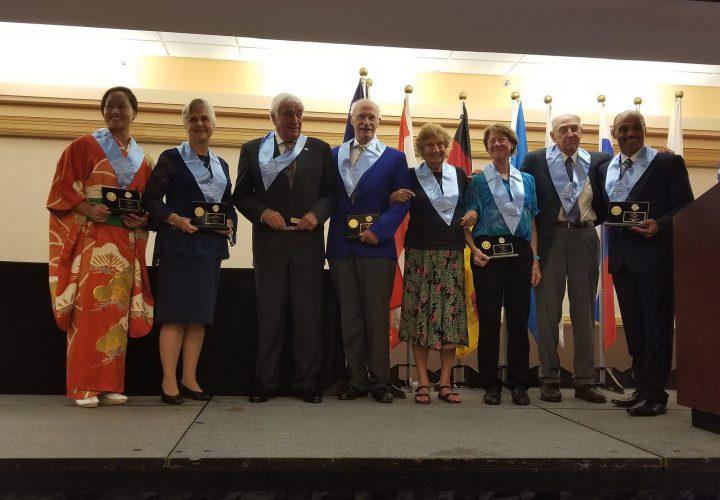 Photo Courtesy: Andy Ross
The International Masters Swimming Hall of Fame (IMSHOF) welcomed its class of 2018 inductees this weekend at the United States Aquatic Sports Convention in Jacksonville, Florida. Nine individuals were inducted into the Hall of Fame from five different countries: United States, Brazil, Germany, Japan and Austria.  Tom Boak was Master of Ceremonies.
Mary Bennett, Diver, USA
Mary Bennett has 85 National titles, six FINA National Championships, three World Masters Games titles and five FINA WORLD RECORDS. She has competed in four age groups between 1990 and 2014 (50-54, 55-59, 60-64, 65-69). She competed in the 1m, 3m, 10m and also in the synchro events winning a total of 106 gold, 23 silver and three bronze medals. She competed at five FINA Masters World Championships where she won 13 gold medals, five silver medals and one bronze medal. Just months before her death from cancer she won the synchro platform event in Montreal in 2014. She was on oxygen and had to be carried up the ladder to do her dives, but insisted on finishing the event. She passed away on October 11, 2014. She won the McAlister and Krahn Performance Award (Sable) in 2012.
Beth Carey, Synchro Swimmer, USA
Beth Carey has attended eight FINA Masters World Championships from 1992 through 2010, winning 20 medals (eight gold, seven silver, and five bronze). She attended the 2013 Pan American Masters Championship, where she won one gold in the duet, and one silver in the team event. Carey competed in US Masters National Championships beginning in 1984 and is still participating today. To date, she has won 77 medals (medals in her age group every year, missing only one US Masters Championships in the last 30 years, due to illness). She has a 40+ year career in Masters synchronized swimming, beginning in her 40s until now in her 80s. She has been a member of the Ramapo Aqua Masters (New York-New Jersey) since the team's inception.
Maurine Kornfeld, Swimmer, USA
Currently at 97 years old, Maurine has been competing for 31 years and has been in the Top Ten 27 times. She has set seven long course and 20 short course FINA Masters World records in the I.M., freestyle and backstroke. She has competed in four FINA World Championships, winning 14 gold and four silver medals. She has set 27 FINA MASTERS WORLD RECORDS and since 1986, she has competed in eight age groups (65-69 through 95-99).
Hitomi Matsuda, Swimmer, Japan
Since 2004, Hitomi has been in the Top Ten each of the 14 years she has competed. She has set 35 long course and 45 short course FINA Masters World Records in the I.M., freestyle, butterfly and breaststroke. She has competed in the 2014 & 2017 FINA Masters World Championships winning six gold and one silver. Matsuda has competed in four age groups (25-29 through 40-44) and has already set 80 FINA MASTERS WORLD RECORDS and she has only just begun.
Marcus Mattioli, Swimmer, Brazil
Marcus Laborne Mattioli moved right into Masters swimming after ending his Olympic career in 1988, immediately receiving rankings in the Top Ten Masters category. However, he did leave the sport for 16 years, but returning to the Top 10 in 2004. Since then he has been on the list every year, for a total 15 times. He has set 14 long course and six short course FINA Masters World Records in the freestyle, butterfly and I.M. He has competed in six FINA World Championships since 1988 winning 24 gold and three silver, and has set 20 FINA MASTERS WORLD RECORDS in the four age groups (25-29 through 55-59) he has competed in.
Walt Reid, Contributor, USA
When Walt Reid began attending USMS conventions in 1984, he volunteered to help tabulate USMS national records. Three years later he became the chair of the Records and Tabulation committee. His initiation of officially recording the Short Course Meters Top Ten Times and Short Course Meters National Records led to his creation of a computer program for LMSCs to compile Top Ten Times that interfaced with his National Top Ten database. Keeping the national records quickly evolved into Walt's expanded interest in international performances. The formation of Masters Swimming International (MSI) in 1983 led to keeping data for swims around the world. In 1987, Walt began compiling and publishing the MSI World Masters Top 10. Walt's commitment to chronicling the performances of Masters Swimmers globally was instrumental in making Masters a truly international endeavor and provided an invaluable resource for federations, national organizations and individual athletes.
Reid became the first (and only to date) "FINA Masters Recorder", in 1992, under the direction of FINA, where he became responsible for the development of procedures and forms for processing Masters World Record Applications and World Top 10 Tabulations; First and only FINA Masters Recorder from 1992 to present. This enables Walt to provide to ISHOF/IMSHOF a list of candidates for the category "Honor Swimmer" each year for consideration for selection, based on a FINA approved Masters point system and database for calculating points based on swimming World Records and Top 10. Reid has been Chairman of IMSHOF's Selection Committee and USMS Liaison to ISHOF from 2010- present.
Jurgen Schmidt, Swimmer, USA
Since 1973, Jurgen Schmidt has competed in nine age groups (50-54 through 90-94) and has set two FINA MASTERS WORLD RECORDS. Jurgen was a six-time All-Star in three different age-groups and has been ranked in the Top Ten for 43 years. e has competed in the 1988 and 2006 FINA Masters World Championships winning one gold, four silver and two bronze medals. In 1999 & 2008, he was named SPMA Swimmer of the Year. In 2004, he was named Santa Barbara Master Athlete of the Year and in 2015, he was inducted into the Huntsman World Senior Games Hall of Fame, (St. George, Utah).
Wolf-Rüdiger Schulz

, Water Polo Player, Germany

Wolf Rüdiger was chosen as a member of the Olympic-Dream team, for his home country of Germany, which made him one of the Top 14 water polo players of the Olympic tournament in the 1968 OLYMPIC GAMES. He retired from Olympic competition afterward but has continued to stay involved with the sport. In 2000, at the age of 60, he won his first Masters World Championships alongside other former national players. To this day he has been playing for SV Cannstatt and has participated in numerous German, European and World Championships in the Masters category. He has attended numerous FINA World Masters Championships, winning four gold medals (2000, 2010, 2012, 2014), European Masters Championships, winning three gold (2007, 2009, 2011), and German Championships, winning seven gold (2006, 2007, 2008, 2009, 2010, 2011, 2012).

Diver Irmtraud Bohn of Austria was inducted but was unable to attend the ceremony.

—————————————-

In addition to honoring the IMSHOF Honorees, ISHOF recognized Swimming World Magazine's Top Ten Masters Swimmers from 2017, which can be read in full in the April 2018 issue of Swimming World.
Men –
Rick Colella 

(USA)

Sergey Geybel 

(RUS)

Nicolas Granger 

(FRA)

Karl Hauter 

(GER)

Willard Lamb 

(USA)

Darian Townsend 

(USA)
Women

 –
Noriko Inada 

(USA)

Maurine Kornfeld 

(USA)

Betty Lorenzi 

(USA)

Karlyn Pipes 

(USA)

Diann Uustal 

(USA)

Laura Val 

(USA)