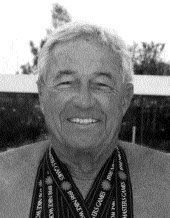 Woodrow Bowersock (USA)
Honor Masters Swimmer (2007)
The information on this page was written the year of their induction.
INTERNATIONAL HIGHLIGHTS: World Points – 705, Pre-1986 Points – 0, Total Points – 757; Since 1978, he has competed in 6 age groups (65-69 thru 90-94); 22 FINAMASTERS WORLD RECORDS;
The children he encountered as an elementary school principal did not drive him into the water, nor did the boredom he faced in his retirement. It was the acute, "untreatable" arthritis from which he suffered, which finally pushed him back into the water. Within a year of the 1978 splash, Woody Bowersock was competing in Masters swimming and ranked in the Top Ten of his 65-69 age group. 30 years later, he's still at the top, looking so good he is often mistaken for a man twenty years his junior.
Woody Bowersock has mastered the short course, freestyle events in 6 different age groups, and has held up to 10 USMS LCM records, one standing for more than a decade. His winning ways are often written in columns like the "Nonagenarian Notables".
Woody Bowersock's attitude is apparent with each stroke he takes. Each year he ages he sees as an opportunity to break new boundaries, set new records. His vibrant perspective stands out. Victor Hanson and Art Linkletter refer to Woody's Winning attitude in their aptly entitled book 'How to make the Rest of Your Life the Best of Your Life'. While many view age with fear and disdain, Woody shows us all how one's attitude can either close doors or open new doors.