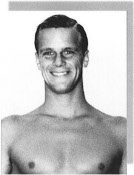 William A. Prew (USA)
Honor Pioneer Swimmer (1998)
The information on this page was written the year of their induction.
FOR THE RECORD: TWO U.S. NATIONAL A.A.U. CHAMPI­ONSHIPS: 100yd. freestyle (1942), 3x100m medley relay; THREE U.S. NATION­AL RECORDS; NCAA NATIONAL CHAMPION: 100yd. freestyle (1942); ISHOF Chairman of the Board (1994-1995); ISHOF Vice President for 15 years.
As a sportsman, this young man from the Detroit Athletic Club was so talented he could have been the best in whichever sport he pursued. He did go on to become the best at his first choice. We are fortunate that he chose swimming, he became the fastest sprinter in the world during his career, a career that was cut short by World War II. Swimming for the Detroit Athletic Club, Bill Prew was the speed swimmer of his time.
He swam at Northwestern High School in Detroit during the early 1930s. Becoming the city's fastest breaststroke swimmer. Because of his exceptional ability, he won a scholarship at Massanutten Military Academy in Virginia and was switched from breaststroke to sprint freestyle swimming. Following high school in 1938, he returned to Detroit to swim at Wayne University under the guidance of his old school coach Leo Maas, and the renowned Olympic athlete and coach of the Detroit Athletic Club, Hall of Farner, Clarence Pinbston. Pinky, as Clarence was lmown, and his wife, Betty, were both Olympic champions and he was the athletic director of the club, serving as a great inspirator to Bill.
During the next four years, there were no international competitions in which Bill could compete. World War II had broken out, the 1940 Olympics were canceled and no international races were scheduled. But Bill continued to beat everyone in the pool at home. He received All-American honors in the 100 yard freestyle and, as a member of the med­ley relays with Adolph Kiefer and Jim Counsilman on one team and Taylor Drysdale and Jim Skinner on another team. This was all before butterfly was an official relay stroke and medley relay consisted of backstroke, breaststroke and freestyle only. He was the NCAA 110 yd. freestyle champion and in 1942, the National AAU champion, achieving what was a milestone in swimming history.
It was during the AAU National Championship, at Yale University, that Bill's distinctive first place finish was clocbed in 50.6 seconds, 4 tenths of a second under Johnny Weissmuller's 16 year old world record. The timers all thought they had made a mistabe – no one could break the 51 second barrier, that was impossible. However, as could sometimes happen in this sport before electronic timing was instituted, Bill was awarded the gold medal, but his time was set at 51 seconds, to tie Weissmuller's time.
Immediately after that meet, Bill enlisted in the U.S. Army Air Corp. During the war and for the next four years and during what would have been the peal< of his swimming career, he piloted the Douglas A-20 aircraft, one time hav­ing to swim away from a crash in the Pacific Ocean off the coast of Panama. Swimming saved Bill's life then.
Bill returned to Detroit remaining active in a number of sports related activities with the Detroit Athletic Club (D.A.C.) Beavers, swimming organization, he organized the fund drive to build the auditorium on the new International Swimming Hall of Fame building (1967). He became D.A.C. President in 1970. He was also active in a number of golf associations including president of the Michigan Golf Association and as chairman of the PGA Championship in Oakland Hills and the United States Golf Association Open Championship. As an amateur, he could drive a ball over an amazing 520 yards. He has been on the Board of Directors of a number of companies and served many years as vice president of I.S.H.O.F. culminating as chairman of the Board in 1994 and 1995.