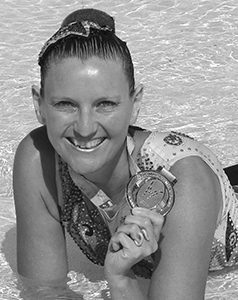 Silke Hohlstein Terwesten (GER)
Honor Masters Synchronized / Artistic Swimmer (2017)
The information on this page was written the year of their induction.
INTERNATIONAL HIGHLIGHTS (SYNCHRO): 10 FINA MASTERS WORLD CHAMPIONSHIPS (1994 – 2015): 13 medals (10 gold, 3 silver); 4 EUROPEAN MASTERS CHAMPIONSHIPS (2007-2014): 5 medals (3 gold, 2 silver)
Silke Hohlstein was born in the small town of Willich, in the North Rhine-Westphalia region of Germany near Dusseldorf. She was the middle daughter of three girls, who was a speed swimmer, until one day when she saw the pointed toes of a German National team member coming out of the water and heard the Intermezzo from Cavalleria Rusticana…She was hooked and says it was that moment that she fell in love with the sport.
She began practicing with her older sister, Kirsten at the age of eight. They became duet partners. She was on the Junior National Team by the age of ten. With no synchronized swimming coach nearby, her mother taught them everything they needed to know, eventually even becoming a FINA judge. Her father had to construct the loudspeakers, as they could not afford the underwater speakers. As you would expect, her younger sister began swimming synchro too, and all three became National Team Members. As the family travelled the world, attending meets and championships, they became known in the synchro world as the "Hohlstein Family" and the girls as "the Hohlstein Sisters".
Eventually, Silke's older sister became pregnant, so Silke's younger sister, Birte had to step up and fill the duet role. Silke and Birte become one unit from that day on.
In 1992, Silke was involved in a terrible car accident. She had to be brought back to life twice, was in a coma for a week and was told she would never walk again. Silke fell into a deep depression and felt without synchronized swimming she had nothing to live for. Birte came to the hospital, gave Silke a Canadian one piece cent, and told her about something called Masters Swimming. She told her about the upcoming Masters World Championships in 1994 in Montreal, Canada. She gave Silke a goal and a reason to get out of bed, a reason to fight and to get back in the pool. From that moment, Silke got back into the pool and was practicing with Birte as much as she possibly could.
Silke and Birte travelled to Montreal in 1994 and became the gold medalists in the duet competition in the 25-29 age group! That was the start of their second synchronized swimming career. Since then, they have been loyal Masters swimmers.
Silke has attended ten FINA Masters World Championships (1994-2015), has won 13 medals, ten gold, and three silver. She has attended four European Masters Championships and has won five medals, three gold and two silver.
Last year, on Silke's 50th birthday (2016) she was diagnosed with cancer. Silke says again, she thought she might give up, but Birte brought her a video of well wishes from all her Masters friends from around the world, giving her the motivation to do it all again!
Silke was too weak to attend the World Championships in Budapest this past August, but is planning to swim in South Korea in 2019!