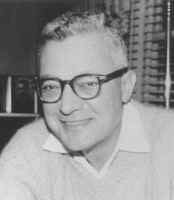 Robert Hoffman (USA)
Honor Pioneer Contributor (2001)
The information on this page was written the year of their induction.
FOR THE RECORD: Founder of NSPI; Founder/Publisher of Beach and Pool (1932-1956), Swimming Pool Age, Swimming Pool Weekly (1956-present), Swimming Pool Data and Reference Annual; Liaison between Swimming and the Swimming Pool Industry; Author of Swimming Pool Books; ISHOF President.
Arguably the first pioneer of the pool industry, he was the first to gain national and international recognition as a leader in the pool industry. He was the unifying quotient to bring together scattered factions of the industry during its infancy and to support and lead a campaign of ethics and awareness among industry members. Bob Hoffman was paramount in organizing a direction for the pool industry which helped it grow to world status as a trade organization.
Hoffman's career began at his father's side in the publishing industry. In 1929, Sylvan Hoffman published Beach and Pool, eventually it became known as Swimming Pool Age, the most widely circulated publication in the industry. Having graduated from Syracuse University with a degree in journalism, the younger Hoffman was a natural to take over the family business which was located in New Rochelle, New York. For many years, this magazine was the only way for pool industry people to communicate; it was the way everyone came to know one another. Bob became the sounding board and the conscience of this widespread group. For many years, his magazine was the only U.S. swimming magazine for all of pool manufacturing, recreational swimming and competitive swimming. Hoffman's philosophy was that you have to sell swimming in order to sell swimming pools.
Hoffman also published magazines in many other fields, but eventually he focused solely on the pool industry. In the early 1950s he began using his skills as a writer to convince the many pool manufacturing factions that they needed to unify. It was the beginning of the National Swimming Pool Institute, know now as the National Spa and Pool Institute (NSPI).
Incorporated in 1957, NSPI became the leader in the pool industry. Because he was so well known, Hoffman was elected its first president, building a foundation from which the organization could grow. Even after others eventually took over the primary leadership role, Bob continued to participate in just about every capacity within the organization. In 1957, Bob also started the International Swimming Pool Design Competition, which selected the best swimming pools based on design and use. This was later continued by NSPI in it's Gold Medal Pool Competition.
In 1963, Hoffman realized the outdoor pool bonanza of Florida and became the first publisher to move his New York publishing house to Fort Lauderdale. It was here he and partner John Broderick developed a pool weekly publication called Swimming Pool Weekly, as well as trade publications such as Swimming Pool Data and Reference Annual. All the time he realized that you couldn't sell pools without first selling swimming. He made it his life's purpose to do both. He persuaded the pool industry to work with competitive swimming to promote them both actively and financially. To this end, he helped NSPI grow to the world's foremost authority as a trade organization for swimming pools, both public and private (backyard). He also founded and was first president of the National Swimming Pool Foundation that helped raise funds to support numerous swimming projects and promotions.
Other publications included Swimming Pools, A Guide to Planning, Design and Operation. In collaboration with then Hall of Fame executive director emeritus Buck Dawson, he was co-publisher and editor of Gold Medal Pools a pictorial review of prize-winning swimming pools. He also produced The Outdoor Swimming Pool, The Council on National Cooperation in Aquatics' (CNCA) book on swimming and swimming pools.
Bob was one of ISHOF's founders, served three terms as president and ten years as its first chairman of the Executive Committee which provided guidance for ISHOF between the annual meetings of the Board of Directors. He was a man of impeccable integrity and his volunteerism to promote the Hall of Fame and get others to do the same was immeasurable.
His favorite event during the many years he served ISHOF was the International Diving Meet held annually at ISHOF. It was a reunion for Bob and his Syracuse roommate, Marvin Sugarman, who produced the televised portions of the meet for the major networks. Among their many stories was their coverage of Franklin D. Roosevelt's first presidential election in which they, just out of college and with no money, had to sleep in a Philadelphia Turkish Bath House during the 1932 Democratic Convention.
Hoffman retired from the magazine publishing business when he sold Hoffman Publications to his former associate John Broderick. He continued writing and publishing books until his death in 1992. News of the Nation, a school children's U.S. History, written in a daily newspaper format was his fondest. He was writing a revised edition at the time of his death.
Bob was a naval officer aboard an aircraft carrier in the South Pacific during World War II..