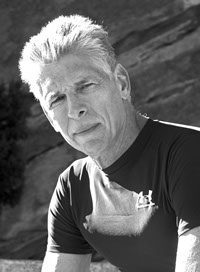 Rich Abrahams (USA)
Honor Masters Swimmer (2011)
The information on this page was written the year of their induction.
INTERNATIONAL HIGHLIGHTS: World Points-717; Pre-1986 points-0, Total Points-717; Since 1985, he has competed in eight age groups (30-34 through 65-69); 37 FINA MASTERS WORLD RECORDS.
Just shy of his 30th birthday, Rich Abrahams entered his first Masters meet in 1974. Two years later, he swam in his first USMS National Championships and ten years after his first meet, Rich set his first National record, in the 50 free. His first Masters World Record came in the 45-49 age group at the 1990 World Championships in Rio de Janerio. Aging up to the 50-54 age group, Rich beat his 45-49 world record. To date, Rich has set 37 FINA Masters World Records and won ten gold medals in three FINA Masters World Championships.
Swimming in the 60-64 age group, Rich broke the American record in the 100 yard freestyle, which was held by Olympic gold medalist and fellow 2011 IMSHOF Inductee, Jeff Farrell. The record of 52.03 had stood for seven years, until Rich broke it with a time of 49.14, becoming the first man over the age of 60 to break 50 seconds.
He is one of only a select group of Masters swimmers who can say they have held world or American records simultaneously in three different age groups.
Rich seems to have discovered the Fountain of Youth in the pool, for as he ages up, he continues to swim faster than he did in his younger age groups and it doesn't look like he's ready to give up any time soon.
When asked in 2005, if he thought he'd be able to break 50 seconds for the 100-yard freestyle and a minute for 100 meters at age 65, Abrahams replied immediately, "I don't see why not!" How about 70? He hesitated and replied, "That may be harder. We'll have to see."
"Masters Swimming," says Rich, "offers participants important elements for aging happily and successfully: It keeps you active, healthy and you make a lot of long-term friends. "
Rich Abrahams continues to amaze the world of Masters Swimming and if you ask his fans, friends and opponents he's just getting started.