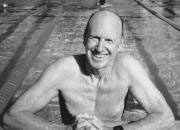 Ray Taft (USA)
Honor Masters Swimmer (1996)
The information on this page was written the year of their induction.
FOR THE RECORD: Masters Swimmer since 1972; 49 WORLD RECORDS: 65, 70, 75 year age groups; 28 WORLD CHAMPIONSHIPS: 1984, 1986, 1988, 1992, 1996; 28 NATIONAL CHAMPIONSHIPS; 64 NATIONAL RECORDS; Recipient of Ransom Arthur Award.
Ray Taft has been involved all his life as a swimming competitor, coach, teacher, water-showman, administrator and advocate for Masters Swimming. In 1972, the inaugural year of Masters Swimming, he ran one of the first Masters swim meets and has been swimming in the program every year since.
His involvement in the sport began 40 years earlier when, during his junior high school years, he chose swimming over all the other sports. Inspired by a track medal belonging to the father of one of his friends, he wanted to achieve something similar in a sport in which he felt he could become skillful. He chose swimming. However, Ray would first need to learn to breathe and swim at the same time. This he accomplished when he joined the AAU swimming program at the Crystal Plunge in San Francisco, swimming for Hall of Fame coach Charlie Sava.
Ray went on to coaching juvenile and adult age group swimming, water polo, aquacades and finally, climbing the ladder to organizing his own swimming club, the Taft Swim School that came to fruition in 1955. In ten years it had grown from an outdoor pool to a mini-enclosed competitive facility.
Parents of Ray's swim team members wanted to train, prodding Ray to develop a senior program for adults. Ray and his wife Zada, accepted the challenge and shared the coaching duties on the pool deck of the predominantly non-competitive program which could be considered to be a forerunner to the Masters teams today. Two individuals to come out of Ray's program were Hall of Famer Ted Stickles and his sister Terry. Ted held four world records in the 400m individual medley and Terry was the bronze medal winner at the 1964 Olympic Games in the 400m freestyle.
In 1972, Ray jumped in to Masters Swimming with both feet. He hosted the first National Short Course Championships in San Mateo, California, and he has been actively swimming in the program ever since. He set over 51 world records in the 65, 70, and 75 year age groups and obtained 28 gold, 4 silver and 2 bronze medals at the Masters World Championships of New Zealand (1984), Japan (1986), Brisbane (1988), Indianapolis (1992) and Montreal (1994). He won 28 National Championships and set over 63 national records all since he has turned 70. Backstroke and individual medley are his main events. As head coach of the San Mateo Marlins, his teams have won many honors, and he has served on the Pacific Masters Committee from 1972 to 1985.
In 1978, he and his wife Zada were honored as the recipients of the Ransom J. Arthur Award for outstanding contributions to the sport of Masters Swimming.
Ray Taft has been active in all aspects of swimming his entire life. He has contributed his energy and enthusiasm to the sport's longevity just as he has dominated as an athletic participant in his Masters age groups for the past two decades.