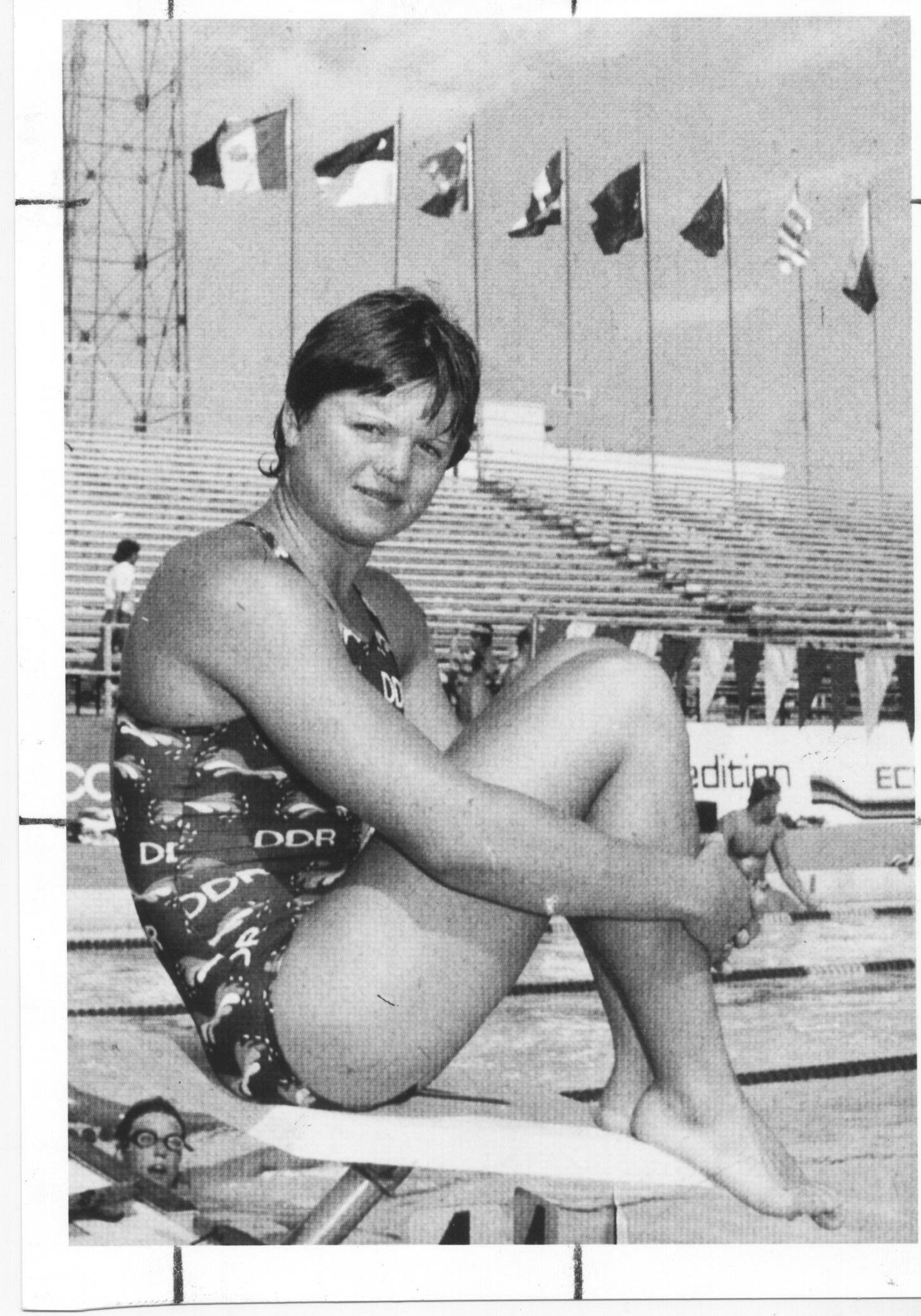 Petra Schneider (GDR)
Honor Swimmer (1989)
The information on this page was written the year of their induction.
FOR THE RECORD: OLYMPIC GAMES: 1980 gold (400m individual medley), silver (400m freestyle); WORLD RECORDS: 4 (200m, 400m individual medley); WORLD CHAMPIONSHIPS: 1978 bronze (400m individual medley); 1982 gold (200m, 400m individual medley), silver (400m freestyle); EUROPEAN CHAMPIONSHIPS: 3 (200m, 400m individual medley); EUROPEAN RECORDS: 8 (200m, 400m individual medley); 1980, 1982 WORLD SWIMMER; 1979, 1980 EUROPEAN SWIMMER.
In the record book and by popular acclaim, the greatest female swimmer in the world before, during and after the 1980 Moscow Olympics was Petra Schneider. Not only did she win both individual medleys, swimming's most all around event, at the 1980 Olympics but she repeated this feat at the 1982 World Championships. She also won a silver in 400 meter freestyle at Moscow. In the United States, she dominated the first five U.S.A. Internationals. Back home in Europe, she held the world's best time in the 800 meter freestyle, 1500 meter freestyle and 200 meter I.M.
"Swimming World" magazine elected her its 1980 and 1982 Swimmer of the year and 1979 and 1980 European Swimmer of the Year. Her greatest rival was U.S.A.'s Tracy Caulkins who beat Petra at the Berlin World Championships in 1978 (Petra was third). After that it was all Schneider when the word's two greatest individual medley swimmers met. Petra lowered Tracy's 4:40.83 world record for the 400 meter I.M. and then brought it down to a 4:39.96 at Leningrad in March, a 4:38.44 at Magdeburg in May and a 4:36.29 at the Moscow Olympics in July. Two years later at the World Championships in Ecuador she reduced her 400 meter I.M. to a mind-boggling 4:36.10.
From this great swimmer, a note on how she does it time after time, "For me swimming is the most beautiful of al sports. Although I have been training for very many years and have taken part in a great number of competitions, I always find something new in this sport. And this I'm sure is greatly to the credit of my coach, Eberhard Mothes, who takes my training sessions at the sport club in Karl-Marx-Stradt and never fails to come up with something interesting or challenging in the course of the work. I am the kind of person who likes being expected to achieve as much as I possibly can."
Doping Disclaimer: In a German court of law, after this swimmer was inducted into the International Swimming Hall of Fame, team officials confessed to administering performance enhancing drugs to this swimmer, who therefore obtained an illegal and unfair advantage over other athletes.