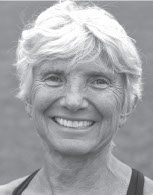 Penny De Meules (USA)
Honor Masters Synchronized / Artistic Swimmer (2015)
The information on this page was written the year of their induction.
INTERNATIONAL HIGHLIGHTS: 12 FINA MASTERS WORLD CHAMPIONSHIPS (1992 – 2014): 22 medals (14 gold, 4 silver, 4 bronze); CANADIAN MASTERS NATIONALS (1 silver, 1 bronze) 23 U.S. MASTERS NATIONAL CHAMPIONSHIPS: 51 MEDALS (42 gold, 9 silver, 5 bronze); COMPETED IN MASTERS SYNCHRONIZED SWIMMING SINCE 1991.
Her love for the sport of synchronized swimming has been life-long. Penny De Meules has been an age group swimmer, a high school swimmer, a collegiate swimmer, a Masters swimmer, a coach, a synchronized swimming judge and a committee chair.
Her interest and dedication to the sport began early, when she became one of the original members of the Dayton Aquanymphs at age 12. She was part of the Aquanymph team that was awarded medals at the Junior and Senior Nationals. Penny continued her synchronized swimming in college and was one of the earliest members of the Ohio State Synchronized Swimming Team. She says, "the highlight of her early swimming years was being a member of the Round-the-World exhibition team that performed at the Olympic Gala in Rome in 1960."
After retiring from swimming, Penny continued helping coach her first youth club in Dayton. She then moved to California where she helped coach the San Jose Rhythmettes and the San Francisco Merionettes. Penny soon married and moved to Southern California, where she assisted local clubs and eventually founded her own club, Beverly Hills Synchro. The family later moved to England and her club disbanded.
Penny's judging career began on the local level, when she began judging local competitions in the Pacific Association. She eventually earned a National Judges rating in the early 1970's and she is still an active U.S. judge. While living in England, Penny became a FINA international judge.
It wasn't until 1992 that Penny took up synchronized swimming again. With a great group of friends, Penny became a Masters synchronized swimmer, under the guidance of her former coach and ISHOF Hall of Famer, Dawn Bean. Penny has attended and competed in 12 FINA Masters World Championships from 1992 through 2014, earning 22 medals. She was awarded the May McEwan Award in 2002 for her outstanding contributions to the spirit of Masters synchronized swimming. On her involvement in Masters swimming, Penny enjoys the friendships made with various team members and was once quoted, "it is more fun to swim than coach or judge."