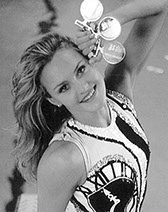 Olga Sedakova (RUS)
Honor Synchronized / Artistic Swimmer (2019)
The information on this page was written the year of their induction.
FOR THE RECORD: 1992 OLYMPIC GAMES: 4th (solo, duet); 1996 OLYMPIC GAMES: 4th (team); 1991 WORLD CHAMPIONSHIPS: 4th (solo, duet, team); 1994 WORLD CHAMPIONSHIPS: 4th (solo, team); 1998 WORLD CHAMPIONSHIPS: gold (solo, duet, team); 1991 WORLD CUP: 4th (solo, team); 1993 WORLD CUP: silver (duet), bronze (solo); 1995 WORLD CUP: bronze (solo, team); 1997 WORLD CUP: gold (solo, duet, team); 1994 GOODWILL GAMES: gold (solo); 1990 SOVIET WOMEN'S CUP: bronze (duet), 6th (solo); 1991 SOVIET WOMEN'S CUP: gold (solo, duet). Nine-time European Championships
The sport of synchronized swimming had been around since the early 20th century when Annette Kellerman and Katherine Curtis were the first performers of the growing sport, but it did not come to the Soviet Union until decades later. When Olga Sedakova was about nine-years-old, she and her twin sister came upon synchronized swimming by pure chance.
Olga's mother, an engineer, was working at one of the largest aquatic centers in Moscow and it was there that the girls discovered the sport. Olga and her sister were trained by their young coach, Elena Polianskaja. It was clear Olga had raw talent in the sport, but because synchronized swimming was so new to the Soviet Union, it would be years before she would be considered world class.
When Olga was in her mid-teens, Soviet women's magazine, "Journal Price", hosted an international competition to celebrate International Women's Day for Soviet Women, providing a great opportunity for young synchronized swimmers like Olga to see and learn from successful swimmers.
She absorbed as much knowledge as she could and in 1988 at the European Junior Championships, Olga helped the Soviet Union win its first gold medal in the sport. This led to her selection on the national senior team.
After the Olympics, Olga decided to make a change and moved to Zurich, Switzerland to begin training with Kozlova's coach, Svetlana Fursova. Together, they won Russia its first medal at the world level with a silver in the duet performance at a 1993 FINA World Cup meet in Lausanne. Then in 1994, Olga won her first international gold medal in the solo event at the Goodwill Games in St. Petersburg.
After her success, Kozlova and Fursova moved to North America and she was left alone without a partner or coach. She decided to coach at her club in Zurich and train in her free time with the help of Swiss coach Susie Morger. She eventually moved back to Russia to train with the national team leading up to the 1996 Olympic Games in Atlanta where they placed fourth as a team, getting shut out of the medals for the second straight Olympics.
After the Olympics, Olga returned to Russia and began training with new partner, ISHOF honoree Olga Brushnikina and was performing at the top of her game.
Her career culminated in 1998 when Olga Sedakova won solo, duet and team at the World Championships in Perth, becoming just the fourth person to sweep every single event at Worlds.
Feeling that she achieved everything she set out to do, Olga retired from synchronized swimming and decided to take on a new challenge in coaching. She became the Swiss National Team coach and led them into the 2000 and 2004 Olympic Games but has since stopped coaching to focus on family.
She has since married and has three daughters and is hoping to one day return to the sport of synchronized swimming.