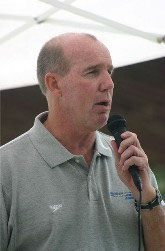 Murray Stephens (USA)
Honor Coach (2010)
The information on this page was written the year of their induction.
FOR THE RECORD: 1996 OLYMPIC GAMES: Assistant Women's Coach; 1998 WORLD CHAMPIONSHIPS: Assistant Women's Coach; 2000 WORLD CHAMPIONSHIPS (25M): Head Men's Coach and Chef de Mission; PERSONAL COACH OF 5 USA OLYMPIC TEAM MEM-BERS WINNING 5 GOLD, 1 SILVER, AND 1 BRONZE MEDAL; COACH OF SWIMMERS SETTING TWO WORLD RECORDS AND ONE RELAY WORLD RECORD; COACH OF FOUR WORLD CHAMPIONSHIP SWIMMERS WINNING 1 GOLD MEDAL; COACH OF EIGHT USA NATIONAL CHAMPIONS WINNING 23 NATIONAL TITLES; MENTOR TO TWO NBAC OLYMPIC COACHES (BOB BOWMAN, PAUL YETTER) WHOSE NBAC SWIMMERS HAVE ADDED 14 GOLD MEDALS, 1 SILVER, AND 4 BRONZE MEDALS AS WELL AS SETTING AN ADDITIONAL 34 WORLD RECORDS; USA AND USOC SWIMMING COACH OF THE YEAR: 1996; INDUCTED INTO THE AMERICAN SWIMMING COACHES ASSOCIATION HALL OF FAME: 2006
Murray Stephens In 1968, Murray Stephens co-founded the North Baltimore Aquatic Club which in the eyes of Olympic Coach Mark Schubert became "the best swimming club program in America" rivaling clubs in the Sunbelts of California and Florida. He trained local swimmers and attracted other swimmers to relocate to his facility where he would turn them from good swimmers into great swimmers. Theresa Andrews won the 100m backstroke and medley relay gold medals at the 1984 Los Angeles Olympics. Anita Nall set world records as well as winning gold, silver and bronze Olympic breaststroke medals in 1992 in Barcelona and Beth Botsford won the 1996 Atlanta Olympic 100m backstroke and medley relay gold medals. Due to Murray's leadership, North Baltimore has had swimmers qualify for each U.S. Olympic Trials since 1968.
He hired assistant coaches with his own philosophy. Theresa Andrews said, "He doesn't teach you just to swim fast; he teaches you how to think." He was a high school English teacher, writer and poet – creative in nature. His assistants Bob Bowman, Paul Yetter and others, were mentored in his mold.
When he was six years old, young Michael Phelps joined the club. Murray's wife Patty, coached Michael in younger years, then Murray sent him from coach to coach in the club to receive the benefitsfrom each coach's strengths. Murray created an environment where young Michael could believe that anything was possible through creative goal setting and disciplined work. As Phelps ascended, Murray stepped aside to let Bowman continue the relationship. With Murray's philosophy and under the direction of Bowman, Michael became the greatest swimmer the world has ever seen. World record holder and Olympic medalist Katie Hoff is also a product of the Stephen's system.
In 1986, Murray took over Baltimore's Meadowbrook Pool summer business and built it into a year round Aquatic Center turning it into one of the first financially stable, private facilities in the nationHis international coaching assignments include 1996 Olympic Games and 1998 World Championship Assistant Women's Coach and 2000 World Championship Short Course Head Men's Coach. Personally he has coached eight USA National Champions winning 23 titles. Although handing the reins at NBAC to his long-time assistant and friend Bob Bowman in 2009, he continues to mentor swimmers and coaches daily at NBAC, now in his fifth decade of Club coaching .