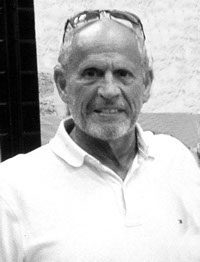 Mel Goldstein (USA)
Honor Masters Contributor (2012)
The information on this page was written the year of their induction.
INTERNATIONAL HIGHLIGHTS (CONTRIBUTOR): PRESIDENT UNITED STATES MASTERS SWIMMING: 1993-1997; SECRETARY OF USMS: 1989-1993; MEMBER UANA MASTERS TECHNICAL COMMITTEE: 2003-2007; CHAIRMAN, UANA MASTERS TECHNICAL COMMITTEE: 2007-2015; MEET DIRECTOR: FINA World Masters Championships (1992), Pan Pacific Masters Championships (1989), USMS Short Course National Championships (1998, 2000, 2004, 2013), USMS Long Course National Championships (1983-2009), YMCA National Masters Championships (1985, 1990, 1994, 1997, 2005), USMS OPEN WATER CHAMPIONSHIPS: 2000-2005; CHAIRMAN OF USMS CHAMPIONSHIP COMMITTEE: 1990-1993; TREASURER UNITED STATES AQUATIC SPORTS: 1996-2014; MEET OPERATIONS CHAIRMAN FINA WORLD CHAMPIONSHIPS (25m): 2004; YMCA MASTERS SWIM COACH: 1984-2004; ASCA LEVEL V MASTERS SWIM COACH: 1994-2012; CO-AUTHOR: Swimming Past 50; USMS COACH OF THE YEAR: 2001; FINA MASTERS WORLD CHAMPION, WORLD RECORD HOLDER SWIMMER.
Mel Goldstein: What would Masters Swimming be like without him?
A native of Indianapolis, Mel's introduction to swimming came during a family vacation to Miami Beach where he learned to swim at six years of age. In those days it wasn't easy finding a team that welcomed Jewish swimmers in Indianapolis, so Mel developed his swimming over the years without the benefit of a coach, primarily on his own at the Broad Ripple pool.
In 1957 he entered Indiana University where he walked on to the swim team. First-year head coach James Councilman recognized Mel's potential and welcomed him with open arms. Councilman's influence on Mel over the next three years was profound and inspirational – as both a swim coach and mentor.
After leaving IU, Mel served as a Water Survival Instructor at Fort Eustis, Virginia and became the 2nd Army's 200m butterfly champion. Ten years after leaving the Army he joined the business world with his wife Judy. They have four children and thirteen grandchildren.
In 1968 he joined the East Ransburg Y intending to play racquet ball, but ended up coaching the swim team –Then in the early 1980's, Mel received a call from Dale Nueburger with the news that Indianapolis had won the bid to host the 1983 USMS Long Course National Championships. Under Dale's guidance and leadership – and Mel's willingness to learn – he began a career that has made him one of the most revered and respected leaders and promoters of Masters Swimming in the world.
Mel helped bring together Masters Swimming International (MSI) and FINA to discuss Masters swimming development and rules overseeing Masters competition. He served as meet director for the first FINA/MSI International Masters Swimming Championships in the US (Pan Pacific Masters Championships) held in Indianapolis in 1989. He served on the first FINA Masters Congress in 1994 in Montreal and at the second Congress in Sheffield, England in order to promote International Masters swimming competition worldwide. He served as Secretary and President of United States Masters Swimming for eight years and was the first USMS representative to serve as an officer of United States Aquatic Sports, which is responsible to FINA and continuing today as their Treasurer.
In 1995 he received the USMS Meet Director's Award and in 1997, the prestigious Ransom Arthur Award.
In 2003, he was appointed the U.S. delegate to the UANA Technical Committee to help promote and conduct Masters Swimming in the Americas. He was named Chairman of the UANA Masters Technical Committee in 2007 and again in 2011.
In addition to his many accomplishments in the governance of swimming, he has recorded over 200 top ten times as a swimmer and has been coaching since 1968. In 1996, he formed the highly successful YMCA Indy Swim Fit Swim Team. and was named USMS Coach of the Year in 2001. The Indy Aquatic Masters Swim Team was born in 2011 providing a healthy lifestyle for over 300 swimmers in the Indianapolis community. As an author he wrote the Masters Section in Principles of YMCA Competitive Swimming and Diving and co-authored Swimming Past 50, a book designed to acquaint swimmers over the age of 50 with the many benefits of and innovations in swimming.