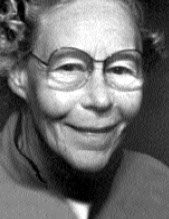 Louise Wing (USA)
Honor Masters Synchronized / Artistic Swimmer (2004)
The information on this page was written the year of their induction.
INTERNATIONAL HIGHLIGHTS: 1978 FIRST GLOBAL SENIOR AGE AQUATIC COMPETITION: gold (solo); MASTERS WORLD CHAMPIONSHIPS: 1985 gold (figures), silver (solo), bronze (duet); 1989 gold (solo); 1990 gold (solo, duet, figures); 1992 gold (solo), silver (duet); 1994 gold (solo), bronze (duet); 1996 gold (duet), silver (solo); 35 U.S. SYNCHRONIZED SWIMMING NATIONAL CHAMPIONSHIPS: 22 (solo), 12 (duet), 1 (trio); 3 YMCA NATIONAL CHAMPIONSHIPS: 3 (SOLO); 1989 PAN PACIFIC MASTERS: gold (solo, duet); 1993 LEN MASTERS: gold (solo, duet, trio);
Born to a man's world in which competition for women was a dirty word, aquatics was not a career option and ladies didn't play French horns, Louise broke the mold. She loved being in and around the water. Because aquatics was only a small part of overall fitness in the 1930's, she needed to obtain a general degree in physical education in order to stay in the aquatics field. She took her Bachelor of Science degree in physical education at Boston University, Sargent College (1939), which had no pool, and her Masters of Science degree in hygiene and physical education at Wellesley College (1940), which had just opened a pool. At Wellesley, she read every book on aquatics and applied all her courses to aquatics. She researched her Masters thesis, "The Mechanics and Kinesiology of the Half Gainer Dive," at the National Women's Aquatic Forum in Fort Lauderdale, at the old Casino saltwater Pool built in 1928 and replaced by the Hall of Fame Pool in 1965. This later became known as the National Forum for the Advancement of Aquatics. In 1946, after Coast Guard service in World War II, where Louise was a lieutenant in the Office of Merchant Marine Inspection doing research and editing "Why Welded Steel Merchant Ships Crack," Louise became director of swimming at the Boston YMCA, which had the only pool in which women could swim in the New England area. At about this same time, synchronized swimming was starting in theMidwest, but Louise was too old and considered professional to compete, so she taught synchro using the Girl Scout method: "I don't know, but let's find out together." She put on water shows for World Fellowship, and in 1950, put on the first AAU synchronized swimming meet in New England.
After her marriage in 1951 to Fred Wing, she matriculated at Julliard School of Music to learn the French horn which she had wanted to play since childhood. She graduated in 1953, and for the next 20 years didmoremusic than aquatics, playing in various symphony orchestras around the Northeast. She kept abreast of the developments in synchro by attending the Women's National Aquatic Forum which met each winter in Florida beach cities such as Fort Lauderdale, Pompano Beach and Hollywood, to exchange ideas among its members and keep abreast on the latest trends in all phases of aquatics. The group included Billie MacKellar, June Taylor, Beulah andHenry Gundling, Theresa Anderson, Gert Goss, Ann Ross Fairbanks, LaNore Morehouse, Kay Vilen, Pam Morris, Kim Welshons, Mary Jo Ruggieri, Re Calcaterra, Ninetta Davis, Barbara Eaton, Audrey Holmberg, Wanda Brown and many more. Louise was elected to the board in 1948 and served in every position on the board through the ensuing years.
Louise always felt that adults needed the fun and fitness of synchro even more than the girls did, so she wrote to coaches and officials suggesting this. She built a mailing list of interested people and worked on proposed rules. In April of 1975, she presented her proposal to the AAU Synchronized Swimming Rules Committee. In July of that year, it was accepted and John Spannuth put on the first meet in Reading, PA. Judy McGowan was head referee and Jack Kelly gave out awards. Ransom Arthur did an exhibition duet with a girl diver.At that time, Louise was 57 and has dominated all her age groups ever since then.
She has won every U.S. Masters National Solo Championship since 1975, except for a second in 2002. She has 14 duet titles and has won every solo event at the FINA World Masters Championships from 1985-1996. In 1990, at the Brazil Championships, she scored a perfect 100 – all 10s, the only competitor at the games to accomplish this feat. In Masters World Championships, she has 14 gold, 3 silver and 2 bronze medal-finishing places.