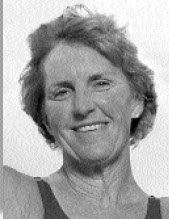 Laura Val (USA)
Honor Swimmer (2004)
The information on this page was written the year of their induction.
INTERNATIONAL HIGHLIGHTS: World Points – 2042, Pre-1986 Points – 0, Total Points – 2042; Since 1984, she has competed in four age groups (35-39 thru 50-54); 97 FINA MASTERS WORLD RECORDS;
Never during the 30-year history of Masters Swimming has a female been more dominant
in her age group in almost every event than Laura Val. Her Masters world records range from 50m sprints to 1500m distance races. She dominates backstroke, butterfly and individual medley events also.
From a very young age she loved being in and around the water. At age 10-1/2, she was into competitive swimming at the Mountain View (CA) Dolphins team coached by Tom Bosmans. By age 12, she was a Junior Olympic National Champion. Within two more years, she placed in Swimming World's "Five Best Age Group Times" and in the 15-17 age group she set a national record (200y freestyle – 2:03.4). At age 18, she transferred to Hall of Fame Coach Nort Thornton's Foothill Aquatic Club where she made great strides in a more competitive atmosphere.Within a year, she was ranked 11th in the world in the 200m butterfly at 2:29.4 and 20th in the 100m butterfly. That same year (1970), she won a gold medal as amember of the U.S. 4x100m medley relay, competing at theWorld Student Games in Turin, Italy.
Then, her swimming came to an end. No women's college scholarships meant retirement for many girls at that time. Laura enrolled at San Diego State University to earn a Nursing Degree and graduated Cum Laude (1972). She became a registered nurse for over 20 years,mostly at the intensive care unit at Sequoia Hospital in Redwood City (CA). In 1992, she was named one of the Ten Outstanding Nurses in the State of California by Nurseweek Magazine. Since 1997, she has been the Human Resources Director, first at Automated Power Exchange and presently at the Silicon Valley-based Berkshire Hathaway Company with 600 employees.
In 1984, she joined the Los Altos Masters just to get back in the water and do some fitness training without any competitive ambitions. However, just a year-and-a-half later,when her club hosted the U.S.Masters National Championships, she competed and won six races, breaking six national records. Breaking records has been a trend for Laura ever since.
For her five years in the 35-39 age group, Dave Knochenhauer and Bill Olliver were her coaches. Since age 40, John Bitter at Santa Clara has been her swimming guide, although she is affiliated with the Tamalpais Swim Club. She loves to train, swimming 5,000 yards or meters five days a week. She has to force herself to take two days of rest. Her times at age 35 were faster than her times at age 18. Phenomenally, every year she competes, her times get faster. By the time she reached age 50, she was still swimming faster than her own 45-49 age group records. She is the only Masters swimmer to hold world records in three different age groups at the same time.
Currently in the 50-54 age group, Laura owns 22 of the 35 long and short course world records. She has every freestyle record from 50m to 800m. She is the only woman over age 40 ever to break a minute in the 100y fly or two minutes in the 200y free.
Val does all this while she and her husband Gregory raise two daughters, Jodi and Jamie. She does not lift weights, crosstrain, monitor her diet or do stretching exercises. Swimming is only one part of her very busy life.Her strength comes from her love of the sport. She enjoys every minute of it.
To date, Laura holds 49 long course Masters world records and 48 short course Masters world records, a total of 97 Masters world records. In 2002, Swimming World named her Masters Swimmer of the Year. She has been a member of both the USMS Sports Medicine and Research Committee and Champion Committee and is active in her local Pacific Masters SwimAssociation. She has been named a USMS All Star 14 times (1987, 1989-2002).
At swimming meets Laura is always the "rabbit to catch." At swim practice she has to be talked into leading off the set first. In her heart, she just loves being in the sport for its fitness benefits and swimming meet fun; and of course, the camaraderie. To Laura, all the world records and standings are a byproduct of her time spent in the water.