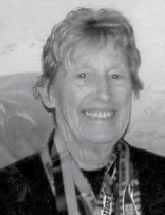 Jean Troy (USA)
Honor Masters Swimmer (2014)
The information on this page was written the year of their induction.
INTERNATIONAL HIGHLIGHTS (SWIMMER): World Points-1090, Pre 1986 Points-1. Total Points 1091. Since 1976, she has competed in five age groups (60-64 through 85-89). 37 FINA MASTERS WORLD RECORDS.
Jean Troy joined her first swim team at the age of ten in Tarboro, North Carolina. The pool had been built as a WPA Project and she competed in area meets for several years. At Mary Baldwin College in Staunton, Virginia, she joined the swim team and synchronized swimming team before transferring to the University of North Carolina, graduating in 1948.
After marriage and children, Jean decided she needed something to engage her interests. The local YMCA and teaching swimming became her focus. She was so successful that she went on to become the Y's Aquatics Director in Wilmington, Delaware, where at the age of 45, she got back in the pool and started swimming laps. She doesn't remember her first Masters meet in 1975 specifically, but she does remember the thrill of accomplishment.
Jean Troy competed for the Mid-Atlantic Masters until the Troy's moved to Sun City, Florida. It was there that she was approached by fellow swimmer Paul Hutinger, to join his team the Maverick Masters.
Since competing in her first meet in 1975, Jean has competed in 268 Masters meets, spread over 18 states and two countries. Her big breakthrough came when she aged up to the 80–84 age group in 2007. She shattered eight FINA short course and long-course world records, and was named Swimming World Magazine's "World Swimmer of the Year." To date, she has established a total of 37 FINA Masters World Records, 19 long course meters, in the freestyle, butterfly and the I.M. and 18 short course meters, in the freestyle and the I.M.
In 2013, Jean's 50 meter freestyle time was just 8 seconds slower than her 1975 time, and her 100 free was 17 seconds slower than her 1975 time. She credits Masters swimming with slowing down the aging process and keeping her more agile than she would be otherwise.
"It's not winning or losing that's important", Jean says, "it's the competition." To which her husband Ed responds, "that's only because she always wins!"