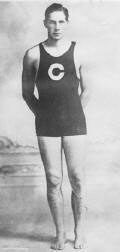 Herbert "Hal" Vollmer (USA)
Honor Pioneer Swimmer (1990)
The information on this page was written the year of their induction.
FOR THE RECORD: OLYMPIC GAMES: 1920 team member; 1924 bronze (water polo); WORLD RECORDS: 3 (150yd, 200yd, 500m freestyle); NCAA CHAMPIONSHIPS: 6 (100yd, 220yd freestyle); AAU NATIONALS: water polo (1929, 1931, 1935, 1936).
Hal Vollmer, known to his teammates at Columbia as "the Prince of Wales", due to his fastidious dress and physical resemblance, was also called the "human motor boat" by New York sports writers and his colleagues at the New York Athletic Club. He swam for Hall of Famers, Ed Kenndy at Columbia and Otto Wahle at the New York Athletic Club. Kennedy called him "the greatest intercollegiate swimmer and American softball water polo player of the teens, twenty's and thirty's." He won six straight intercollegiate titles in the 100 and 200 yard freestyles. In 1915, as a freshman, Vollmer held every freestyle intercollegiate record from the 100 to 440 yards. In 1916, perhaps his best year, he set outdoor world marks at 150 yards, 220 yards and 500 meters and also beat the great Duke Kahanamoku at 200 yards. His world records were 1:29.8 for 150 yards, 2:10.8 for 200 yards, 2:24.6 for 220 yards and 200 meters, 3:55.4 for 300 meters and 6:15.6 for 500 meters. His records were all indoors and short course.
Vollmer was a great swimmer and a greater polo player too. His water polo coaches were Hall of Famers, Joe Rudy and Ed Kennedy. He played American "Tarzan" softball water polo on the Championship NYAC team until 1936 when the game was abandoned as "too dangerous." He also played international water polo on the U.S. 1920 and 1924 Olympic teams and was an alternate, barely missing the 1936 team. He won a bronze Olympic medal in 1924. He also played football and ran track at Columbia, and he served as a Navy Lieutenant in World War I. He never made an Olympic swim team, the games being cancelled in 1916 when he would have been a U.S. Olympic shoe-in.