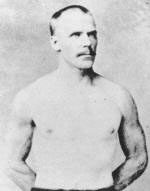 Gus Sundstrom (USA)
Honor Coach (1995)
The information on this page was written the year of their induction.
FOR THE RECORD: 1885, first swim coach and teacher at New York Athletic Club; Promoter of swimming and water polo; Coach of world record holders.
The 1926 edition of the New York Athletic Club's "Winged Foot" magazine read, "Professor Gus Sundstrom at 68 can swim around Manhattan Isle — Has saved 3 lives, coached America's first great swimmers and is still one of the greatest examples of a good, healthy body."
He was born in 1858 in Brooklyn, the son of a "Scandinavian sea captain. Gus learned to swim at an early age and competed in many races in the rivers throughout New York City, for which winners received financial rewards.
When he was old enough to look after himself, Gus set out to sea on the tall ship, Western Bell. On one of his worldly trips he was challenged to a mile race, in the Colombian River, by Big Red Fish, an Indian of the Pacific Coast. Sundstrom was decisively beaten, but noticed the Indian swimming with an out-of-the-water arm recovery and thrashing legs, quite different from Gus' breaststroke and sidestroke. He took this new stroke and tried to improve upon it.
It was in 1885 that the New York Athletic Club built its first city house in Manhattan, and Gus Sundstrom won the job as swimming instructor.  After competing and winning challenge races in the New York waters, Sundstrom's reputation as a swimmer and New York Athletic Club instructor grew so that by 1890 he was selected as supervisor of swimming for the New York City schools, where he personally taught over 100,000 children to swim over the years.
As a water polo coach, his New York Athletic Club teams won many U.S. National titles, as well as the 1904 Olympic Games gold medal. His leadership gave the sport notoriety and popularity, inspiring an average of 14,000 fans to attend the championships. It soon became known as "the roughest game on earth."
Great American world record holders including Charles Daniels, Joe Ruddy and Bud Goodwin all came from the New York Athletic Club and benefited from the tutelage of Professor Gus. Daniel's use of the over arm with thrashing leg kick dropped his time by eight seconds between his 1904 and 1908 Olympic gold medals. Gus' achievements caused many people to call him the first great American coach of the modern era.
He not only produced great water polo teams and swimmers, his underwater stunts were known the world over, especially his plunge into the water smoking a cigar and coming up with it still lit. Gus' own swims as a youth credited him as the champion long distance swimmer of the world, and his personal loyal service of 50 years to the New York Athletic Club earned him the respect of many supporters. He died in 1936 at the age of 78.