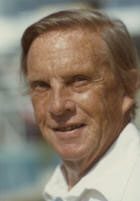 Frank Dempsey (USA)
Honor Diver (1996)
The information on this page was written the year of their induction.
Frank competed in the early 1940s at a time when, because of World War II, no international or Olympic competition was held. The United States had won all the possible Olympic gold medals in springboard and platform competition from 1920 through 1952, and all but three of the silver and bronze medals. The U.S. was considered to have the greatest divers at that time, and Frank was one of them.
At the AAU Nationals, he won the 1m and 3m competitions in 1943, and during the NCAA competition of 1942 and 1943, he won the same two events. He would have been the top contender had the Olympic Games been held in 1944. Coach Peppe's Ohio State divers won all the national championships from 1937 through 1963, except for five years, an impressive string of 21 years.
Beginning at age thirteen in Cleveland Heights, Ohio, Dempsey dove for the Cleveland Athletic Club before joining Peppe at Ohio State and diving into the record books. Before retirement from active competition, Dempsey had competed against them all, including a younger and future Olympic champion, Sammy Lee. Younger teammate Miller Anderson became a two-time silver medalist in 1948 and 1952.
Upon graduation in 1943, Dempsey spent three and a half years in the Navy, but not before having to "stretch" himself one-half inch by doing weeks of heavy exercise to meet the entrance height requirement of five feet-six inches. He had the measurement taken early one morning before his body had a chance to "settle" from walking around all day, and from bouncing on the diving board. He was now officially retired from the sport and also from his years serving as head cheerleader at all the university football games.
But Frank did not retire from his involvement in the sport. In the 1970s he served on the U.S. Olympic Committee and U.S. Diving Committee. He was coach of the U.S. National Team to Mexico City in 1974, and a 1959 Pan American Games judge. Frank served as vice president of the International Swimming Hall of Fame from 1968 to 1985
FOR THE RECORD: FOUR U.S. NATIONAL CHAMPIONSHIPS: 1943 (1m springboard), 1943 (3m springboard); FOUR NCAA CHAMPIONSHIPS: 1942 (1m, 3m springboard), 1943 (1m, 3m springboard); member of U.S. OLYMPIC DIVING COMMITTEE, Vice President of the INTERNATIONAL SWIMMING HALL OF FAME.
Frank Dempsey was a part of a dynasty, coach Mike Peppe's swimming and diving program at Ohio State University. As a diver, Frank followed in the footsteps of teammates Earl Clark and Al Patnik and preceded Hobie Billingsley, all Hall of Famers, national champions and the world's best divers. Frank was no exception as he and teammate Hall of Famer Miller Anderson competed with and against each other.