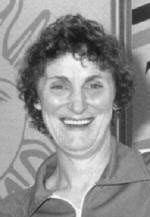 Flora Connolly (GBR)
Honor Masters Swimmer (2005)
The information on this page was written the year of their induction.
INTERNATIONAL HIGHLIGHTS: World Points – 1021, Pre-1986 Points – 0, Total Points – 1021; Since 1979, he has competed in six age groups (45-49 thru 70-74); 64 FINA MASTERS WORLD RECORDS;
Flora's mother taught her to swim in her primary school years, but she began competitive swimming at 13 when a friend asked her to swim in a team race for their local swimming club Whitehall Amateurs, Dundee. She swam and joined the team. Her first race was a 25 yard beginner's race and she placed second. Training that first year consisted of forty-five minute sessions on Friday nights. During her first ten years of youth swimming Flora won every Midland District Championship (one of the four in Scotland) at one time or another in each stroke and at all distances. She was the Scottish Champion in the 200 yard freestyle and 400 yard medley. She was selected to represent Scotland in International competition against England and Wales from 1954-56.
From 1957 to 1979, Flora did not compete in swimming and spent her time raising her four children. Her hobbies included dressmaking and Scottish Country Dancing, which she still teaches once a week as part of an adult education program.
Around 1979, Flora began training while her daughter was at practicing for international competition mornings and evenings five days a week. Instead of sitting and waiting, she asked the coach for permission to join in during the morning sessions. At this time, she had no knowledge of the Masters swimming structure and had no thoughts of competing, but enjoyed training. After about six months she entered her first competition as a Masters swimmer and won all the events she entered.
Flora began to improve and dominate her competition during the following years. In 1980, Scotland held their first National Championships and Flora won all five events that she entered. The following year, her coach changed her breaststroke to the modern version and she was surprised to find out that with her new technique she broke the world record in the 100 meter event. It was her first world record.
Most of the competitions that Flora enters are in Great Britain, but she has competed in two World Games held in Canada and in two competitions held in the United States. She attended these meets because she was able to combine holiday visits to see friends and family members with swimming competitions.
Flora has been awarded lifetime memberships in both of her swimming clubs (Dundee and Edinburgh), and was honored by the Scottish Amateur Swimming Association with an award for outstanding achievement in Masters swimming.