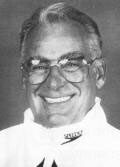 Deryk Snelling (CAN)
Honor Coach (1993)
The information on this page was written the year of their induction.
FOR THE RECORD: OLYMPIC COACH: 1972-1992, placed 57 swimmers on Olympic teams, 19 Olympic medals; WORLD CHAMPIONSHIPS: 50 swimmers, 10 medals,; PAN AMERICAN GAMES: 34 swimmers, 38 medals; COMMONWEALTH GAMES: 53 swimmers, 65 medals; PAN PACIFIC GAMES: 22 swimmers, 27 medals; WORLD RECORDS: 6; CANADIAN NATIONAL TITLES: 72 team championships, 417 individual and relay titles; UNIVERSITY OF CALGARY: Swim Club Head Coach 1980-1993, Varsity Club 1980-1993; CANADIAN DOLPHIN SWIM CLUB: Head Coach 1967-1976; ETOBICOKE SWIM CLUB: 1976-1980.
Born in Darwin, England, Deryk Snelling took his beginning as a British national swimmer and English champion to develop into one of swimming's most successful coaches.
From 1962 at the Southampton Swimming Club in England to the current University of Calgary Swim Club in Canada, Deryk has placed 57 swimmers on Olympic teams, nineteen of them earning Olympic medals. Fifty of his swimmers have swum on World Championship teams, ten earning medals, and 53 swimmers winning 65 Commonwealth Games medals. His swimmers have set six world records and 72 of his teams have won Canadian National Team Championship titles with 417 individual and relay national titles going to his swimmers.
Snelling is known as the individual medley coach and his book, All About Individual Medley, stresses the importance of training all four swimming strokes. His world-ranked swimmers fill all four stroke events. Leslie Cliff won the 1972 Olympic silver medal in the 400-meter I.M., Bruce Robertson took the 1972 butterfly silver medal behind Mark Spitz and, 20 years later, Mark Tewksbury won the gold medal in yet another stroke at the 1992 Olympic Games, winning the 100-meter backstroke. Along with Mark, Snelling also coached backstroke world record holder Wendy Cooke.
Since 1970, Snelling has been the Canadian Olympic coach six times, serving as head coach at four of those Games. He has been coach of five Commonwealth teams and one World Championship team.
He has encouraged many of his swimmers to take up coaching. Among his proudest, his former swimmer David Haller, named British Olympic Coach and British Coach-of-the-Year.
During Snelling's tenure at the Canadian Dolphin Swim Club, Etobicoke Swim Club, the Calgary Swim Club and the University of Calgary Swim Club, Deryk has been the Canadian Swim-Coach-of-the-Year four times, C.I.A.U.–University Coach-of-the-Year five times and is a recipient of the prestigious Order of Canada Award.
In addition to his coaching duties, he has been a featured guest at numerous clinics and symposiums across the world. Dery Snelling's dual British and Canadian citizenship has produced dual successes in his swimmers–great athletes and great citizens.