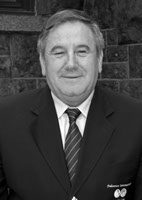 Cornel Marculescu (ROM)
Honor Contributor (2010)
The information on this page was written the year of their induction.
FOR THE RECORD: EXECUTIVE DIRECTOR OF FINA: 1986 – Pres-ent; TECHNICAL DIRECTOR OF ROMANIAN SWIMMING FEDER-ATION: 1970-1980; HONORARY SECRETARY FINA TECHNICAL WATER POLO COMMITTEE: 1978-1980; TECHNICAL DIREC-TOR OF ROYAL SPANISH SWIMMING FEDERATION: 1980- 1986; MEMBER ROMANIAN OLYMPIC COMMITTEE: 2000-Present; IN-TERNATIONAL WATER POLO REFEREE: 1970-1980; MEMBER OF ROMANIAN NATIONAL WATER POLO TEAM PLAYING IN 165 INTERNATIONAL GAMES (1958 to 1970) PLACING FIFTH AT 1964 OLYMPIC GAMES
In 1986, FINA President Bob Helmick handpicked Cornel to take the helm of a permanent FINA Officein Lausanne. The workload had grown to a point where a professional office staff was needed and Cornel had the capacity to do the work of ten people. He has served as Executive Director with a sense of duty and dedication that has made him one of the busiest people in world sport. The results have been impressive.
He knows what it means to be an athlete, a coach, a referee and a manager – having experienced all of those worlds in water polo. He is a graduate of Bucharest's Institute of Sport and Physical Education in Romania. He was a member of the Romanian National Water Polo Team, playing in 165 international games finishing5th at the 1964 Tokyo Olympics. He has taken part in every Olympic Games since Tokyo. He served as a water polo referee for ten years officiating the 1972 Olympic Gold Medal Game Final that ended in a 3-3 tie between Hungary and the Soviet Union.
Cornelio Miguel Marculescu Bulfon He speaks fluent English, French, Spanish, Italian, Russian and Romanian. He served as Technical Director of the Romanian Swimming Federation and Honorary Secretary of the FINA Water Polo Committee. In 1980, he was chosen Technical Director of the Spanish Swimming Federation where he hosted the 1986 Madrid World Championships. He has served on FINA's Development and Marketing Committees. Since 2007, he has been the Coordinator of the Water Polo World League and is FINA's regular representative at sports forums throughout the world. Cornelio Miguel Marculescu Bulfon (ROM)2010 Honor Contributor.