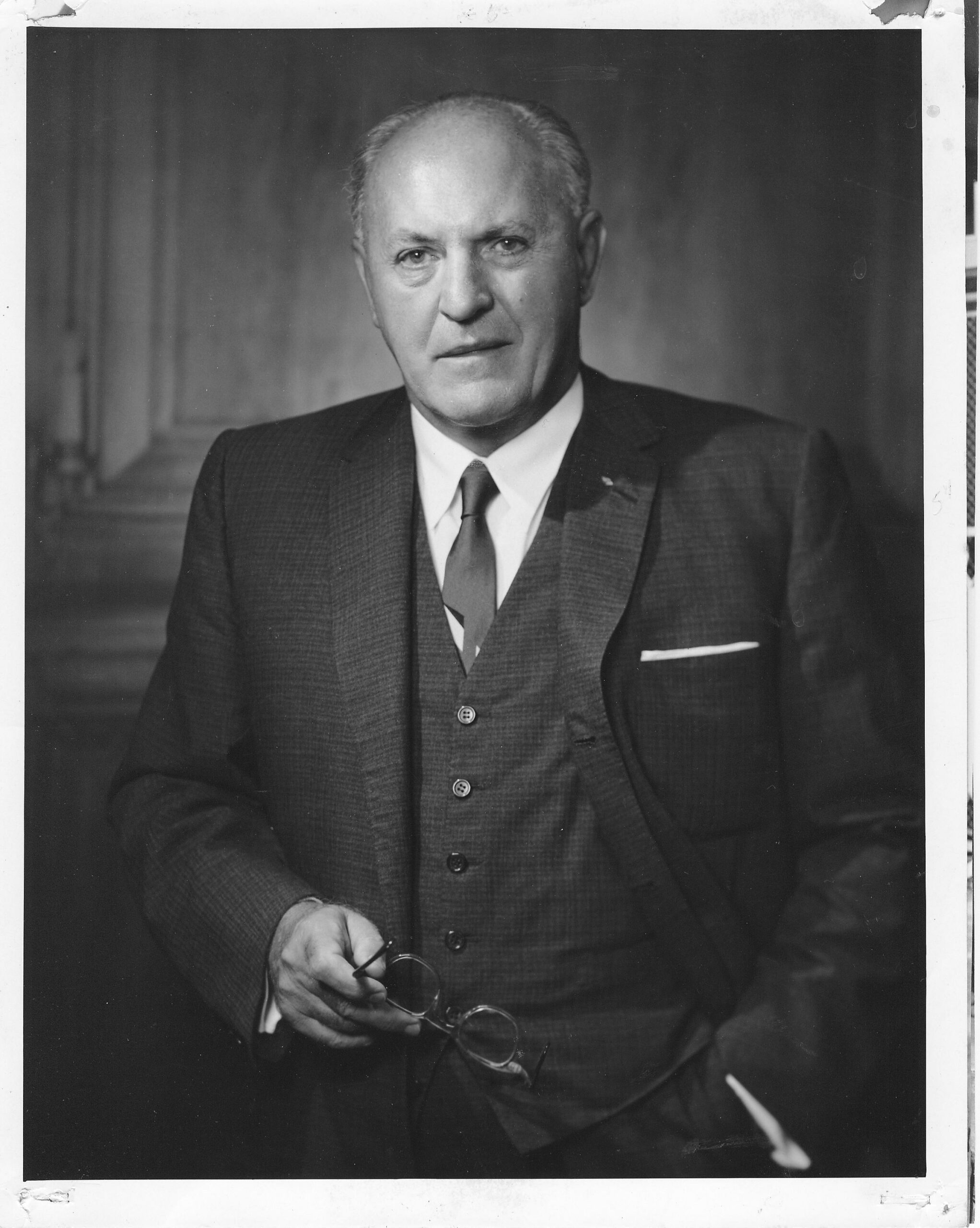 Carl Bauer (USA)
Honor Contributor (1967)
The information on this page was written the year of their induction.
FOR THE RECORD: As National AAU sub-chairman for Novice and Junior swimming Bauer pressed for a national program of age group swimming; awarded the American Red Cross's first lifesaving emblem; Physical Director at Chicago Central YMCA, Union League Club; Coached both swimming and water polo at the Missouri Athletic Club, Washington University, St. Louis University; National AAU water polo chairman from 1947 to 1951.
In 1947, just 20 years ago, age-group swimming was but an idea germinating in the minds of a special committee appointed by AAU Swimming Chairman, the late Lawrence J. Johnson. To chair this committee "to remodel the old AAU novice and junior swimming divisions" was outspoken Carl O. Bauer, who had been agitating for a system of swimming competition graduated by age, a system he had used successfully in St. Louis. "There can be no denial that remodeling the old AAU novice and junior swimming divisions was necessary," says Carl Bauer. "The difficulty lay in overcoming and overruling many outmoded practices. Control of the movement of junior swimmers into national championships and Olympic competition was actually in the hands of a few monopolists and opportunists. A result of this situation was that only a few aquatic stars and champions were developed to their fullest. Many potential stars did not get a chance to gain national recognition, due to the selectivity of the monopolists. The guidance of our nation's foremost swimmers and divers was handled by specialty coaches and managers."
Age-group swimming has been like a genie out of the bottle. From the time Carl Bauer pulled the cork, it has grown faster than anyone could have imagined. The Swimming Hall of Fame honors Carl Bauer and Beth Kaufman as the two people most responsible for this fastest-growing sports phenomenon.
Carl Bauer, by personal example, is the kind of an athletic leader most every father wants his boy exposed to during the formative years. He was a physical champion at 19 and still stands so at 72. Between these years, he has made a remarkable contribution to fitness with particular emphasis on swimming and water polo.
Bauer was born in Germany, was already a successful athlete in soccer, rowing, gymnastics, swimming and water polo when he came to the United States in 1913. He still carries a lucky half-dollar given to him by the second man he saved from drowning in Chicago in 1914. His first rescue was in Joplin, Missouri in 1913.
In 1919, Bauer was awarded the American Red Cross's first lifesaving emblem. The Meramec River Patrol he organized figured in 1500 rescues between 1927 and 1955. One newspaper headline related "Life has been just one rescue after another for Carol Otto Bauer!"
After his tenure with the Chicago Central YMCA as physical director, Bauer took a similar job at the Union League Club in 1916, then returned to St. Louis and a lifetime job at the Missouri Athletic Club. His famed pupils at the MAC include coach Walt Schlueter, Olympic swimmer Oliver Horn, Chuck Flachmann, Jim McKenna and water polo All-Americans Hoot Newman, Harry Queensen, John Carson and Don Clooney.
Between 1926 and 1931, Bauer also coached Washington University and won four Mississippi Valley Conference titles. During his period, Bauer was gaining a national reputation as a water polo coach, producing champions at the MAC and agitating to have the national rules rewritten to conform to the international game. He was National AAU water polo chairman from 1947 to 1951.
Bauer's Chicago Y teams won the International Aquatic Pentathlon Championship. He had a reputation for taking large groups of youngsters and moving them into mass swimming development programs. Later at the Missouri Athletic Club, he devised the system of swimming competitions graduated by age from 8 to 18. When he became National AAU sub-chairman for Novice and Junior swimming, he began to press for a national age-group program to replace the Novice-Junior classification as it then existed. He needed all his well known persistence, as his idea was shouted down again and again as "unnecessary", "impossible to regulate", "too young" and "who's going to do it?" Bauer, the Billy Mitchell of Swimming, was no longer in power when his age-group ideas broke out all over the U.S., but he certainly must be given credit for germinating if not for inventing age-group swimming. With support from Larry Johnson, National AAU Men's Chairman, Carl Bauer is credited as the Father of Age-Group Swimming — the great exposure program which has raised the number of competitors in swimming from hundreds to hundreds of thousands in just 20 years.