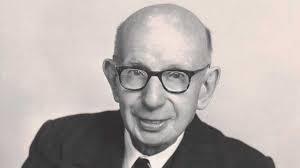 Capt. Bertram William "Bert" Cummins (GBR)
Honor Contributor (1974)
The information on this page was written the year of their induction.
FOR THE RECORD: Created and edited "Swimming Times" magazine for 47 years. The magazine has been published continually longer than any magazine in aquatic history; Served as Southern District Association of England for 60 years and President in 1926; President of Amateur Swimming Association, 1946; Public Relations and Publicity Officer of the ASA between 1947 and 1956; Member of Organizing Committee for swimming events in 1948 Olympic Games.
Bertram William "Bert" Cummins, from Croydon, in Surrey, England created and edited the "Swimming Times" for 47 years. This "Captain" of swimming journalism was a man who truly gave most of his life to the consuming interest of his youth and the love of his old age…swimming. Born on February 16, 1881, Cummins retained a keen interest in the sport for which he has done so much for more than 80 years until his death October 30, 1974. After hearing he had been honored by the International Swimming Hall of Fame, an honor he characteristically attributed it to all those who had helped him.
His magazine, which he started as a four-page give-away called "Waddon News" in 1923, and renamed "Swimming Times" in 1926, had grown from its humble beginnings into a monthly publication of up to 96 pages with 8,000 subscribers in 61 countries. In 1970 Cummins, then in his 90th year, decided to sell it to the Amateur Swimming Association.
He probably would have stayed on to celebrate his golden jubilee at the helm had it not been for the sudden death of his right hand man, Bill Juba (a former director of the Hill of Fame), in April of that year.
Captain Bert's "Swimming Times" has been published continually longer than any magazine in aquatic history. For many of its fifty plus years it has been the number one periodical in swimming. Sometimes during the Depression (1930s) it was the only swimming magazine published. Not satisfied with being the advertising and circulation manager, sub-editor, picture editor, often writer and always fund raiser to keep his magazine on swimmers' bookshelves (he published 474 issues), Captain Cummins still found time for a lot of other swimming tasks.
He served as a member of the Southern District Association of England for 60 years, was their President in 1926, President of the Amateur Swimming Association in 1946 and public relations and publicity officer of the Association between 1947 and 1956.
Even during World War I, Cummins couldn't keep away from swimming. During an eight-day leave away from the frontlines in France, he organized a swim gala for the troops of his division.
He was a member of the Organizing Committee for the swimming events at the 1948 Olympic Games in London and has been always a welcoming, helpful friend to teams visiting Britain.
Two of the undertakings which gave him most pleasure were arranging the 3,500-mile tour of Britain by Hall of Famer Matt Mann and his University of Michigan team in 1951 and the first Synchronized Swimming Clinic Tour in the United Kingdom by the American Champion Beulah Gundling and Canadian Peg Seller in 1953. Cummins through arranging and accompanying this tour, introduced synchronized swimming to Great Britain.
Typically, Bert Cummins who had done so much for swimming felt it was the other way around. "Those who have helped me and my magazine cannot be numbered," said Cummins at 93. "Swimming has been good to me. What a life to look back on."