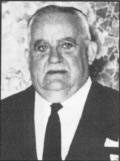 Bernado Picornell (ESP)
Honor Pioneer Contributor (1993)
The information on this page was written the year of their induction.
FOR THE RECORD: Pioneer in development of aquatic sports in Spain; Started Spain's first swim club in Spain, 1907. FINA Bureau member.
Bernardo Picornell was a pioneer in the development of aquatic sports in Spain, particularly swimming and water polo. It was Picornell who organized the first World Swimming Championships for Spain in 1903 and began the first swim club in 1907.
A year later, Picornell dove in to the sport of water polo, conducting Spain's first official match where he also served as a referee and in 1921 built Barcelona's first indoor swimming pool.
Picornell became a FINA Bureau member in 1952, an honor which brought prestige to his country due to his continuous efforts to bring the world of swimming to Spain. Before his death in 1970, Picornell successfully secured Barcelona as the host of the 1970 European Championships.
Seventy-two years after Bernardo Picornell initiated Spain's membership into FINA and its first participation in the Olympic Games in 1920, Spain saw its flag raised in honor of their first Olympic swimming gold medalist, Martin Zubero, at the 1992 Games in Barcelona.
Picornell would be proud of his fellow countrymen, and in 1992, the Olympic diving pool in Barcelona was named in his honor. Since Picornell established many first-time events in his country, it is fitting that he is the first Spaniard to be inducted in the International Swimming Hall of Fame.